A video is going viral appearing to show Burnley and Arsenal fans fight each other following the full time whistle on Saturday.
It is unclear as to why chaos broke out, but the Burnley PA had to urge 'all supporters to leave the stadium immediately' with a large number of objects are being thrown.
A Martin Odegaard free-kick fired Arsenal past Burnley and to consecutive Premier League victories; the Clarets have not lost four of their first five games of the season and sit in relegation zone.
Fights breaking out between Burnley and Arsenal fans in the away end at full time pic.twitter.com/BlqbgHLelK

— Chris Wheatley (@ChrisWheatley_) September 18, 2021
Early reports claimed that the stewards had completely lost control of the two sets of supporters.
Burnley fans were left far from happy with what they witnessed on the pitch, and seemingly made their feelings known.
Tempers flared at the final whistle after Odegaard and his team-mates celebrated on the pitch and saluted the visiting support.
Gooner journalist 'Layth' wrote after the game: "Talking to a few loyal Arsenal supporters outside the Turf Moor away end and they tell me Burnley fans started the trouble by throwing plastic bottles in a bid to provoke visiting fans."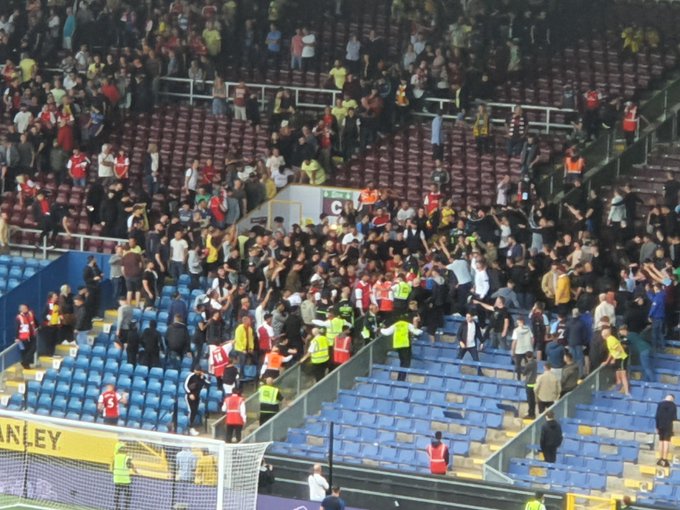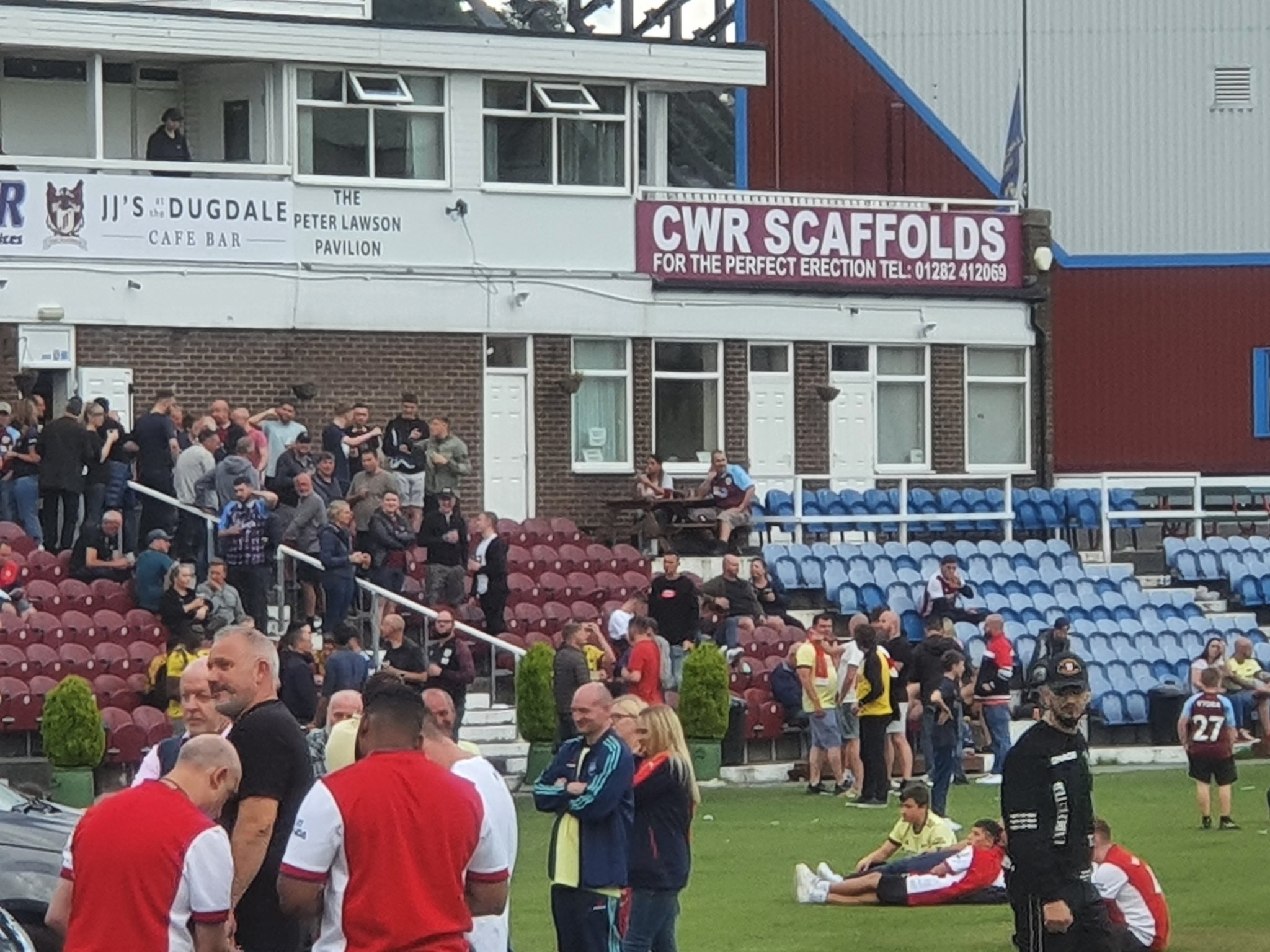 With only a small walkway separating the home and travelling support, both sides charged each other in an ugly end to the afternoon's action with police now launching an investigation.
Stewards were forced to cowered for safety as fans hurled sections of the wooden seats behind one of the goals in the Ladbrokes Stand.
Empty heads 🤬if you're throwing stuff grow up. @BurnleyOfficial #BURARS #twitterclarets pic.twitter.com/c12MtwJCXt

— Rich Dyer 💙 (@richdyer) September 18, 2021
Martin Odegaard's superb free-kick fired the Gunners to back-to-back Premier League wins as they edged out Burnley 1-0 at Turf Moor on Saturday.
Odegaard scored his second Premier League goal, and his first since joining Arsenal permanently from Real Madrid in the summer, on the 30 minute mark as Mikel Arteta's side continued on from last weekend's victory over Norwich with another three points.
Arsenal hadn't lost any of their previous 20 top flight games when leading at half time and Burnley, despite debutant Maxwel Cornet giving his best effort, was unable to break that run.
Tthe Clarets – who had a second-half penalty awarded them overturned by VAR – caved in to a fourth league defeat in five matches.
The win lifts Arsenal up to 12th in the table and shows they are enduring a turning point after defeats in their opening three games. Burnley, meanwhile, have now lost four of their opening five games and sit second bottom in the table with just one point.
Player ratings
Burnley: Pope (6), Lowton (6), Tarkowski (6), Mee (6), Taylor (6), Gudmundsson (5), Westwood (6), Brownhill (5), McNeil (5), Barnes (5), Wood (5).

Subs: Vydra (6), Cornet (6), Rodriguez (n/a).

Arsenal: Ramsdale (8), Tomiyasu (7), Gabriel (7), White (7), Tierney (7), Partey (5), Odegaard (8), Pepe (6), Smith Rowe (5), Saka (6), Aubameyang (5).

Subs: Maitland-Niles (5), Lokonga (5), Tavares (n/a).

Man of the match: Aaron Ramsdale
Burnley manager Sean Dyche, speaking to BBC Match of the Day: "I think it was a good performance. I feel like a broken record saying that lately. In the first half we didn't do a lot wrong. In the second half I thought we smothered the game. It's head-scratching that we didn't score.
"We created a couple of good-ish chances. We took the game on fantastically well, but you've got to find that killer edge. I thought we defended very well today and limited Arsenal to very few chances, which is difficult to do."
"It's very rare that we dominate a game today like we did against them. That clinical edge in both boxes is important. That was a really strong performance in the end."
On Maxwel Cornet's debut: "I thought all the subs made an impact. We want that, of course. It was nice to get him on and I think he enjoyed it."
Arsenal manager Mikel Arteta, speaking to BBC Match of the Day: "It was a hard-fought victory at a really tough place. You have to be ready for a fight. In the first half we had some really good periods when we were really dominant and should have scored more goals. In the second half we gave the ball away cheaply too many times.
"We have players who are not at their strength playing in this type of game, but they did their best and we got the win. I'm very proud of them defensively and I'm really pleased with the win.
"It's two wins in a row, two clean sheets. Let's go again. We have a lot to catch up!"
On Burnley's overturned penalty: "The assistant was saying straight away it's not a penalty. You have to overturn that."
On Martin Odegaard's qualities: "He scores, he has quality to find pockets and he works so hard. He's becoming a real leader in the team."
Twitter users reacted as Burnley and Arsenal fans fight each other following the full time whistle…
@Sbaz13Baz: Just a shit Stoke
@lukmanali1221: Brexit fc going down you love to see it
@VipArsenal: Burnley FC trying to be Stoke City so hard.
@JD___8: I bet we won that scrap as well
@HughJanus916: They hate us cause they ain't us folks!
@amaan_mxlik7: This relegation scrap is really something eh
@Gbollyjay: Lmao. Not surprised Burnley is our rival now
@SxrgioSZN: the definition of a relegation battle
@fd_tunde: They getting to know their new rivals nothing wrong here
@CFCAC2000: Arsenal getting dominated on and off the pitch
@XavThe7th: Just like the good ol' days. Nature is 'ealing. The game is 'ealing. 90 mins of route one footy and scraps in the stands for afters. Life it. Luv it 🍻👊🏻
@LeeHold_: Loving the jolly feel good music
@Kyle_Morris: Stay classy, Burnley. Hate playing these guys. Team mimics their fans.
@MarhanAfc: Love the background music, fits the situation perfectly
@andy_w94: Football violence is horrible and all but what we should be talking about is this scaffolding company's slogan.
@ctxlt2018: Are we just gonna ignore the CWR Scaffolds tag line though??
@3Akash49: Started with us celebrating the penalty being overturned. Which they took to mean lets throw bottles.
@listenoldchap: Maybe they could have ignored the plastic bottles
@MarinerIndy: Points deductions for both – relegate them!
@jimbolene: Shocking behaviour from the Burnley fans this won't go down well with the FA
@OTsyndrom: I don't normally support this kind of behavior, but for once, I am glad our stadium supporters are eagerly showing their love for the club. Hope no one gets injured tho #coyg