A Man City fan, 63, is fighting for his life in hospital after an attack by rival fans at a service station in Kevin De Bruyne's hometown.
The 63-year-old supporter was assaulted in a service station in Drongen, Belgium, after he was making his way home from attending the Premier League club's 5-1 thrashing of Club Brugge in the Champions League.
According to HLN in Belgium, the fan, who is known as Guido, was approached by Club Brugge thugs in the car park along the E40 route.
They spotted his sky blue City scarf and grabbed it, but when Guido asked for it back, they allegedly hit him across the head in a brutal, unprovoked attack.
Guido is part of Blue Moon Belgium, an official supporters club of the Citizens, for whom his son Jurgen is the co-chairman.
Driving home from the game, he was the victim of the horrific beating and there are fears for his life.
Jurgen told HLM: "After the game, we stopped at the parking lot along the E40 in Drongen.
"While we were already driving on, my dad was still waiting outside for his two friends.
"There, a Club Brugge supporter approached him and pulled his scarf from around his neck.
"When my dad asked for his scarf back, he received a heavy blow to the head, after which the perpetrators fled and left my dad for dead."
MAN CITY STATEMENT:
"Everyone at Manchester City is shocked and saddened to hear reports of an attack on one of our supporters after the Champions League game in Bruges last night.
"We are currently working with our counterparts at Club Brugge as well as Belgian and Greater Manchester Police to establish more information.
"Our thoughts and best wishes go out to the family and friends of the Belgian based supporter, who remains in hospital."
On the same night, Man City footballers were pelted by plastic cups of BEER as they celebrated Joao Cancelo's opener against Club Brugge.
The bizarre incident occurred on the 30th minute when Cancelo put City ahead after the Portuguese defender was played in by Phil Foden as City dominated proceedings in Belgium.
Cancelo was mobbed by teammates as he charged towards the corner flag in front of Brugge fans.
But that may have been a bad idea, as several cups of beer were hurled in the City players' direction.
The likes of Jack Grealish also got soaked by the alcoholic beverage.
You could say that gave City stars extra firepower, taking it in their stride as they pressed home their advantage.
City ensured they went in at the break with a comfortable lead when Riyad Mahrez netted a penalty moments before the whistle.
The Algerian was brought down inside the Brugge box after a well-worked move.
Mahrez tucked his effort firmly away to double City's lead, and then Kyle Walker scored his first Champions League goal after a great bit of build-up play by the visitors, before Mahrez and Kevin De Bruyne punished the Belgians.
Talented academy graduate Cole Palmer, 19, was also on the scoresheet for his first European goal – curling in after a cut back from Raheem Sterling – with Mahrez notched his second to make it 5-1.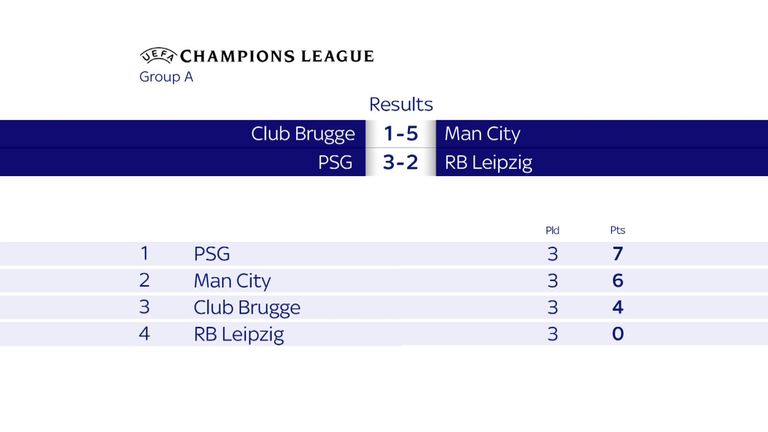 Player ratings
Club Brugge: Mignolet (6), Sobol (5), Balanta (5), Nsoki (4), Hendry (5), Lang (5), Sowah (4), Vanaken (6), Rits (5), Clinton Mata (5), De Ketelaere (5).

Subs: Vormer (5), Van Der Brempt (5), Dost (n/a), Mechele (n/a), Mbamba-Muanda (n/a).

Man City: Ederson (7), Walker (8), Dias (7), Laporte (7), Cancelo (9), Rodri (7), Bernardo Silva (8), De Bruyne (7), Grealish (8), Foden (9), Mahrez (9).

Subs: Ake (6), Gundogan (6), Sterling (7), Plamer (8), Fernandinho (6).

Man of the match: Phil Foden
Manchester City boss Pep Guardiola: "We were so good. It was one of the best performances we have done in Europe.
"We made a good game, our pressing was good. We recovered the ball so quickly and after that we used the ball with a lot of sense," he added.
"We found a lot of passes with Phil. We had runners in behind. We could have scored more goals, we had many chances.
"All of us are delighted with the performance we have done."
Pep on Palmer: "Cole has a special quality in front of the box, a talent that is difficult to find. When he has the ball there, most of the time it ends up in the net. It's difficult to find that.

"I know how it works with young players. We have to be calm and patient. His position is the second team but at the same time he trains with us and works with our principles.

"I am happy with the goal. He could have done a few actions a little bit better, but that is normal. It is experience. Step by step we give our young players an opportunity."
Twitter users reacted with the Man City fan, 63, fighting for his life in hospital after the attack by rival fans…
@DPSD37: Hope he fully recovers and the perpetrators are caught. Hope your fans will think about this gentleman next time they're singing songs about fans getting battered in the streets.
@meamitshuklaa: Some fan base can't handle a lose… Pathatic sour losers. Hope he recover soon. 🌻💙
@TeacherOfBall: What a scummy club Brugge are, from the players to the fans. Hope he pulls through so Kevin can show him a bit of love
@VintageVVD: Sickening hopefully he recovers ASAP
@pastymuncher86: Awful news. Hope he makes a speedy recovery.
@DanielFergy25: Football goes out the window when these things happen. Wishing a speedy recovery to the Man City fan. 🙏
@reid1892: This is really grim, and all too familiar. Fingers crossed he pulls through.
@Anfield_CentraI: Awful news. 🤞 for a speedy recovery 😔
@WimpyTweets: Sickening, praying he pulls through 🙏🏻💙
@wdk85: Jesus Christ what's wrong with people
@KarlJLatham: What's wrong with people? FFS!
@gregnaughty: @ClubBrugge any public statement on this incident?
@davewood1894: Hope he pulls through, absolutely no need for shite like this. 💙💙
@mickybluey: 63 ffs absolute 🐀s
@Kafkaesque_16: Why do such acts happen. Why hurt a 63 year old so grievously
@yately9320: Disgusting senseless violence hope they're caught and brought to justice. Hope the man recovers
@niilantik: @ClubBrugge your fanbase is a disgrace
@KevinP184: A cowardly attack from behind on an innocent 63 year old. Absolute Scum.
@CitehFlip: Horrible. Keep fighting big man 😔💙