Hooligans out in Russia have many a bloodied fight to help them prepare for tournaments including the upcoming summer showpiece Euro 2020.
Men would take part in '80 vs 80′ fights, sometimes held in a forest, whilst also avoiding drugs and alcohol to keep their strength and fitness up, yes really.
We saw widespread images from France at Euro 2016 when Russian thugs beat up England supporters with plenty left battered and needing hospital treatment following the brawls.
One England fan was left paralysed in a wheelchair after being attacked by Russian hooligans at the previous Euros tournament.
Andrew Bache, a supporter of League One Portsmouth, was assaulted while having a drink with fellow fans during the UEFA European Football Championship in 2016.
He was hit in the head and received three or four punches, including some while he was on the floor, witnesses said.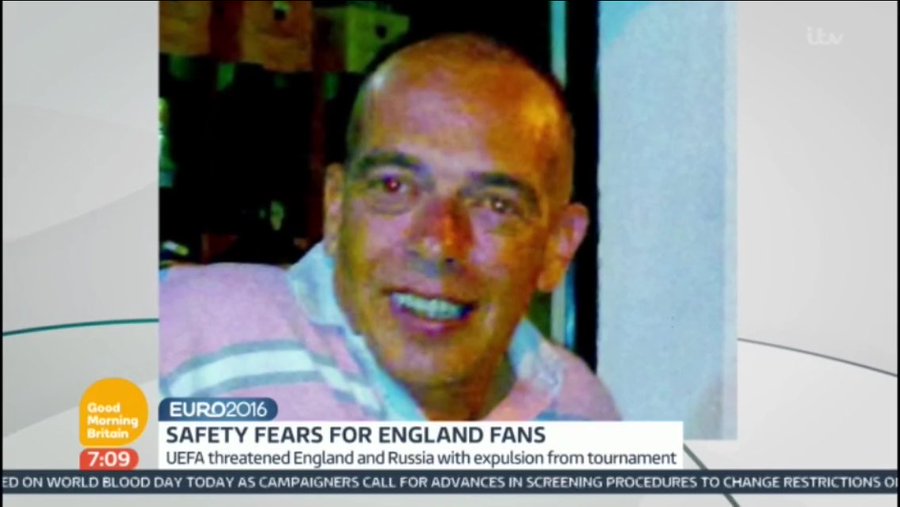 The incident happened when about 150 Russian men stormed the Old Port district in Marseille where England fans had gathered to drink before the game.
Pavel Kosov, a 33-year-old truck driver, was jailed for 10 years for leading the attack on Andrew.
PE teacher Mikhail Ivkine, 34, was sentenced to three years for hurling a chair at him, despite claiming it was in self-defence as a judge ruled it to be "illegitimate".
Russia, who are in Group B along with Denmark, Finland and Belgium at June and July's Euro 2020, have previously gone to extreme lengths to make sure they are ready should things get nasty.
Despite arriving somewhat late to this growing trend, Russian fans have took to hooliganism and are now regarded as some of the fiercest in football.
Russia's reputation for fan violence rocketed after Euro 2016, during which their fans clashed with English counterparts out in Marseille.
The Russian Football Union was later fined €115,000 and issued a suspended threat of disqualification should there be any similar incidents, but do the hooligans care? No.
While the most serious football followers may have been inspired by British hooligan culture, Russia was now setting its own agenda as the professional model with more and more people wanting to take part. They have even linked up with the Hungarians to cause more carnage. What a mad bunch.
Elena Bykova produced a 2013 documentary film titled 'Okolofutbola' – or 'Around Football' – and she told the Irish Times today's Russian hooligan is trained, clean-living combatant: "I see the new generation, and I'm really surprised.
"They don't like drugs, alcohol. They're all in the gym."
Team fights in forest clearings are often used as battlegrounds for new recruits to prove they belong to this trend.
Those new and up-and-coming to the firms start off in 'trial bouts' between crews of seven, though the size of said teams go as high as 80-a-side for the 'elite'.
Broken bones and other serious injuries are common when it comes to these clashes. The only rules are that no weapons are permitted, and a combatant must stop after being instructed to do so.
Russia's prominence in hooliganism during Euro 2016 led to fears that fan violence would be a serious issue when they hosted the World Cup in 2018.
However, local authorities and a stringent police approach would be stepped up to make a safer tournament, with the native supporters on much better behaviour in their own backyard.
One Spartak Moscow fan, named Vasily, was a founding member of the Spartak Gladiators firm. Nicknamed 'Killer,' he said of the past-time: "Fighting is like some kind of sport. History is very important to me. I personally have more respect for movements which have more depth in them – on top of the support of their favourite club or city.
"As long as they stand for their country, historical and moral values, they have my respect.
"I don't give a s*** how good their performance is in the stadium."
Vasily treated brawling so serious, that he would even wear a gumshield and MMA gloves to matches.
He said in the video: "I was never in Marseille and my opinion is based solely from the fact that I watched TV and read our foreign press.
"What else could happen? Heat, beer, city is full of d***heads from Leeds, Norwich and London.
"It was just a drunken rabble crowd of ignorant chicken s*** with English flags. Our guys were insulted by Anglo-Saxons.
"Those British animals were showing them a naked ass, screaming and basically for this they got f*****. The strength of Russian spirit prevails the strength spirit of Europeans today."
In 2018, he claimed he was reformed and that he would even offer to protect England fans, adding that he had never taken a life or been convicted of any criminal offence.