Newcastle United face backlash over a leaked Saudi Arabia inspired green and white away kit for the 2022/23 season as pictures do the rounds.
The Magpies are owned by PIF, the sovereign wealth fund of the Saudi state, though both the club and the Premier League have tried to clarify that there are limited links between the country and the team.
The kit that has leaked by Twitter user @aycazehraakcay is a Castore-made away jersey carrying the colours of the Saudi state.
The strip itself is white with Saudi green trim, with the Castore and Newcastle logos both also coloured Saudi green.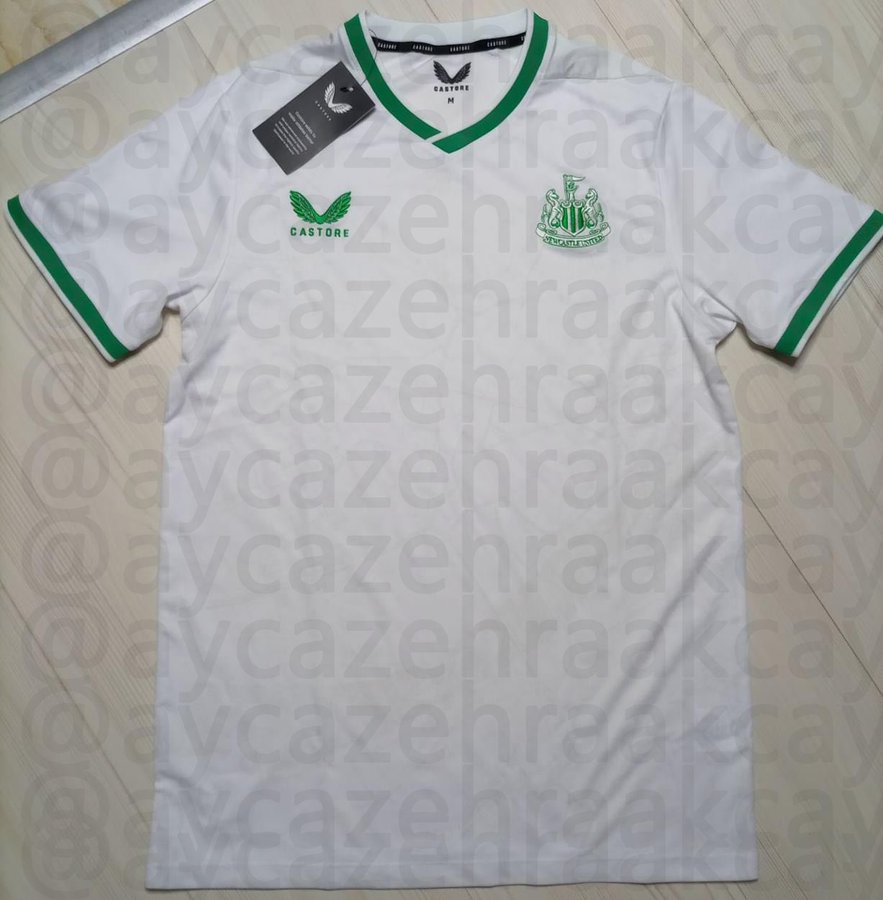 It means the kit strikes a strong resemblance to the Saudi national team shirt, which has already caused a huge uproar online.
"I hate this, and I'm a huge Newcastle fan. I just can't get on board with integrating Saudi into our brand and identity," one said. Another added: "Sorry like but that is rank. Just because we are owned by them doesn't mean we should look like them."
A third wrote: "It is unashamedly blatant in spelling out how much of a vehicle our club is for the sportwashing of KSA. Might as well just have [Saudi leader] MBS' face across the front too."
A fourth stated: "Tell me this isn't true. Just when we've found a way to live with the reality, something like this comes along to remind us. Awful."
The Premier League were slammed for allowing Saudi Arabia to take over a club, with many bringing up the record on human rights. Though they insist they had been given "legally binding assurances" that the Saudi state wouldn't be the ones in control of the club, Amnesty International have repeatedly criticised the decision.
"Ever since this deal was first talked about we said it represented a clear attempt by the Saudi authorities to sportswash their appalling human rights record with the glamour of top-flight football. Saudi ownership of St James' Park was always as much about image management for Crown Prince Mohammed bin Salman and his government, as it was about football," Sacha Deshmukh, Amnesty International UK's CEO, said when the deal was announced.
"Under Mohammed bin Salman, the human rights situation in Saudi Arabia remains dire – with government critics, women's rights campaigners, Shia activists and human defenders still being harassed and jailed, often after blatantly unfair trials. Instead of allowing those implicated in serious human rights violations to walk into English football simply because they have deep pockets, we've urged the Premier League to change their owners' and directors' test to address human rights issues."
As mentioned, Newcastle face backlash over their leaked Saudi green and white kit for 2022/23 season, others didn't take an issue with it. See what social media said below…
@paulthomase: Answers a lot of questions. Seperation and all that. Sportwashing clearly at work. I have many Newcastle supporting friends and they aren't blind as to what's going on. If Ashley put sports direct over an away kit in the brand colours there would be uproar.
@MatthewJBrown20: I hate this, and I'm a huge Newcastle fan. I just can't get on board with integrating Saudi into our brand and identity
@Sandancer1977: The critics cannot have it both ways. We look to boost revenues for FFP, in order to compete with this clever kit and yet they still complain! If Liverpool did this in Ireland colours I bet it would be "clever". They just don't want us to compete with the Greedy Six Clubs.
@_arrongallagher: Why wasn't nowt said when both Chelsea and wolves did this? What a waste of a news story! It's a football strip what's the problem and let's not forget when has a strip like this in 1999 I think it was so we have done this before without anyone flicking a eyelid
@MarkyToonToon: Brilliant marking move , love it and should great sales in Saudi. Will be buying one of these beauties on day of release
@cardiffrsc: Just when you thought Newcastle couldn't sink any lower.
@GarthwaitePaul: Let's piss every cunt off 🇸🇦💰
@heatsave1: This is our club we don't give a shit about any others or what they have to say we wear our colours with pride
@Bradders4711: Looks nice to be honest, if it makes money for Newcastle
@milespope92: How long before they actually change their name to Saudi United then? Absolute joke of a club
@GashDoyle: Nowt wrong with that. Like an Eire away kit. That'll do me 🇮🇪 🖤🤍
@TOONRafalution: This is a thing of beauty. Love it 😍
@SayersBHAFC: Utterly grim. Disgusting state. Homophobic, misogynistic, murdering scum. How their money is allowed in football and Newcastle fans being happy with it is beyond me. 🤢🤢🤢
@jonlane86: Commercial decision to help market and interest grow in Saudi Arabia. Not to mention all additional exposure it's getting right now for Castore and @nufc #nufc
@dannyschof81: but i thought the public investment fund that bought newcastle was completely separate from the saudi state?
@Craig_Miller89: Aslong as they dont change the black and white stripe legacy then they can do what they want with away tops! Im sure weve had green away tops and white 3rd kit before but mix them together and theirs hell on! #NUFC
@Alex_Niven: There's wanting your childhood & hometown team to do well, there's being realistic about what football is right now, then there's this utter moral & civic disgrace which I hope is never worn on Tyneside or anywhere else
@connelhooley: This is so stupid and unnecessary from the club. I don't want to be reminded of bloody Saudi every time we wear the away kit. And the negative discourse this will bring regardless of what you think of PIF isn't needed at all.
@ManCityKD: I thank god everyday we were taken over by a progressive owner from a country which respects all beliefs and has genuine love for the sport
@Kaus_Pandey17: This isn't even sportswashing anymore. It is too blunt and blatant to be called that. But Amanda will tell you that there's no political involvement.
@Luke_MCFC: This is gonna piss off so many people 😭
Couldn't really give a toss about criticism anymore Craig we got 18 month of it. Let it come

— EverythingNUFC (@Nufc2Everything) May 12, 2022
The hypocrisy argument is flawed tho. You're criticising the character of the person not the nature of their argument.

Why get angry about it? what they're saying is correct at the end of the day. Just comes across as actively defending something that doesn't need defending.

— Michael-Chay Hayden (@mcth20021) May 12, 2022