Something new now, England Flags in the Stands – spot your club's fanbase out in Qatar – for the Three Lions' first game of the World Cup.
Supporters arrived at the Khalifa Stadium ahead of their first World Cup fixture, but football is only second on the agenda for many.
Fans in central Doha made the lack of beer as their top concern, confident there would be no upset victory for Iran on Monday afternoon, 1pm kick off.
With alcohol banned at all stadiums following a last-minute U-turn, fans who had planned to attend the game made a beeline for the nearest fan zone where sales would be allowed – only to be told it was closed.
England diehard Maxi Sterritt from Preston, said: 'So far so good, they're very helpful, the only thing is finding somewhere for a drink, we're struggling for that.'
Alan Slater adds: 'It's what I expected it to be really – you knew before you came it was going to be dear. I'm a bit disappointed the fan zones aren't open all day.'
On Monday, the temperature hit around 28°C sunshine, with Slater saying fans from various countries had hoped they could cool off with a drink (or two) inside the fan zone before and after the game.
He continued: 'It's not just us, it's every fan you talk to from all over – everybody wants a drink.'
Meanwhile, large numbers of Iran fans came with slogans on T-shirts and placards supporting the country's mass protests against the Iranian government over ongoing human rights abuses against women.
Where there are lots of controversies, fans still made the most of the buzz, travelling over, getting to the game and have come bearing flags with their club crest on it, filling the streets and stadiums, take a look and see if you can see England Flags in the Stands – spot your club's fanbase out in Qatar…
living the dream #englandaway pic.twitter.com/9nU64ZMqGm

— stephen hodkinson (@vidal4340) November 21, 2022
C'mon England 🏴󠁧󠁢󠁥󠁮󠁧󠁿⚽️👊#QatarWorldCup2022 #WorldCup2022 #WorldCup #followenglandaway #gstk #England #englandaway #mistrzostwaświata #Qatar2022    #FIFAWorldCup #Bydgoszcz pic.twitter.com/oKP7xCAao3

— Drogowski 🏴󠁧󠁢󠁥󠁮󠁧󠁿 (@drogowski) November 21, 2022
Many individuals and organisations worked hard to ensure that #rainbow #flags could be brought to #FIFAWorldCup

Tics in Qatar 🦁🦁🦁 #wafc #englandaway #FIFAWorldCup pic.twitter.com/npwZvNwf0r

— Craig Vernazza (@craigvernazza) November 21, 2022

For the…in the Khalifa International Stadium.

Hoping for a good start to the tournament for @England today.#englandaway #strongertogether pic.twitter.com/IgyTVjNiXw

— Love Football Hate Racism (@LFHROfficial) November 21, 2022
#ENG #engaway Khalifa International Stadium pic.twitter.com/4VwsVMFhxx

— Henry Winter (@henrywinter) November 21, 2022
England fans loud and proud. ❤️🏴󠁧󠁢󠁥󠁮󠁧󠁿#FIFAWorldCup pic.twitter.com/uydH1RbxUV

— DavoBirmingham (@DavoBirmingham) November 21, 2022
Stadium 80% full in Qatar – 70% England 🏴󠁧󠁢󠁥󠁮󠁧󠁿 fans, 30% Iran 🇮🇷 pic.twitter.com/184PwMdaEV

— Paul Brown 🇬🇧 Browns fan🏈 London News 🎥Vlogger (@PaulBrown_UK) November 21, 2022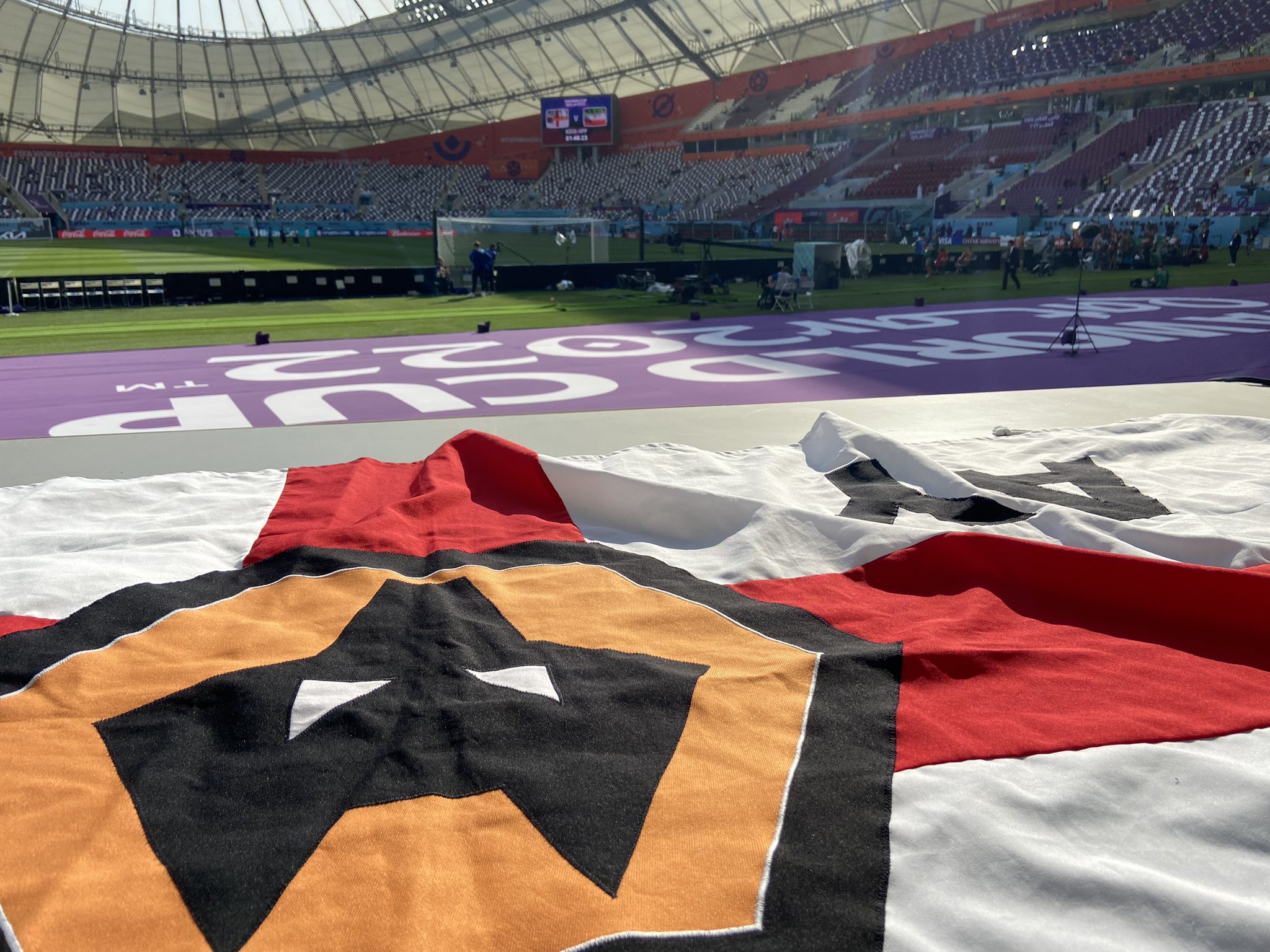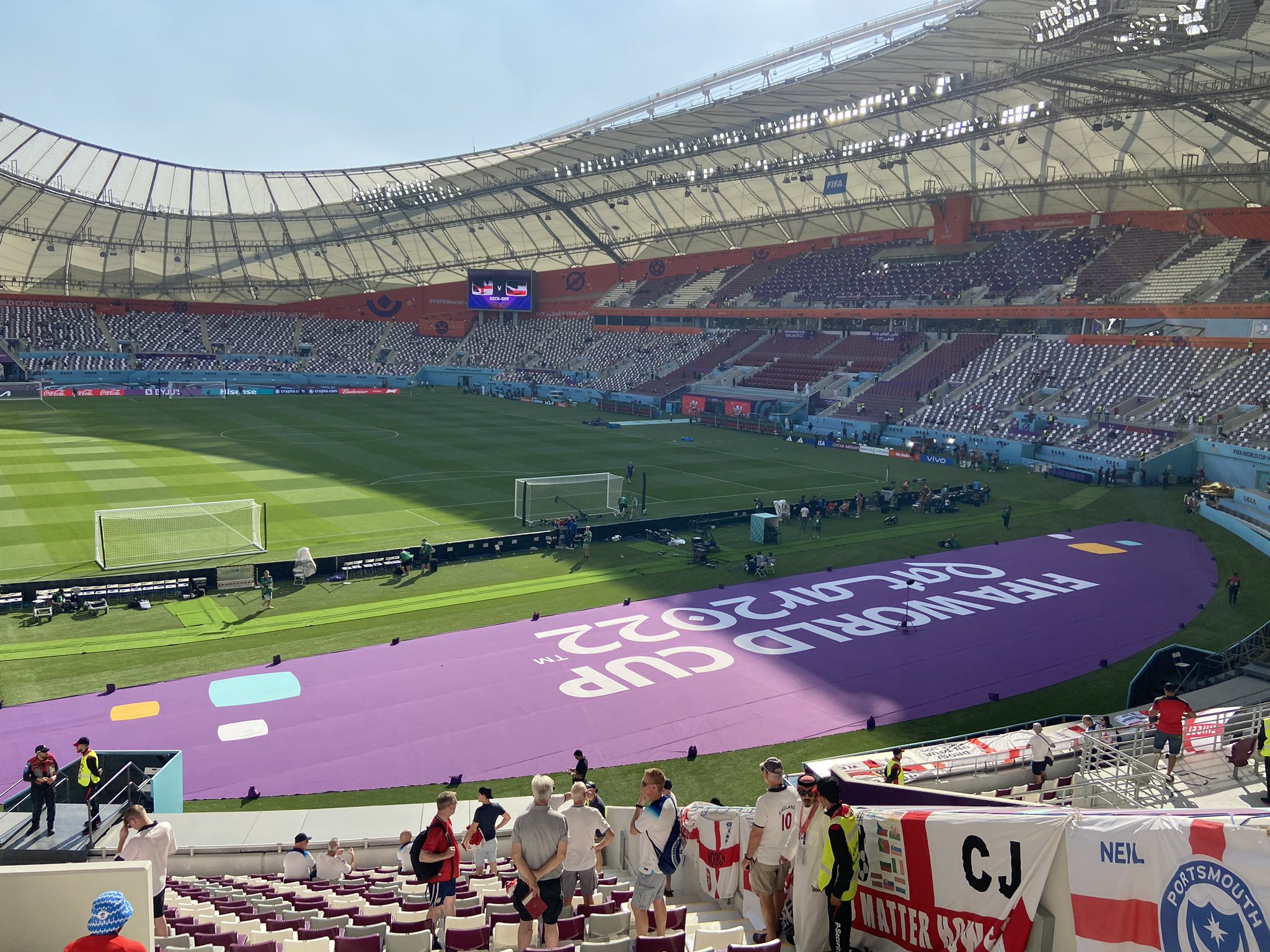 View this post on Instagram
It's coming home🖤🤍🖤🤍🏴󠁧󠁢󠁥󠁮󠁧󠁿🏴󠁧󠁢󠁥󠁮󠁧󠁿 #NUFC #WorldCup2022 #England #نيوكاسل pic.twitter.com/cXWYkAwmdW

— Abdullah newcastle⚫️⚪️ (@AH_NUFC) November 21, 2022
Everywhere we go…. #LUFC #England #WorldCup pic.twitter.com/8u0tgCOXlZ

— DirtyLeeds #LUFC #MOT 💙💛🤍 (@SporcoLeeds) November 21, 2022
#lufc pic.twitter.com/zOKEi86KOT

— Graham Smyth (@GrahamSmyth) November 21, 2022
View this post on Instagram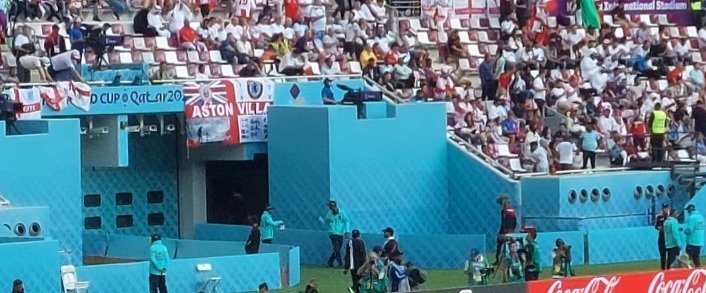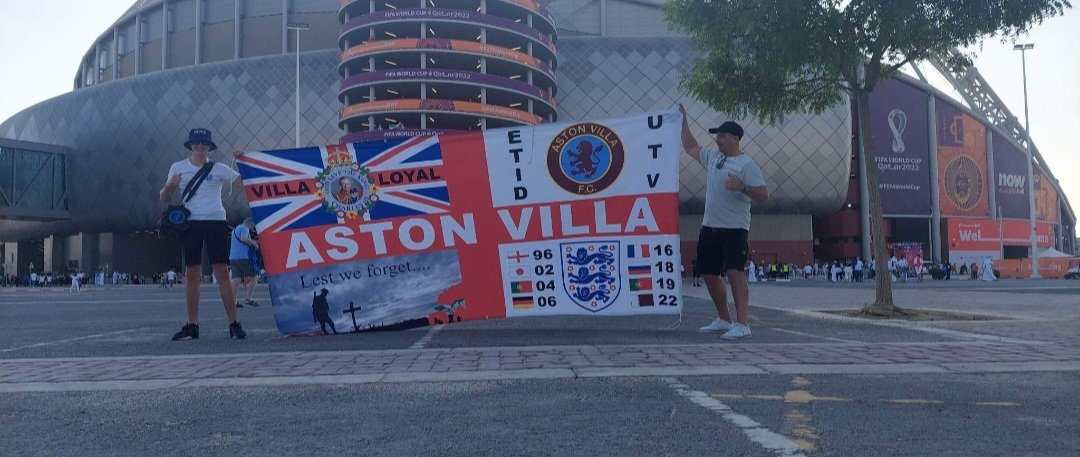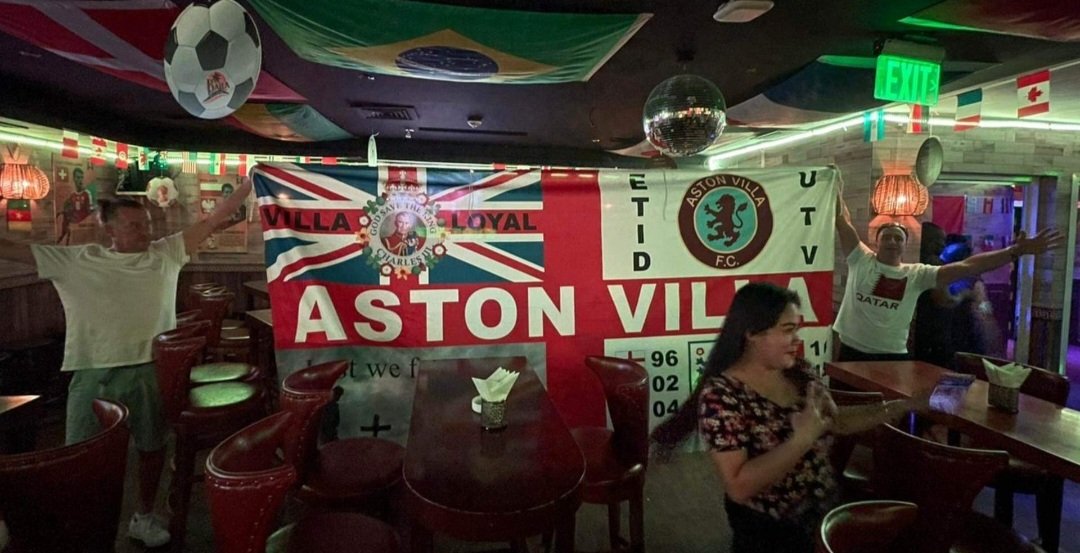 Come on England 🏴󠁧󠁢󠁥󠁮󠁧󠁿 🦁 #WorldCup2022 #Qatar2022 #ThreeLions #pnefc @Matthewholden12 pic.twitter.com/Jxi27Yffuc

— Graham Eastham (@Lightninpne) November 21, 2022
#swfc #england #FIFAWorldCup #dubaiowls pic.twitter.com/XFYV9485X3

— Dubai Owls (@dubaiowls1) November 21, 2022
#ITFC 🔵🏴󠁧󠁢󠁥󠁮󠁧󠁿⚪️ pic.twitter.com/aK7DnNN8qZ

— IPSWICH TOWN FANS (@IpswichTownFans) November 21, 2022
The boys and Laeeb 🇶🇦 #England #SCFC #FIFAWorldCup #Qatar2022 #ThreeLions pic.twitter.com/WqL02ifIut

— Rob Hughes (@robhughesscfc) November 20, 2022
Game time 🏴󠁧󠁢󠁥󠁮󠁧󠁿🏴󠁧󠁢󠁥󠁮󠁧󠁿🏴󠁧󠁢󠁥󠁮󠁧󠁿 #england #hullcity pic.twitter.com/iXmJEn4iI8

— Harry Markham 🏴󠁧󠁢󠁥󠁮󠁧󠁿 (@HcafcHarry) November 21, 2022
Jingle Bells, Jingle Bells… 🏆 pic.twitter.com/oE5p6ZGcDp

— England Football Fans (@EnglidsAway) November 21, 2022
Three goals for the #ThreeLions in the first half, and England fans can't stop singing! #ENG #Qatar2022 pic.twitter.com/OUnDLOdbqY

— Road to 2022 (@roadto2022en) November 21, 2022
View this post on Instagram
View this post on Instagram
Don't drink in public, don't show public signs of affection and make sure your clothing covers your shoulders and knees – these are just some of the rules fans will be expected to abide by at 2022's FIFA World Cup in Qatar, an event unlike any that came before it.
Around estimated 3,000 to 4,000 England fans and some 2,000 Wales supporters will travel to the middle eastern nation to follow their side in their quest for glory. Though concerns over the risks faced by naive Britons in the culturally conservative country have increased in recent weeks.
A number of Qatari laws have caused uproar in the build-up to the event with Homosexuality outlawed in the Gulf nation, and while organisers have said "everybody is welcome", LGBTQ fans remain concerned and even the OneLove badge on kits isn't allowed. Foreign Secretary James Cleverly has even urged LGBTQ supporters to "respect the law" while in Qatar to avoid running into trouble with the authorities.
There are some reservations surrounding how Qatari police are expected to handle tourists, especially after it was reported that law enforcement during the tournament will also include subcontracted officers from Turkey and Pakistan. Policing in both countries has been criticised for human rights violations in the past.
Mustafa Qadri, a human rights lawyer, recalled how in 2015, he was arrested after visiting a camp that hosted migrant workers, many of whom alleged they hadn't been paid in months, spending nine hours in a police station and added he was forced to sign a document that made him admit to trespassing, even though he had been given a permit to go to the camp.
He said: "We were eventually released. But we later discovered that the Interior Minister wanted to prosecute us for trespassing.
"I had to sign a document that basically said I accept that I trespassed, I was basically forced to sign this paper I don't agree with. This gave us a really good understanding of what life was like on the ground."
Mr Qadri – an Australian citizen who founded Equidem, an organisation that advocates for worker and human rights around the globe – shared his experience and warns Western tourists of the risks they could face.
He said he believes tournament organisers and Qatari police are being told to be more lenient than usual given the number of tourists that will be in the country, however, he still warns there is a "risk" of Western fans being detained if they unknowingly break with the country's rules.
"I think they will give a lot of space for people from Western countries to express themselves because of the PR aspect," he said.
"Of course, people should be respecting local norms. The reality is being heavily controlled and stage-managed in Qatar.
"Based on what we know from the recent past, they haven't reformed the society, which means they have to crack down on any attempt to shine a light on practices that are inconsistent with the image being portrayed."
Mr Qadri said the primary concern lies with British fans unintentionally breaking laws so foreign to life in the UK.
"There is a concern there," he said. "I still think there's a risk if you are an England fan you may go there and do something or say something that might lead to you being detained.
"I really hope that doesn't happen. Tourists going there need to be respectful and vigilant."
"The UK Foreign Office has taken steps to prevent citizens from incurring "serious penalties for doing something that might not be illegal in the UK."