An update has been given on the ill fan carried off on a stretcher as Dagenham & Redbridge vs Salford City was halted on Monday night.
The FA Cup clash had to be stopped while medics rushed to a spectator who had collapsed in the crowd towards the end of the game.
The match, being broadcast live on ITV4, was held up for around six minutes as doctors attended to a man that suffered a seizure in the stands.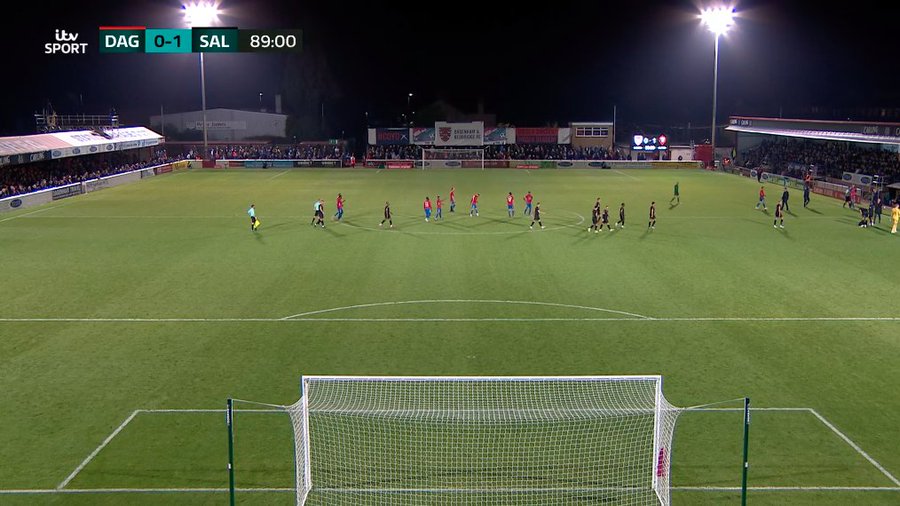 Broadcaster ITV confirmed that staff were able to assist the individual, who is believed to have also suffered a head injury before being taken to hospital.
The hosts have since tweeted: "The supporter in question is in a stable condition after suffering a fit, and we would once again like to thank the Crowd Doctor and paramedics for their swift response.
"Everyone at Dagenham & Redbridge would like to wish the supporter a speedy recovery."
A Twitter named Kevin Roome retweeted on Tuesday morning, saying: "I was the fan who had the seizure, just to say all ok now & thanks to the fans around me and players for helping draw attention and to the stewards and medical staff from both sides. Daggers medical staff were great when I came to and realised I was at a football match.
"A long day recovering now but very grateful for all those that helped. @Dag_RedFC @SalfordCityFC @epilepsyaction"
The first round tie then got back underway, with Salford winning courtesy of a 3rd minute header by Jordan Turnbull.
There were 10 minutes of stoppage time following the delay in proceedings, but the National League side were unable to find an equaliser with Salford then discovering they will be at home to Chesterfield – also from Dagenham's division – in the Second Round draw.
Social media users gave their best wishes as an update is given on the ill fan carried off on a stretcher with Dagenham vs Salford halted…
@Mightydaggers20: Glad he's alright. Well done to the person in the crowd who jumped on the pitch and told Weston too
@mattbrown50: Fingers crossed the fan involved is ok
@julienallwood: Really proud of the swift response of my medical team tonight. A collaborative approach led to a quick stabilisation of our fan 🔴🔵🔴 @Dag_RedFC
@RyanGoldstone: Fantastic news! Was horrible to see.
@MANapier_20: So so glad he is okay! It's happened right behind me and we all quickly acted. Thank you to the brilliant medic teams from both side. The one steward seem angry with the fan invading the pitch but he did it for the right reasons to get the attention directly to the injured fan. The people around the incident was very respectful during the heat of the moment.
@MutualAidLiker: From where I was standing the response was top notch, worrying scenes dealt with well. Hope they recover soon.
@gt_guthrie: Glad to read he ok was watching on tv and feared the worse. Speedy recovery to the fan 💙
@ConnorDrfc: Thank god for that, well done to the lad who jumped on the pitch
@EClarky97: So good to see the fast response from the medics and I know the fans going to be feeling drained after that so I hope they feel better soon. But for future reference, seizure is the proper term not fit.
@Johnhughes3006: Great news. Hats off to the medical staff and the players for a quick response.
@goglentw: Good to hear. I was at St James' Park and near to the supporter who had a heart attack, a few weeks back. I saw it all unfold. It's great to know that people nearby can step in so quickly. Best wishes to the supporter and their family and friends.
Dagenham v Salford another fan takes unwell, game stopped! pic.twitter.com/pw2Ntjy92I

— Mc Doug (@OnexOne76) November 8, 2021
@aaron_challoner: I really hope whoever is hurt at the Dagenham vs Salford match is okay, looked like an awful situation and props to the referee, the officials and the players who alerted both club's medical staff to the situation, who were also amazing. Best wishes to the fan and his/her family!
@lillegs85: Whatever the issue what a quick response by all 👏 hopefully the fan is okay
@chrisbramley: Young lad may have had a seizure and hit his head as he went down. Hope he is ok. Thought the response of everyone, the players, phsyios, ref, medics etc was spot on
@pukka1972: Another one??? Getting a bit frequent these!
Fast start from @SalfordCityFC 💨 @JordanTurnbull_ powers home a header to give the League Two side the lead after 2 minutes 🙌

Watch LIVE
👉📱 https://t.co/KQ6MxiOpd4
👉📺 @ITV4 pic.twitter.com/WNwxXUgBwB

— ITV Football (@itvfootball) November 8, 2021
Salford were the favourites going into the tie, being owned by Manchester United's Class of 92 with Gary Neville a key figure.
After a tricky campaign last season, Neville said: "Last season, I've got to take the blame for it. I think in every season we haven't gone up I've made bad decisions or we haven't done certain things well.
"Last season, to be fair, Graham Alexander should have never left this club last season. I should have never made that decision that I made.
"It goes against everything really that I believe in and that's what owning a football club does to you. It takes you to that place where you do things that you don't believe you ever would do.
"But it happens and you've got to make sure that you don't go and do that again. We're settled now. Gary [Bowyer]'s steadied the ship towards the end of the season.
"It was difficult for Richie coming in, in the mid part of the season and I'm glad that he's now got back in at Doncaster.
"Gary's here now, he's got a lot of experience, he's got a calming influence and I think it's just about making sure that we get everything set properly off the pitch.
"We've got big decisions to make in this next couple of months. We just need to make sure we get things right from now on. We did it in the early days and then you sort of lose your way a little bit, you get carried away, but we've brought it back to the ideals and principles and values that we grew up loving football for."