Significant news has been confirmed on crowds returning to stadiums as Boris Johnson made his big announcement on Monday afternoon.
There has been so much talk on when supporters will be allowed to make it through the turnstiles of stadiums up and down the nation after not doing so since March.
The government made his positive speech about the new stricter three tier lockdown system, however was desperate to also have fans back in grounds.
BBC journalist Laura Scott tweeted minuted before the big news, saying: "The Prime Minister is set to make announcement this afternoon re return of crowds to sport. Tiered approach.
"BBC Sport understands max 4,000 fans will be allowed to attend outdoor events in lowest-risk areas after national lockdown. No crowds in highest-risk areas.
"Still much to be worked out, inc which areas are in which tiers + indoor capacities 4,000 fans is not economically viable for many large venues Eg Bill Sweeney told me Twickenham needs 25k-30k to make it financially worthwhile But many will see this as significant starting point
"And, crucially, this all has to be voted on. But PM laying out his plans to the House of Commons shortly and more expected to become clear then."
There will be no crowds allowed at sport in the highest-risk areas under the new coronavirus restrictions for England from the 2nd of December.
To clarify and as confirmed by Boris – Tier 1: 4,000 outdoors/2,000 indoors – Tier 2: 2,000 outdoors/1,000 indoors – Tier 3: Ban on spectators remains
It is reported pubs in tier three will stay shut except for takeaway. In tier two, only those serving meals can open.
Pubs will stop serving drinks at 10:00pm, but customers will have an extra hour to drink up.
The ban on outdoor grassroots sport is also set to be lifted in all tiers, following calls for this restriction to be eased.
Here's how the risk map looked recently… who will be in what will be announced in an update in days to follow.
And mass testing is set to be introduced in all tier three areas.
You can find out on details of which tier every region of England will be put into are expected on Thursday.
The prime minister is expected to make a statement to the House of Commons at about 15:30 GMT unveiling the plans for Covid-19 restrictions in England from the 2nd of December. MPs will vote on these proposals later this week.
Health Secretary Matt Hancock told BBC Radio 4's Today programme the government hoped to agree a "cautious, balanced approach" for Christmas "that can allow people to see their families, but also makes sure that we can keep the virus under control".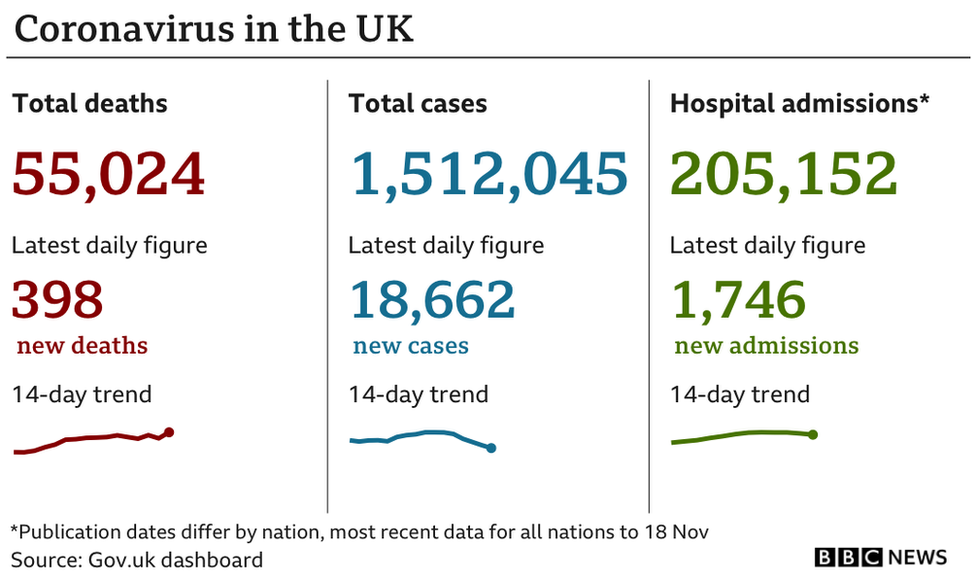 He is expected to tell the House of Commons later on: "The selflessness of people in following the rules is making a difference."
The increase in new cases is "flattening off" in England following the introduction of the nationwide lockdown measures, he will say.
The prime minister will say "we are not out of the woods yet", with the virus "both far more infectious and far more deadly than seasonal flu".
"But with expansion in testing and vaccines edging closer to deployment, the regional tiered system will help get the virus back under control and keep it there," he will say.
The main concern with this is said to be around getting people to and from events while avoiding increased infection risk on public transport, according to the Mail.
But giving people the 'morale boosting' option to go and watch live sport again is one ministers are said to be 'desperately' pursuing.
A source is quoted as saying: "That is an important element to consider."
PM Boris Johnson said yesterday: "My first message is 'thank you' for what you have done over the last very difficult eight months, my second is that there is hope on the horizon."
A spokesman from Downing Street adds: "Everyone's efforts during the current national restrictions have helped bring the virus back under control, slowed its spread and eased pressures on the NHS.
"But the Prime Minister and his scientific advisers are clear the virus is still present – and without regional restrictions it could quickly run out of control again before vaccines and mass testing have had an effect."
It was back in August that we saw Brighton fans allowed in to watch their team's pre-season friendly against Chelsea at the end of August.
However since then, there has been no other Premier League team able to allow supporters in since that test event.
Last week, Oliver Dowden hinted at a return for some fans within lower tier areas. The old tier system ruled out any fans at elite sport.
He said on talkSPORT: "There is definitely a chance [of that happening]. Obviously in all of this we have to be guided by scientific evidence," Dowden replied when asked if fans could return before Christmas.
"Fans need football and football needs fans. This is a big priority for me. We made great progress in the run up to the 1st of September and making it safer for fans to come back into stadiums.
"I pushed hard to get them back from the 1st, and we couldn't agree in the end. With hindsight, it was probably the right call because they wouldn't be allowed in with this second national lockdown.
"That ends on the 2nd of December, we're now having discussions about what it will look like after then."
"Fans need football and football needs fans"

Oliver Dowden, Secretary of State for Digital, Culture, Media and Sport, tells talkSPORT that the lockdown ends on 2 December and football fans could be back in stadiums before Christmas. pic.twitter.com/2cywGDBquw

— talkRADIO (@talkRADIO) November 19, 2020
He added: "We'll go back into the tiers. I have to warn you, the tiers are going to have to be pretty tough to keep this under control, but I'm certain making the case for fans to come back in a safe way as part of that process.
"I hope to be successful in that. I said at the beginning of October, that the long-stop date was the end of March, but I hope to be able to do it sooner than that.
"It's also worth remembering that not only will we be looking at that – we're also looking at – as we roll out testing, we've got more and more tests available, I was just discussing this with the Health Secretary over the weekend, I think there's a real opportunity to incentivise people to take the Covid test, by saying; 'If you take the Covid test, then you're in the clear, then you'll go safely into stadiums and watch matches.'
"There's two separate things here – there's making the whole environment Covid-secure, so social distancing, hand washing etc, and as long as you comply with all of that, remember it's not just in the stadium itself, it's on the journey to and from home.
"That's why I said to SID Group, this science technology group, to look at what we can do to make that safer.
"If we get a degree of confidence about that, to start in a limited way in lower risk areas, that's what I'd love to be able to achieve.
"I'm saying there's a chance, we are working towards it. The PM and I would love that to happen, but we can only do it if it's safe to do so."
Premier League table
Championship table
League One table
League Two table
Fans, players and owners reacted after seeing significant news confirmed on crowds returning to stadiums…
Will this be max capacity for all stadiums, or maximum allowed, using a percentage based on capacity? 4,000 in Old Trafford or 4,000 in a League 2 club, capacity less than 10k – a bit of a difference in social isolation distances.

— Ian Pluck (@imp566) November 23, 2020
Tier 1 will be allowed upto 4000
Tier 2 will be allowed 2000

— Samual 🏴󠁧󠁢󠁥󠁮󠁧󠁿 (@SamualMykola) November 23, 2020
Stadium announcer will still say there's 55,000 there.

— JS (@SuperbSpearing) November 23, 2020
Not just about the capacity of the stadium but the capacity of the transport infrastructure. 20,000 might be a small percentage of the stadium but that'll quickly overwhelm buses and trains.

— Alex Mann (@plastic_pearl) November 23, 2020
Completely unfair that some teams will have fans and others won't.
All or nothing.

— Simon Marson (@Simonmarson) November 23, 2020
get ready for the third wave!

— LeasideLive (@LeasideLive) November 23, 2020
Seems pretty fair to be honest

— Paul Mitchell (@PaMitch78) November 23, 2020
No it shouldn't lol, this is a fine temporary solution, helps save the lower league clubs for a while at least

— Marko (@Marko_Kov16) November 23, 2020
#NUFC get your cabbages ready lads…

— Jack 🇸🇦 🇪🇸 (@jchaytor16) November 23, 2020
Will be funny when Arsenal announce 59,957 for the first match.

— Yarders (@1yarders) November 23, 2020
— bensun (@realbenrogers) November 23, 2020
Tier 1

4,000 spectators/ 50% capacity for outdoor events, whichever is lower, and 2,000/ 50% capacity for indoor

Tier 2

2,000 spectators/50% capacity outdoors, whichever is lower, and 1,000/ 50% indoors

Tier 3

Ban on spectators remains

— suze (@Suzedcfc) November 23, 2020
Wigan Athletic Record Crowd Incoming….

— What The Football (@_WTFootball_) November 23, 2020
— Papa Jewitt (@OfficialJewey) November 23, 2020
Finally some good news 🙏🏼

— Shameless FC (@manutdboy93) November 23, 2020
Agreed.

Should be 30% in tier 1, 15% in tier 2

— Conor Wells (@conorwells0) November 23, 2020
Leeds should be allowed more?

— Wade (@Real_Wade_DA) November 23, 2020
Fans allowed back!? #letfansin 🔥

— Sam Szmodics (@SamSzmodics) November 23, 2020
We won #LetFansIn https://t.co/0wl3JSDfEd pic.twitter.com/REa2kyeghx

— Reece (@BoroFCcentral) November 23, 2020
Amongst the joy football fans are feeling right now I have to give a special mention to @DorkingWDRS who have been a driving force behind #LetFansIn from the very beginning

— Matt (@matt_johnson_89) November 23, 2020
While it's great news it's also maddeningly inconsistent – just a few weeks ago we could have no fans, now we can have 4,000. That's a big shift and has no apparent logic behind it – there's been no fundamental change in the background. https://t.co/eY217H5GG7

— Dale Vince (@DaleVince) November 23, 2020
🚨BREAKING | Football stadiums will be now allowed to re-open from the 2nd of December with 4,000 fans allowed in Tier 1 areas and 2,000 in Tier 2 areas. | [Official]

🏟Football fans have been kept away from stadiums since March.#THFC #COYS #Footballpic.twitter.com/7UfbQfcPQa

— Last Word On Spurs🎙 (@LastWordOnSpurs) November 23, 2020
Good to see fans getting back into stadiums in England. Wait to you see the fall out between Rangers fans when we can get 4,000 in. Fuckers will be sticking family members into the Polis for made up stuff to get their ticket haha.

— Franky (@FrankyRN51) November 23, 2020
4,000 fans allowed at sports venues straight away after lockdown lifted. It's encouraging…but straight away? I told you this lockdown smelt funny.

— James Pearce (@ronaljimho) November 23, 2020
This is huge. Football stadiums set to be ALLOWED to re-open to fans from December 2. With 4,000 fans allows in at the tier 1 level, 2,000 fans at tier 2 level. However grounds will remain shut for areas in tier 3. FOOTBALL WILL BE SAVED! #football #fans

— Joe (@joebyt_official) November 23, 2020