The remaining hurdles Derby County have to overcome as fresh Wayne Rooney claims are made following his exit from the club last week.
It was a busy few days for the East Midlands outfit with a bid accepted to buy the club an interim manager appointed and some player departures including winger Malcolm Ebiowei agreeing a move to the Premier League.
Wayne Rooney is said to have quit Derby in order to spend more time with his family, coming just hours after a positive development emerged regarding the club's future.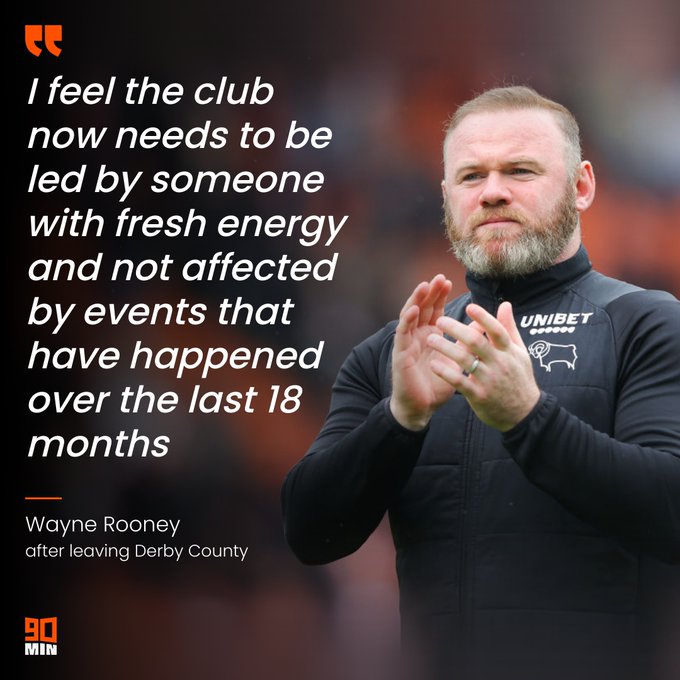 Local firm Clowes Developments confirmed it had purchased Pride Park Stadium from Mel Morris and had given Derby, still in administration, a loan to give them security and start the upcoming campaign.
He outlined his wish to leave the club because he felt someone needed to come in who was not burdened by the turmoil he has experienced during his time at Pride Park having led Derby through a huge amount of uncertainty over the last 18 months and has had to contend with administration and transfer embargos.
"Personally, I feel the club now needs to be led by someone with fresh energy and not affected by the events that have happened over the last eighteen months," Rooney said. The 36 year old had recently been been on holiday in Dubai with his wife, Colleen and their four sons Kai, Klay, Kit and Cass Mac and also spent time in Ibiza with former Manchester United teammate Michael Carrick.
He will have been mentally exhausted, which he made clear when speaking about the club's future 13 months ago. "We need everything to be sorted out from the point of view of people above me to make sure it allows me to do the job to the best of my ability, it has been frustrating," he said in May last year.
His plan going forward is said to be focusing on his coaching knowledge before linking up with anyone else.
Rooney, 36, is halfway through a Pro Licence course and recently went to Toulon for the Under-20 tournament as part of his training.
He now plans to visit top clubs at home and abroad to learn more and is also to enrol in the LMA management course.
His loyalty to Chris Kirchner kept him committed to the Rams — however when the American failed to deliver his cash, it seemingly left in angered and considering his future.
Rooney looked at the prospect of building a squad from scratch, with at the time, Clowes to complete his deal, a summit ended in his resignation and now Rooney's assistant Liam Rosenior is to take on the role, though it remains to be seen if that will be permanently as Clowes and administrators Quantuma focus on getting their rescue package accepted by the EFL.
On Sunday afternoon, Rosenior, 37, was confirmed as the club's interim manager.
Liam Rosenior will take charge of first team affairs on an interim basis 🐏#DCFC

— Derby County (@dcfcofficial) June 26, 2022
Derby's players will return to Moor Farm Training Ground on Monday morning to start pre-season training and Rosenior will head up preparations for the upcoming 2022/23 League One campaign and will be supported by the existing first-team backroom staff.
It was then revealed that Derby County winger Malcolm Ebiowei agreed to join Crystal Palace on a five-year deal from the 1st of July.
The day busy weekend ended with local property developer David Clowes having his bid to buy Derby accepted and hopes to complete the purchase on Wednesday.
A spokesperson on behalf of the joint administrators said: "Over the course of the last day or so, the joint administrators have continued positive discussions with Derbyshire-based property group, Clowes Developments (UK) Ltd ("Clowes") which resulted in a credible and acceptable offer being submitted.
"Discussions in respect of this offer, which complies with the EFL Insolvency Policy, have taken place with a range of stakeholders.
"The joint administrators are delighted to confirm that they have formally accepted Clowes' offer to acquire Derby County Football Club ("The Club") out of administration. Clowes has been granted preferred bidder status with immediate effect.
"The joint administrators will now enter into a period of exclusivity with Clowes, with a completion of the acquisition of the business and the assets of the Club targeted for 29 June 2022. All parties are now working hard to conclude what is still a complex legal transaction within a very short timeframe.
"Once concluded, the transaction will enable the Club to move forward and prepare for the upcoming season out of administration. It will also ensure that Pride Park Stadium and the Club are under the control of a new, local owner with the commitment and resources to enable the Club to move forward with a clean slate. The offer also provides the best return for creditors and enables the Joint Administrators to fulfil their statutory duties and will ensure that there are no further points deductions levied against the Club once it is out of administration.
"The acceptance of Clowes' offer, and the entering into a period of exclusivity means the joint administrators are now prohibited from continuing discussions with other parties who had indicated an interest in acquiring the Club. The main focus is now on concluding the transaction with Clowes within the targeted timeframe."
David Clowes, chairman at Clowes Developments, spoke about wanting to rescue the club he supports.
"With a deadline looming and the start of the next season getting closer, we needed to do something," he said.
"As a local and established property company, purchasing the stadium seemed the obvious first step. Secondly, as a proud Derby supporter, it was inconceivable to me that the club was at risk of falling away.
"We've worked tirelessly behind the scenes on the stadium purchase and loan agreement to be able to get the club going again in time for the next season. Players, staff and fans needed some good news, and we are delighted to play a part in delivering that.
"As a long-standing loyal supporter, I am personally delighted that we are in a position to be able to secure the future of the football club. This is a very proud and humbling moment for Clowes Developments."
The Clowes bid for Derby has been officially accepted, which is incredible news!

Completed by June 29th ✅
No more points deductions ✅
A much-needed clean slate ✅
Rosenior as interim boss ✅
New signings incoming? 🔜

Derby County is saved, time to get excited again! 🐏 #DCFC pic.twitter.com/78elmf9k6M

— Jake Barker (@JakeBarker1212) June 26, 2022
HURDLES TO OVERCOME
The hope is now that the deal will go through with Clowes indicating Wednesday as the much-hoped-for day of destiny. Before then, there will be some nerves from everyone associated with Derby having previously gone close.
Also, unfortunately for Rosenior and his small group of staff, they could well being outnumbering the senior players at his disposal.
With just five weeks until the new season, a numbers of players whose contracts were set to expire have already left, goalkeepers Ryan Allsop and Kelle Roos head to Cardiff and Aberdeen whilst youngster Festy Ebosele had already agreed to join Udinese on a pre-contract agreement whilst another academy product, Isaac Hutchinson, has opted to move to Walsall. Malcolm Ebiowei has signed a long-term deal with Crystal Palace.
The Rams start pre-season training with only five first-team players under contract for next season, a total which does not include a goalkeeper or any defenders.
Restrictions placed on the Rams while in administration have included a transfer embargo, which has left the club unable to sign new players and also can't offer fresh deals to those whose contracts expire at the end of this month.
Charlie Slater, BBC East Midlands Today said: "For nearly 300 days Derby fans have been waiting for their knight in shining armour to ride to the rescue. They may finally have that in David Clowes.
"From a family well established in the local area, you do not have to stop too many people in Derby before you find someone who has done some kind of work or business with the Clowes family over the years.
"Given the nature of this hellish period, that has cost the local community in ways that cannot be measured in just pounds and pence, you can forgive there still being some scepticism.
"There is now an in-built 'wait and see' approach as Rams fans have long since learned is necessary when waiting for a takeover that for months appeared may never come. However, even the most cynical must now feel optimistic that their annus horribilis is nearing a close.
"Clowes already owns Pride Park stadium and is putting money into the club to fund their day-to-day running by way of an interim loan. His company is the first interested party to do so throughout the past nine months.
"As of today they are the preferred bidders to conclude a takeover and have entered a period of exclusivity with the club's administrators, which in turn will sideline other interested parties like Mike Ashley and Andy Appleby.
"Also key is that the bid, according to Quantuma, will "provide the best return for creditors" and "ensure that there are no further points deductions levied against the club once it is out of administration".
"Good news for newly named interim manager Liam Rosenior, who can go about work looking to add to an existing squad of just five players returning for pre-season training on Monday morning.
"The Clowes, an unassuming family of Derby fans who have kept a watchful eye on the chaos at their beloved club, said in their own statement last week that they just "needed to do something".
"With a completion date set for Wednesday the 29th of June, maybe, just maybe this endless saga is nearing a close."
Fans reacted as reports emerge on remaining hurdles Derby have to overcome and fresh Wayne Rooney claims are made…
@BaldDavid_: Absolutely over the moon for @dcfcofficial. Traditional football club who I like to watch and a very likeable club. Hope you can push on now 🙏 #DCFC
@sjforsyth: David Clowes isn't messing about. Just getting the job done. The professionals do the business first, then talk about it after. Unlike the previous bloke. #DCFC #dcfcfans
@dcfc87: I don't care if we spend 10 years in League One, I'm not bothered if we never see the Premier League ever again, nor am I fussed if we never ever sign another household name. All I've wanted is our club to exist in its current form & we're SO close to having that secured
@The1884Rams: One thing yesterday did prove is that certain sections (👀) of the fan base were clearly only going to be happy if 'their' chosen owner for the club took it over. Sad to see. Well done David Clowes, here's to a bright future 🍻 #dcfc
@Marehay_Monkey: Soon be time for Rams fans to step up again, buy their season tickets, buy the shirts, buy the pints and food in the ground and help David Clowes get Derby County back to where they belong 🐏 #dcfc
@markberry: This seems to have so much firmer foundations! The matter of the ground being one very important one… and knowing that the bidder actually has money and an interest in the City
@Demrams245: Friendly reminder that any of the interested parties could have done what Clowes has. They just didn't. #dcfc
@carolyn005x: David Clowes making everyone's Sunday… prosecco'clock I think 🥂✨ #dcfc #dcfcfans
@WestSussexRam: Good luck, Liam. We're behind you 👊🐑
@jo_peabody: Make it permanent and put Curtis beside him!
@portercarl1: Logical choice to be given the job on an interim basis although it would suggest we're obviously keeping our options open too 👍🏼 Director of football incoming maybe 🤔 good luck Liam 👏🏻🖤🤷🏻‍♂️🐏
@juliek1712: Understands the club's problems and has helped build a great relationship with the fans and the remaining players. Has a season of learning the ropes under his belt and is up for the challenge. Good luck to him, solid interim appointment. UTR! 🐑🖤👍
@chris_ostick: The best of luck Liam rosenior we're all behind you, every step of the way, hope you have a good eye for potential incoming talent, when the light turns green. 🖤🤍🐏
@DaleyDCFC: Makes the most sense and it's not a high risk, I am sure the players waiting for contracts would still want to play for him and the transfer targets may stay the same.
@RamInSweden: I can get behind this. We need action to rebuild and sign contracts and he will have already been involved in that process. I do have a feeling Rooney will have offered players too much though. He was very much pro player power and big wages as a player. May need to renegotiate.
@credwood_dcfc91: We're all behind you Liam, goosebumps already at the prospect of 30k at PP on July 30th and you walking out to the standing ovation you deserve. #dcfc #dcfcfans