Portsmouth slams 'vile and hateful' messages sent to two Wigan players following the two sides' League One meeting at the weekend.
Callum Lang's 78th-minute strike was the difference as Wigan edged fellow League One high-flyers Portsmouth 1-0 at the DW Stadium.
In a statement released by the club on Sunday evening, the Blues said there is no place for what appeared on social media and that such behaviour would not be tolerated.
PORTSMOUTH CLUB STATEMENT
Portsmouth Football Club stand in solidarity with Wigan Athletic by strongly condemning the abuse directed at two Latics players on a social media post following Saturday's match at the DW Stadium.
There is no place for such vile and hateful messages and anybody who engages in such activity is not welcome in football – and certainly not at Portsmouth Football Club.
The club will not tolerate any form of discriminatory language, either in person or via social media.
WIGAN ATHLETIC CLUB STATEMENT
Wigan Athletic strongly condemns the abuse received by a number of first team players via social media messages on Saturday evening.
Latics Chief Executive, Malachy Brannigan, said: "The threatening, distasteful and vile messages a number of players were subject to is completely unacceptable. All messaging has been reported to the relevant authorities with the intention that the instigators will be held accountable for their actions.
"The Club has offered support to the players who have been subject to these messages.
"As a Club we back calls from the football authorities for real-life consequences for those found to be sending abuse of any form via social media.
"Online abuse must stop now."
Prior to Saturday's trip to the north west, Wigan sent a letter to their League One rivals – including the Blues – that the Football Association would reprimand clubs if Republic of Ireland international James McClean was subjected to sectarian abuse on DW Stadium match days.
And sticking by that stance, the Latics have called 'for real-life consequences' for those found to be sending abuse of any form'.
One message sent to James McClean, seemingly from an 'Ashley Donald', wished death upon the player and his kids.
Yet again we are seeing this, how can it keep happening, why do they think they can get away with it?
Surely these people know the implications and punishments that would be served to them off the back of this, so does that need to be harsher in order to prevent it from happening again?
We have slogan, messages, gestures, campaigns all to try and kick this type of abuse out, yet is it really doing anything? Because if anything it's carrying on and this certain type of abuse is on a rapid rise.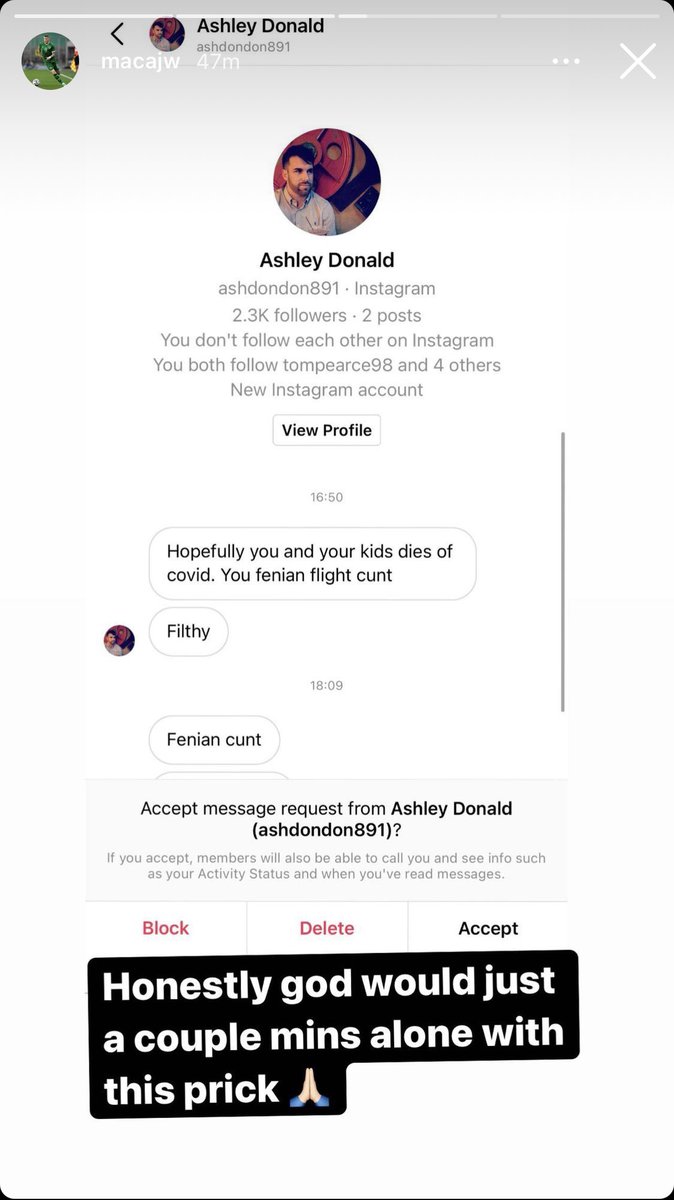 Fans reacted as Portsmouth slams 'vile and hateful' messages sent to two Wigan players…
@Jordan____wafc: Nobody should have to put up with this. Very sad to hear the lads getting abused. 😞🔵⚪️
@knight37: End of the day Wigan won 1-0 I respect that why anyone would want to abuse players is a disgrace, banter is fine I love that! Pompey should do a full investigation and take action, I'm sure they will. All best Wigan for the season. Play up Pompey
@joepane29: This is happening after every game. Whatever is being done to stop this isn't working.
@SteveHorsfield5: There's some disgusting individuals around.
@SpiggyTope: The FA strongly need to start issuing sanctions to any league club who's fans have been found to be guilty of racism or homophobia.
@rumham01: Always been proud to be a Pompey fan, but the past couple of months.. all the bigots coming out, giving our club a bad name!!!!
@mattj_362: So I'm guessing they're banned
@TomLikesFooty: It's all good saying this. What are you going to do about it?
@bericszn: Usual small minority who can't enjoy a game of football without abusing the opposition
@BlueArmyAlex: Reminder that these are real fans and should be made an example of, hope to see bans as a minimum.
@jacran001: Chuck them in jail for 5 years.
@JonSquires5: Ban them from Fratton Park for life, absolutely embarrassing for us as a club
@1spud12: …wtf is wrong with some people
@benwafcdalton: Cowards however they are.
@ella_jade_: I'd assume you've banned the "fan" for life then, yes? His picture and name is out there, won't be a difficult job.
@THE_COLSON: Good stance Pompey. No matter who's fans are to blame here it tarnishes the game we all love.
@DaveHoughton14: Fair play Pompey. Taking the piss out of each other is brilliant. We all need a bit of fun in our lives, bring it on as long it's healthy piss taking. That gobshite was way, way over the line!
@Glinty_Stance: Usual stick between fans is always gonna happen but whoever caused this definitely took it too far
@deb_chap: Unbelievable 🙄 the abusers will get their comeuppance 😡
@CaddickCraig: I love banter between fans but calling peoples kids is bang out of order
@Lt_wafc: Some reet weirdos about, class for tics this💙
@jools4949: Find out who they are n ban them for life. There is no place in our football family or anywhere else for this sort of behaviour
@capfc11: I don't agree with the things James McClean says or does and generally think he's a prick, but to start saying things like "i hope you're kids die of covid" is fucking disgusting!!
@Ckay218: The horrible fucker needs banning for life
@jackcummins_9: Ban them from the stadium sick and tired of the abuse James gets every week.
@AshFazzer16: embarrassments to the club.
@PowlRose: @Pompey @PompeyPolice this is disgusting vile behaviour. Online abuse should never be tolerated. Hope this is being looked into and action taken.
@DDaviesFootball: Completely unacceptable from the usual keyboard warriors.
What about this mon who wants to stamp all over my head along with other Latics fans? pic.twitter.com/MMiAf0jcAB

— Ian (Scoffy) Schofield (@NoseyLatic) August 29, 2021