In this article, we take a look at the top six favourites to become next Fulham manager as Scott Parker departs for Bournemouth.
He has taken over as head coach at the Cherries on a three-year contact after leaving the Cottagers, who he took over in February 2019, but could not stop them being relegated from the Premier League that season.
He guided them to promotion back to the top flight through the playoffs in 2020, but they came down again last season.
"The ethos, the reputation, the journey and the challenge here is something that's very exciting," said Parker.
"I believe this is the perfect fit for both parties. We want to build a team the fans can be proud of and one they feel represents them. We can't wait to get started."
Fulham described Parker's departure from Craven Cottage as "by mutual consent" and chairman Shahid Khan said: "Through promotion and relegation alike, Scott has always enjoyed my support.
"Scott's departure does nothing to shake my confidence, however. We will hire a new head coach who is capable of achieving our goal of promotion and will be committed to Fulham and its supporters.
"And we will field a squad that will respond, compete and win. Onward."
Time to take a look at the top six favourites to become next Fulham manager according to Sky Bet…
6) Slaven Bilic
He was most recently in charge of West Brom, however after guiding them back to the Premier League at the first attempt last season, the Baggies thought picking up seven points from 13 league games, with eight defeats was the final straw, though they earned a surprise 1-1 draw at Manchester City on the day of the sacking.
Bilic, 52, signed a two-year contract when he took over at the The Hawthorns in June 2019, replacing Darren Moore, and went on to stay at the club for 18 months.
Hajduk Split – 2001 until 2002 – 16 games, 11 wins, 3 draws, 2 defeats, 68.75 win %
Croatia U21 – 1 July 2004 until 30 June 2006 – 19 games, 8 wins, 4 draws, 7 defeats, 42.11 win %
Croatia – 25 July 2006 until 14 May 2012 – 65 games, 42 wins, 15 draws, 8 defeats, 64.62 win %
Lokomotiv Moscow – 14 May 2012 until 18 June 2013 – 32 games, 13 wins, 7 draws, 12 defeats, 40.63 win %
Beşiktaş – 28 June 2013 until 21 May 2015 – 91 games, 47 wins, 22 draws, 22 defeats, 51.65 win %
West Ham United – 9 June 2015 until 4 November 2017 – 111 games, 42 wins, 30 draws, 39 defeats, 37.84 win %
Al-Ittihad – 5 October 2018 until 24 February 2019 – 17 games, 4 wins, 5 draws, 8 defeats, 23.53 win %
West Brom – 13 June 2019 until 16 December 2020 – 65 games, 26 wins, 22 draws, 17 defeats, 40.00 win %
Total – 416 games, 193 wins, 108 draws, 115 defeats, 46.39 win %
Sky Bet odds: 12/1
5) John Terry
John Terry is currently number two to Dean Smith at Aston Villa and had been previously linked with jobs at Bournemouth, Watford, Bristol City and Derby County.
Though it's been confirmed that there have been no approaches for the ex-Chelsea player, according to Smith, with pundits urging Terry to get his first spell as a first team manager.
In Jun 2021, John Terry proudly posed with his UEFA Pro Licence certificate – the highest level coaching qualification available in Europe – meaning he is now over-qualified for his current role.
He was on the shortlist for the West Brom role and has been considered by Bournemouth, but was not No 1 choice at either, so will continue to bide his time.
Sky Bet odds: 12/1
4) Sean Dyche
There is the potential that the Clarets chief might end up choosing to walk away from Turf Moor at the end of the 2020/21 season.
Dyche has two years left on his contract, but could be set to walk away prematurely from his deal due to growing frustrations in which he is disappointed by the failure to agree contract extensions for senior players.
Despite the lack of resources available, Dyche started the 20/21 campaign campaign impressively at Turf Moor, in the top 10 for much of the first 10 games of the season, however the Lancashire side have since fallen to 15th spot in the Premier League.
Dyche is optimistic about plans for Burnley following "healthy and open" talks with new chairman Alan Pace.
Sky Bet odds: 10/1
3) Eddie Howe
Eddie Howe has been linked with many clubs for the manager's position for however long he stays unemployed.
The 42-year-old guided the Cherries to more than 450 games across two spells spanning more than a decade but stepped down this summer following the club's relegation to the Championship.
Their five-year stay in the top flight ended despite a 3-1 win at Everton on the final day of the season.
Howe also made more than 300 appearances as a player in the famous red and black stripes.
Howe was initially appointed AFC Bournemouth caretaker manager in December 2008, with the club sitting on -17 points at the bottom of the Football League.
Against all the odds he secured their safety and followed it with promotion from League Two the following season.
After a brief spell in charge of Burnley, a masterstroke from owner Maxim Demin bought Howe back to Dorset, and he then proceeded to achieve two further promotions in three seasons, leading the Cherries to the Premier League, where they remained for five years.
Sky Bet odds: 8/1
2) Steve Cooper
Cooper had been attracting heavy interest for the 20/21 season and won't come cheap, though it did leave Chris Wilder impressed by what he has done at the Liberty Stadium.
Of the 103 games the 41-year-old has been in charge of, he's won 47 for the Swans, and has a strong coaching background with Liverpool and in the England youth setup.
Cooper is described to have preferred his teams to play with "good organisation and structure". He wants his teams to control the game by being brave on the ball and confident when passing.
Cooper coaches his teams to have tactical discipline; defensively, he prefers his players to regain possession through composure and aggression, as mentioned on UEFA's website.
Cooper cites former Barcelona B coach José Segura as his main influence after the pair worked together at Liverpool's academy.
Tactically, Cooper likes to deploy a 4–2–3–1 with two holding midfielders and attacking wing-backs. He has also used a 5–3–2 or 3–5–2 formation to ensure greater defensive stability and more flexibility in attack.
Sky Bet odds: 15/8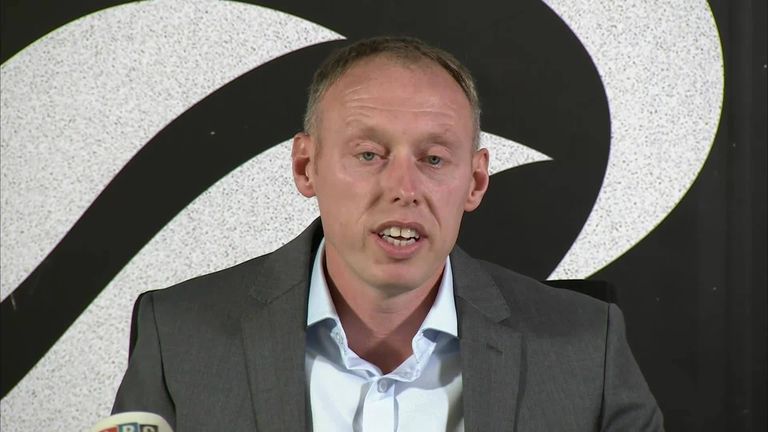 1) Chris Wilder
Wilder has won promotion at every level from National League to the Championship and it's likely that is why he emerged as the a candidate for the likes of West Brom, Crystal Palace and many others in 2021.
The 53-year-old took charge of 227 games for the Blades, taking them from League One to the Premier League and looked set for European qualification, however the campaign stopped due to the pandemic and his side then saw a collapse in form.
Even though Sheffield United sat bottom of the Premier League table when he departed earlier this year, Wilder still managed to pick up 1.59 points-per game in Yorkshire, slightly up on his career average of 1.57 points-per game.
MANAGERIAL STATS:
Halifax Town – 2 July 2002 30 June 2008 – 312 games, 120 wins, 77 draws, 115 defeats – 38.5 win %
Oxford United – 21 December 2008 26 January 2014 – 269 games, 121 wins, 70 draws, 78 defeats – 45.0 win %
Northampton Town – 27 January 2014 12 May 2016 – 126 games, 61 wins, 28 draws, 37 defeats – 48.4 win %
Sheffield United – 12 May 2016 13 March 2021 – 227 games, 106 wins, 47 draws, 74 defeats – 46.7 win %
Total – 934 games, 408 wins, 222 draws, 304 defeats – 43.7 win %
Sky Bet odds: 6/5
As the top six favourites to become next Fulham manager are revealed, fans reacted to news of Scott Parker's departure…
@EJ_1892: maybe no one will notice if we drop this during the maddest 45 minutes of play since the start of the tournament
@TomRogers24: I do also think Parker is extremely fortunate not to have been sacked after the capitulation at the end of the season
@ColBennettH4: Scott Parker was a coach I could never warm to due to his style of football but you always tip your cap to people who give the club glory. He did that at Wembley but thank fuck this tedious process is over.
@FarrellMonk: Can't help but feel sad it ended this way. Had a chance to build a legacy with a potentially excellent manager who loved the club. But for whatever reason the relationship crumbled. Just have to peruse the uninspiring but likely replacements to realise what a good thing we had.
@martyw82: Matt Hancock affair was a better kept secret than this
@LMCTimberlake: Ouch. Going to miss you, Scotty. An era has ended, so much potential, short lived by our appalling owners. I'll be watching out for your inevitable success at Bournemouth, I have no doubt that's a team I don't want us to face. Loved this club, a special manager. Good luck, Scotty
@Tendou1879: I liked Scott as a personality but hated his style of football and his treatment of Mitro. I don't wish him well, because he'll be a promotion rival.
@AF_Spurs_OSC: Not a hint of thanks or best wishes in that statement. Seems to be rather acrimonious.
@ReggRude: I have to say that is the most graceless farewell to a bloke who gave his all for Fulham on the pitch and as manager.
@TamaraDragadze: Very sad to see Scott Parker leave who never had a chance to prove himself because of the chaotic recruitment. I hope our club have learned their lesson and get a full time professional DofF. Good luck Scott Parker. I'm embarrassed frankly!
@HKofGuildford: Announcement by @FulhamFC fails to include any thank you or best wishes. Poor by #FFC. So thanks Scott and our best wishes.
@samimagraw: Thanks for everything scotty! Passion was always there! No idea why this has taken so long though! Now let's get the new manager in ASAP and get the summer recruitment going!!!
@grannylovekin: Lots to like about Scottie, but a managers' life is not a "Happy one" as G & S used to say ( for the oldies amongst us 😉) Time for us all to move on and as I keep on saying (endlessly 🙄) …let's hope we appoint somebody who "brings on" the academy. They are FFC's future.
@JBrianR91: Fulham Chairman, Shahid Khan, said: "This is my sons fault, but we will continue to blame managers for as long as we can get away with it. The Fulham fans will never figure it out."
@europechris: His son's biggest mistake is appointing Parker as manager. Another manager could have kept Fulham up with that team.
@richdean21: Good luck to Scott wherever he goes. Let's hope @TonyKhan decides to stop playing football manager with our club and hands the reigns over to a DOF with proper football experience
LETS GOO pic.twitter.com/nRScOQEfbN

— MagicMaja (@oscar_isyadoi) June 28, 2021
Will always appreciate the win he got us at Wembley against Brentford. But won't thank him for the following relegation, playing Cav up front instead of Mitro, constantly picking RLC or the coma inducing style of play he insisted on inflicting on me week in week out. pic.twitter.com/QBOXVlVS7c

— sambergsudeikisapotheosize 🏴󠁧󠁢󠁥󠁮󠁧󠁿🇬🇧 (@Rog1Ben) June 28, 2021