South Shields stun fans with artist's impression of new main stand at the 1st Cloud Arena, formerly known as Mariners Park.
Work on the club's supporters stand had been hit by delays as the Northern Premier League outfit reveals how it will look for first time.
Because of the pandemic stop starting work, it has been confirmed that it will not be ready for the start of the league 2021-22 season on the 14th of August.
🏟️ We have today released an update for supporters on the progress of our new main stand.

We're excited to share with you an updated artist's impression of how the stand will look and why we believe it will be well worth the wait.

Click the link below for the full update 👇

— South Shields FC (@SouthShieldsFC) July 18, 2021
CLUB STATEMENT:
The construction of a new main stand at 1st Cloud Arena will benefit our club greatly for what we hope will be many years to come.
We are hugely excited about how the new facility is already starting to form and have been delighted to share the progress of the work with you over recent weeks.
Although the original aim was to have the stand fully operational by the start of the 2021-22 season, much like most other construction projects across the country this year we have been hit by some significant challenges and unforeseen issues beyond our control.
Most notably, the vastly extended lead-in times for basic raw materials, including certain elements of the steel framework itself, have resulted in delays to our timeline for completion and we must now acknowledge the fact the stand will not be ready for the start of the league season on August 14th.
We are working tirelessly to ensure that it is operational at the earliest opportunity and will endeavour to keep you informed at regular intervals.
We will be directly speaking to all supporters who have purchased a season ticket in the new stand to offer a temporary solution while the work is completed, and we hugely thank them for their patience and understanding.
While we are extremely frustrated that we are unable to meet our initial target date for completion, we hope you agree that it will be worth the wait.
We will soon be sharing an exciting video piece which will give you a great insight into why everyone at the club is so enthused about this transformative next step for us. The artist's impression of the stand attached to this article provides a small taster of this.
Thank you for your continued support.
– STATEMENT ENDS –
South Shields stun fans with the artist's impression of new main stand, take a look at what everyone said…
@Dukeyce: Came away from yesterday really excited about a return to competitive action & until u have seen the skeleton of the stand u don't get a true reflection…. Exciting times ahead 😊
@macpherson_p: Awesome… will be worth the wait! 👍👏
@UTM_Mariners: 😍
@dunny1969: Outstanding
@SSFCacademy: Very excited to see our young players playing in front of this wonderful new stand. It's going to be a game changer for the whole club #Excited #BetterNeverStops
By the looks of it, they can, there's definitely room there for a tarmac walkway in between the stairs and the fence

— Claret & Blue Pixels (@Dazzla84_SSFC) July 18, 2021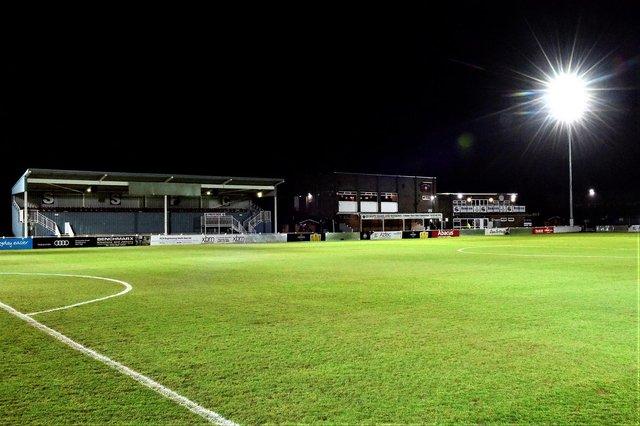 Michael Wood: Fantastic
Stu Rounthwaite: Holy sh*t – this is gonna look amazing
Michael Purcell: Looks great
Geoff Main: Wow…
Mark Hodgson: Unbelievable just shows the ambition of the club 👏🏻👏🏻👏🏻👏🏻
Tony Brown: That's absolutely awesome and again I can't wait however long it takes to be complete 🎉🎉
David Bertram: How refreshing to have a club that respects its fans, could you imagine SAFC or NUFC being upfront and keeping them in the picture about how things are going. Can't wait to take my seat in the stand however long it takes.
Lee Edwards: Damn, looks awesome
Dean Knight: Now that looks class.
Garry Marshall: Samuel check this belter out man!
Phil Duggan: That is something else that like! Ready for the season or not, that's one hell of a statement from the club!
Grahame Barron: However long it takes, it's going to look spectacular.
Si Mulvaney: Looks mint that , I'm a Mackem but I've kept a close eye over the last few years with South Shields as my second team , love what has happened there and watching them grow . Top job to all those involved and the supporters should be really proud of the hard work and what's been achieved. Just ordered the new South Shields top the same time I ordered the new Sunderland one for my holidays
Waldo Jeffers: I work in project management and can completely understand any delay!
Darren John: That's absolutely superb. Something for the whole town to be proud of.
Dave Smith: Going to be superb for many years to come. Delay? No problem!
Margy Magpie Mcqueen: Omg that looks amazing! 👌
David Leadbitter: What about having the mariners in the seats
Scott Riley: Very impressive
Bob Wynne: Absolutely fantastic. Can't wait to visit you again
Chris Whalen: Fabulous
Kenneth Wood: Once its finished its going to be amazing
Dave Smith: Going to be superb once completed!
David Bray: Good luck to Shields! Ole Ole Ole Arca Arca
Gary Stoker: Absolutely fantastic
Paul Mcgeary: Mint 🏴󠁧󠁢󠁥󠁮󠁧󠁿⚽️
Lee Payn: Fantastic 👌🏻