Wrexham owners Ryan Reynolds and Rob McElhenney make a class donation after their club player Jordan Davies and his partner loses their baby.
The well known co-owner have shown their generosity once again by raising money to a GoFundMe campaign set up after the tragic death of a newborn child.
Jordan Davies and his wife suffered the loss during childbirth in December, with the defender sharing the awful news via social media in recent weeks.
Kelsey and I can't thank everyone enough for your kinds words , means so much to us both❤️

— Jordan (@jordandavies98) December 14, 2021
No one should ever have to go through the pain of losing their baby, but we are very lucky to have these services if the indescribable does happen.

We would appreciate any donation, knowing that Arthur is helping another grieving family 🌈https://t.co/JQAQxEu264

— Kelsey (@KelseyEdwards_) January 1, 2022
"We never got to spend our lives with you, but you have placed a huge mark on our hearts, forever. Heaven has gained a perfect little angel!" he wrote.
A fundraising page was create with the aim of raising money for Sands UK (Stillbirth & Neonatal Death Society) – who help grieving parents.
The initial target was set at £1,500, however that figure was made to look tiny once McElhenney and Reynolds donated £10,000 to the cause.
"Rob, Kaitlin, Ryan and Blake For Arthur," read their donation message.
One social media user shared the news on Twitter, writing: "Wow @RMcElhenney and @VancityReynolds donating £10,000 towards the fundraiser for @jordandavies98 and @KelseyEdwards_ baby boy. What incredible people, football is so much more than just a game."
McElhenney had already got in contact with Davies after the tragic death, offering his support.
Rob replied by saying he and his wife Kaitlin Olson were "so sorry" for their loss, and even urged the player to get in touch with him if they ever needed anything.
In November 2020, Wrexham fan said he felt like "he won the lottery" after McElhenney donated £6,000 to his online cause.
Life-long Red Dragons supporter Aiden Stott suffers from cerebral palsy and was looking to change his bathroom to be suitable for his disabilities.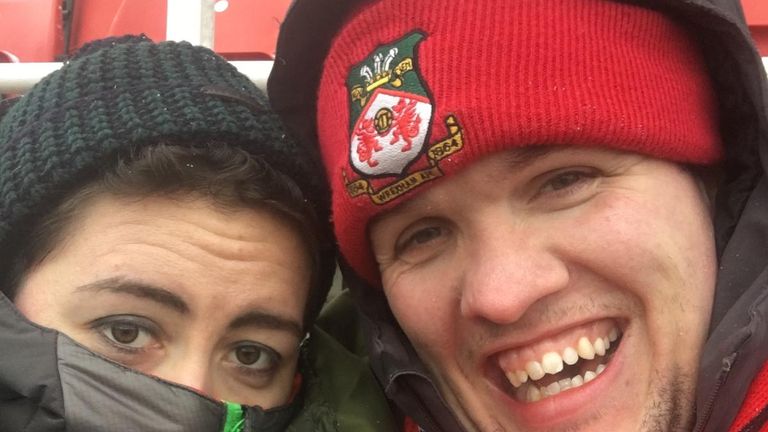 After making a online fundraising page, Aiden and sister Cheryl were shocked to wake up on Wednesday morning with the £6,000 they had been quoted for the work donated by McElhenney just two days after his joint ownership takeover o Wrexham with Ryan Reynolds was confirmed.
She said: "In terms of actions speaking louder than words, they've hit the nail on the head with proving themselves straight away.
"You hear people say they're going to do things like that, but to do it straight away, they haven't even got to work properly with the club.
"To hear the plea of a devoted Wrexham fan, when we didn't even get in touch with them directly is amazing.
"It was through the fan pages how Rob [McElhenney] saw it. Even if he had just shared it, that would've been astounding, never would we have dreamt he'd donate to it.
"The donations are incredible, even if it's been £5 or £10. It's incredible.
"It's not just the new owners, it's the fans, they pulled rank to look after one of their own. That's the spirit of a community football club. I hope Rob and Ryan see that, that they've bought into something special."
One of those groups was the Wrexham Disabled Supporters Association, and committee member Steven Gilbert says they have been in touch with Reynolds and McElhenney about accessibility and inclusion at the Racecourse Ground.
He said: "Rob messaged us, after we sent him a private message to tell him what we were and what we do, and we told him we'd be keen to find out their thoughts on accessibility and inclusion.
"They agreed it would be a high priority for them.
"There's a lot of things we do well, we have a wheelchair viewing platform at executive box level, we played the first game of autism friendly football in 2013, the stadium is autism friendly every week and we have audio descriptive commentary at games."
On the donation from McElhenney, Steven said: "It was a massive shock really. Our group tweeted them in the hope they'd retweet the message.
"We went to bed that night and woke up to discover Rob had paid the lot, stunning really."
"We would like further wheelchair viewing platforms as we still have a lot of front row seats for wheelchair users who get wet," Steven added. "We want platform viewing for wheelchair users who can be part of the crowd and stay dry."
But the implications of McElhenney and Reynolds' ownership have already started, in the form of another generous offer, this time from Reynolds.
Steven said: "Ryan keeps sending the local pubs bottles of gin!
"They've got 18 bottles each, and all three pubs are giving the proceeds to charity. There's a massive feel-good factor in the town. We're all so excited to see them come in."
BABY LOSS HELPLINES
The Lullaby Trust (formerly FSID the Foundation for the Study of Infant Death)
Bereavement Support: 0808 802 6868
The UK's leading baby charity working to prevent sudden deaths and promote health. Lullaby funds research, supports bereaved families and promotes safe baby care advice, including helpline for bereaved parents and their families, friends, neighbours and anyone else who has experienced the sudden death of a baby.
Sands (Stillbirth and neonatal death charity)Helpline: Freephone 0808 164 3332www.sands.org.uk
Sands provide support for bereaved parents and their families when their baby dies, before, during or soon after birth as well as information and support for healthcare professionals.
The Miscarriage Association
Helpline: 01924 200 799
www.miscarriageassociation.org.uk
We know that miscarriage can be a very unhappy, frightening and lonely experience. If you have been affected by the loss of a baby in pregnancy, whether recently or long ago, we hope that you will find here support, information and comfort.
The Worst Girl Gang Ever
www.theworstgirlgangever.co.uk
A membership support platform with podcasts, blog and courses for miscarriage and baby loss. It really is the gang that you'd never choose to be part of, but as you'll soon find out that it is also a gang chokka-block full of kind, supportive, warrior women, just like you. By talking openly, honestly and conversationally about these sensitive topics, we aim to reduce the stigma, smash the taboo and break the silence that has surrounded baby loss for decades.
Petals (Pregnancy Expectations Trauma and Loss Society)
Petals was set up as a charity in 2011 by a group of healthcare professionals working in maternity care, alongside women who had experienced first-hand the loss of a baby, or trauma during birth.
We fund a specialist counselling service for parents affected by any of the following: Still birth, Neonatal death, Trauma/depression following delivery, Diagnosis of fetal anomalies, Antenatal anxiety/depression, Miscarriage, IVF anxiety, Fear of pregnancy/birth. NB provides a specialised counselling service at Addenbrookes Hospital in Cambridge, Queen Charlottes and St Mary's Hospitals in London, the John Radcliffe Hospital in Oxford, and Ipswich Hospital.
Tommy's
Helpline: 0800 0147 800
Funds medical research into miscarriage, stillbirth and premature birth and provides information on having a healthy baby. Raises awareness of the facts and provides free, accurate and up-to-date information for medical professionals and parents-to-be. This includes a dedicated telephone midwife service, a comprehensive website and free books and leaflets dedicated to promoting health in pregnancy and pre-pregnancy
Kicks Count
Kicks Count is a UK registered charity that aims to empower mums to be with knowledge and confidence throughout their pregnancy. A baby's movement indicate its wellbeing and by understanding their baby, mums can be empowered to trust their instincts and ensure the healthy delivery of their baby.
The Ectopic Pregnancy Trust
Helpline: 020 7733 2653 (24 hour message line)
A registered national charity, established to meet the needs of people who have experienced ectopic pregnancy and the health care professionals who care for them. The Ectopic Pregnancy Trust believes that the deaths and trauma associated with ectopic pregnancy should be prevented and seeks to both relieve the distress associated with it and provide ongoing support.
Ectopic Pregnancy Foundation
Patient Helpline: 0845 070 4636
The Ectopic Pregnancy Foundation (EPF) has been established with the aim of improving the care of women with a diagnosis, or possible diagnosis, of ectopic pregnancy. We hope to reduce the morbidity and maternal mortality caused by this common condition. For patients the website provides information on what an ectopic pregnancy is, plus the risk factors, symptoms, investigations and treatment options.
Twins Trust
The Twins Trust Bereavement Support Group (BSG) exists to support all parents and carers of multiples who have experienced loss whether it was during pregnancy, at birth or at any point afterwards. We are so sorry for your loss and hope that by making contact with the BSG you will find some comfort.
Lone Twin Network
The Lone Twin Network (LTN) is a support network, primarily serving the UK, but with many members overseas. All members are surviving twins and have that unique understanding of what it means to lose part of yourself when your twin – identical or fraternal – dies. Our membership comprises surviving twins who lost their sibling before, at or around birth; in childhood or as an adult.
The Child Death Helpline
Freephone: 0800 282 986
Additional Freephone number for ALL mobiles: 0808 800 6019
The Child Death Helpline is a helpline for anyone affected by the death of a child of any age, from pre-birth to adult, under any circumstances, however recently or long ago.
Saying Goodbye
Contact: 0845 293 8027
Saying Goodbye provides comprehensive information, advice, support and much more to anyone who has suffered the loss of a baby, at any stage of pregnancy, at birth or in infancy, whether the loss be recent or historic. In addition, it looks to support people through subsequent pregnancies, fertility treatment and adoption.
Life after losswww.lifeafterloss.org.ukLife After Loss is an online support community set up in November 2006 by bereaved mothers who find support and friendship through sharing their grief over the loss of a baby at any stage of pregnancy or after birth.
ARC
Helpline: 0207 713 7486
ARC offers non-directive information and support to parents before, during and after antenatal screening; when they are told their baby has an anomaly; when they are making difficult decisions about continuing with or ending a pregnancy, and when they are coping with complex and painful issues after making a decision, including bereavement. We're here for as long as you need us. Our helpline is answered by trained staff Monday to Friday, 10.00am-5.30pm.