Welling United make a big-name appointment in a former Premier League manager, coming just a week after Steve Lovell chose to quit.
Lovell left the Wings following the club's exit from the FA Cup Second Qualifying Round, with the 61-year-old said he is looking for a new challenge after initially looking to have been turning the club's league form around, after a torrid start in National League South, but suffered a setback with a defeat against Harrow Borough.
Well now the club have moved quick to bring in Peter Taylor, with the 68 year old last in management at Dagenham & Redbridge.
The former Dartford, Dover Athletic and Gillingham boss will hope he can turn the fortunes around at Park View Road as he joins a side who lost 6-0 to Dartford at the weekend and sit next to bottom in National South.
WELLING UNITED STATEMENT:
The club is delighted to announce the appointment of Peter Taylor as the new First Team Manager.
Peter has had an illustrious football career both as a player and then subsequently as a Manager, managing not only in the Premier League with Leicester City as well as various Football League Clubs (leading teams to promotion on four separate occasions), but also at international level with the England Under 21 team and Under 20 team.
Peter has taken charge of the First Team's training session today and his first game in charge will be on Saturday away to Oxford.
– STATEMENT ENDS –
MORE ON PETER TAYLOR:
Peter Taylor is an English retired footballer, previously playing for the likes of Southend United (1971–1973), Crystal Palace (1973–1976), Tottenham Hotspur (1976–1980), Leyton Orient (1980–1983), Oldham Athletic (1983), Exeter City (1983–1984), Maidstone United (1984), Chelmsford City (1986), Dartford (1986–1990), Enfield (1990–1991) and Chelmsford City (1991–1992).
He was previously managed Dartford, Enfield, Southend United, Dover Athletic, Leicester City, Brighton and Hove Albion, Hull City, Crystal Palace, Kerala Blasters, Stevenage Borough, Wycombe Wanderers, Bradford City and Gillingham twice, leaving the last role at the end of 2014. He also had two spells as head coach of the England under-21 team and took charge of the England national team as caretaker manager for one game against Italy, for which he made David Beckham captain of England for the first time. He managed the England under-20 team in 2013. Outside England, Taylor was the head coach of the Bahrain national football team.
During his time as a player with Crystal Palace during the 1970s, Taylor became one of the few players to have been selected for the senior England team when not playing in the top two flights of a domestic league.
Taylor enjoyed a successful playing career as a winger, beginning his youth career with Canvey Island, and had trials at Tottenham Hotspur and Crystal Palace before signing as a junior with Southend United in 1971. Southend gained promotion to the old third division in 1972 and Taylor's part in their success brought him to the attention of Crystal Palace manager, Malcolm Allison, who signed him on the 11th of October 1973 for £110,000. Palace went down to the third tier at the end of that season but Taylor was named Player of the Year and remained at the club for two further seasons becoming player of the year again in 1976. The 1975–76 season was a high point in Taylor's career as Palace reached the FA Cup semi-final, Taylor scoring two goals in the quarter-final in a 3–2 away win at Chelsea and he also made four appearances for the full England team, scoring twice. However Palace's season tailed off after the semi-final and they did not achieve promotion to the second tier. At the end of the season Allison resigned and was replaced by Terry Venables and on the 30th September 1976 Taylor was allowed to depart for top flight Tottenham Hotspur, for a fee of £400,000.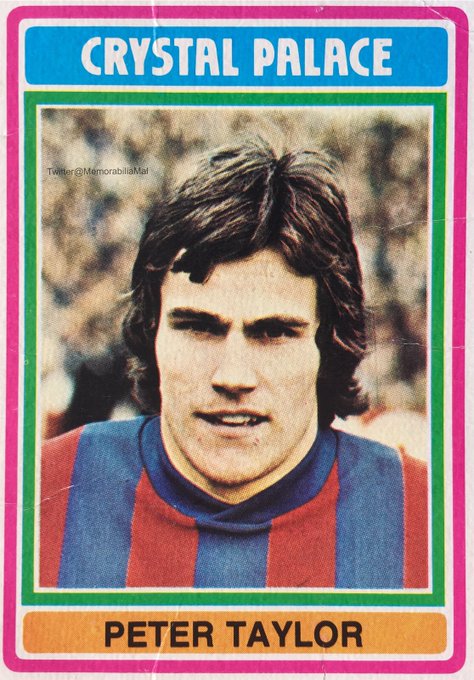 He scored on his debut in a 4-2 defeat at The Hawthorns to West Bromwich Albion. But Taylor had a mixed career at Spurs, suffering relegation in 1977 but the club was promoted in 1978. Taylor did not make another England appearance and in 1980 moved on to Leyton Orient having made 123 appearances for Tottenham scoring 31 times. Taylor played 56 times for Orient scoring 11 times in three seasons and had a brief loan spell at Oldham Athletic. In 1983–84 Taylor made eight appearances for Exeter before moving into non league football with firstly Maidstone, and then Chelmsford, Dartford and Enfield.
Taylor made his England debut as a substitute versus Wales and scored the winning goal in the 80th minute of that game. He scored his second international goal against the same opponents in the next match that he played.[6] Taylor was the last English footballer to score two goals in his first two international games before Rickie Lambert repeated the feat in 2013.
After his playing career ended, Taylor embarked on a career as a coach and manager.
MANAGERIAL CAREER:
1986–1990 – Dartford (player-manager)
1990–1991 – Enfield
1993–1995 – Southend United
1995–1996 – Dover Athletic
1996–1999 – England U21
1999–2000 – Gillingham
2000–2001 – Leicester City
2000 – England (caretaker)
2001–2002 – Brighton & Hove Albion
2002–2006 – Hull City
2004–2007 – England U21
2006–2007 – Crystal Palace
2007–2008 – Stevenage Borough
2008–2009 – Wycombe Wanderers
2010–2011 – Bradford City
2011–2012 – Bahrain
2013 – England U20
2013–2014 – Gillingham
2015 – Kerala Blasters
2016–2017 – New Zealand (assistant)
2017 – Gillingham (caretaker)
2018–2019 – Dagenham & Redbridge
Games managed – 826, games won – 328, games drawn – 194, games lost – 304, win percentage – 39.71
Honours
As a player
Southend United
Football League Fourth Division runner-up: 1971–72
As a manager
Gillingham
Football League Second Division play-offs: 1999–2000
Brighton & Hove Albion
Football League Second Division: 2001–02
Hull City
Football League Third Division promotion: 2003–04
Football League One promotion: 2004–05
Wycombe Wanderers
Football League Two promotion: 2008–09
Bahrain
Pan Arab Games Gold Medal: 2011
GCC Games Gold Medal: 2011
Individual
Premier League Manager of the Month: September 2000
Fans reacted as Welling United make a big-name appointment in the former Premier League manager…
@kianwardgk: Poor fucker
@J_H_Frost: 👏👏 Great appointment
@cfcblue1905: Still Goldberg out
@drdickdixon: @mrose75 @Kevski77 That's rather impressive…!
@phil_dfc: Absolutely massive coup for Welling this
@clucas1984: That's a quality appointment for them
@Georgiecpfc: He'd be their best player now even. Goldberg out.
@Sitdown_Jim: Employing ex-England and Palace managers worked out well for Mark Goldberg last time! 😳
@DigDagMal: Pray for Welling Utd. They've just appointed Peter Taylor as manager Thats going to end well…. Hope they're fans of negative, counter attacking football. 5 at the back, and 1 up top.
@CoachsHotline: Worked wonders at Dag & Red and they've only gone downhill since he left.
@Gammysnr: Hopefully bringing some defenders with him.
@rayfrase01: Great to see Peter Taylor back in the game, no disrespect to @wellingunited but I'm sure he could still pull it off at a higher level 👍
@TommyWalklin1: Perfect timing just before wednesdays meeting 🤔. Goldberg trying to take some of the heat off of himself. Not a chance, start heavily investing or sell up. #GoldbergOut
@JoelAC11: Poor bloke doesn't know what he has got himself into 😂😂
@LeeTaylor93: Still remember the days when he was at Leicester, England U21 & the scum. Hopefully he can keep Welling up
@afcjxseph: What a coup
@PehaugheyPaul: Wow
@Damo_RCW: Bloody hell, quite impressed by this one 👍
@ThisIsJakeJ: Bit of a coup for my local club!
— ASmavric🏴󠁧󠁢󠁥󠁮󠁧󠁿CAFCℹ (@astevens277) September 28, 2021
— James Curran ⚔️⚽️ (@DagenhamLegend) September 28, 2021