England footballer Tyrone Mings hits back at Priti Patel after her remarks on players taking the knee before Euro 2020 matches.
The home secretary made a comment that the anti-racism protest is "gesture politics" and that fans have a right to boo the players, though the defender says "everybody is entitled to their own opinion".
It comes as Boris Johnson's former race adviser warned of "another Stephen Lawrence or Jo Cox tragedy" if government ministers continue to engage with so-called culture wars.
Three Lions' players and manager Gareth Southgate have repeatedly explained taking a knee as an anti-racism protest.
Speaking on Tuesday, Premier League player Mings said players are "trying to educate or trying to inform" people through the move.
"To the home secretary – I don't really have a direct message," the Aston Villa player said.
"We spoke and [Priti Patel] invited me onto a Zoom call once, where she seemed so interested and engrossed in players' kind of point of view and what we could do more to tackle these sort of issues.
"But at the same time, everybody's entitled to their own opinion. The home secretary is one of many, many people that oppose us taking the knee, or refuse to defend it.
"We have our own set of beliefs and what we think we can do to help or be players that can be influential and can stand up for what we believe in, and understandably when you have such strong beliefs there will be opposition to that.
"We've spoken about it a lot, we've spoken about trying to educate or trying to inform the minority who refuse to acknowledge why we're taking the knee and want to boo it.
"But at the same time, in Wembley there was a hugely positive reaction to us taking the knee as well and I don't think that should be overshadowed by a minority that refuse to accept what the reasons are or don't agree with them."
Patel made her comments on the new broadcaster channel GB News where she also criticised the pulling down of the Edward Colston statue in Bristol.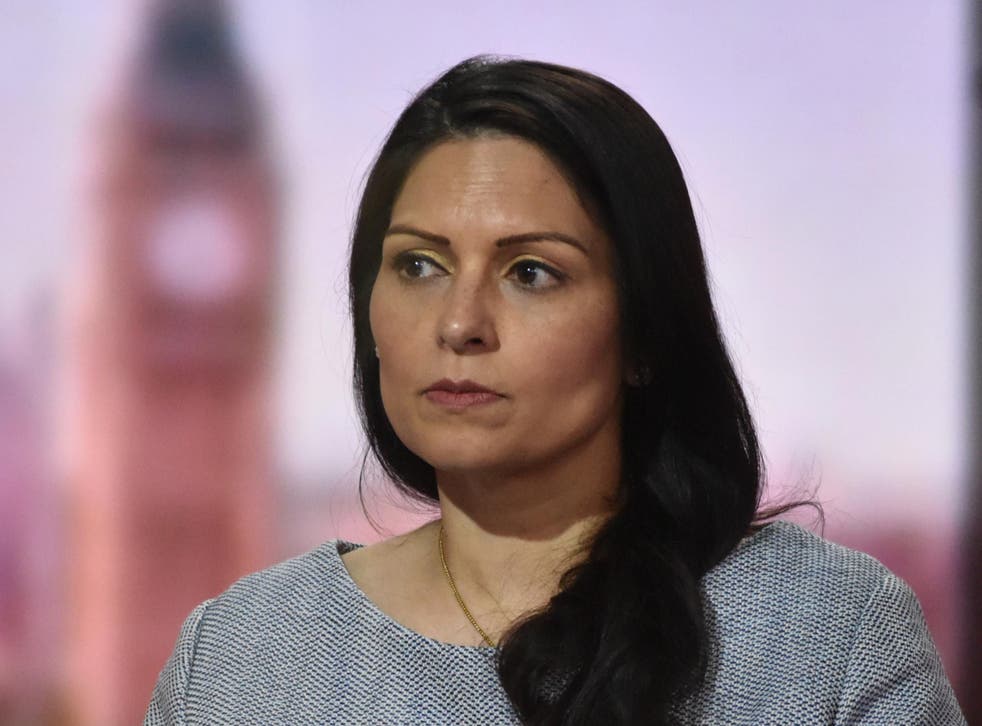 She said: "I just don't subscribe to this view that we should be rewriting our history – pulling down statues, the famous Colston statue, and what's happened there.
"Toppling statues is not the answer: it's about learning from our past, learning from our history and actually working together to drive the right outcome."
Prime minister Boris Johnson didn't criticise those fans who are booing, and has said supporters should get behind the players.
He said on Channel 5 ahead of England 1-0 win over Croatia: "I support England's players.
"When it comes to gestures and symbols I'm more on the side of practical action to combat racism and make life better for everybody in this country.
"I disapprove of people booing the England team… I see no reason to do that."
England footballer Tyrone Mings has hit back at Priti Patel's "refusal to defend" players taking the knee before #Euro2020 matches.

The centre-back says England's players will continue to 'stand up for what we believe in' by taking the knee.

Latest: https://t.co/I5J1TgXTYT pic.twitter.com/jL1m83HX70

— Sky News (@SkyNews) June 16, 2021
KNEE STANCE AHEAD OF SCOTLAND GAME
Scotland players WILL take the knee alongside England at Wembley Stadium after opting NOT to before their opening Euro 2020 tie with the Czech Republic.
That decision was welcomed by Scotland's first minister Nicola Sturgeon, who tweeted: 'From kick-off at Wembley next Friday, Scotland and England will be the fiercest of opponents – but before that, the players will unite in solidarity against racism.
'Good decision, Scotland – well done!'
Speaking about the change of plans, the team's captain Andy Robertson said: 'Our position was – and remains – that the focus must be on meaningful change to fight discrimination in football and wider society.
'In Scotland, the football family has stood against racism all season. It was our collective view that the national team would do the same. Our stance is that everyone, players, fans, teams, clubs, federations, governing bodies and governments must do more. Meaningful action is needed if meaningful change is to occur.
'But it is also clear, given the events around the England national team, taking the knee in this tournament matters as a symbol of solidarity.'
Fans reacted as Tyrone Mings hits back at Priti Patel after remarks on players taking the knee…
It still is unless you're a nob

— MickyVillan (@MickySweeting) June 15, 2021
It might seem that way, but in reality what you're seeing is a vocal minority. People who agree tend to not talk about it as much. You can see that by how the applause drowns out the boos every time.

— Dean Gregory (@DeanGreg93) June 16, 2021
And their individual choice is that they choose to do it, so fair play to them. 👏🏼

— Jay Gaibz (@JayGaibz) June 16, 2021
@itsrustyblade: Gone up in my estimation . Well said 👏
@KING_GELHARDT: GO ON TYRONE!
@Son_Lyme: Mings spoke truthfully – while others may not.
@jimmoriarty81: Now this is how the government can fall. International footballers calling them out for being dick heads. More of it please
@AlexBass08: When a footballer cares more about his fellow person than the home secretary there's an issue
@socraleese: Mings = Legend
@Joe80848052: If Priti Patel is public criticising you, you know for sure you're doing things right! I have enormous respect for Southgate and the England squad, so damn proud of you lads. Supporting you all the way
@thumpermaxie: England players have their right of freedom of speech but they have to accept so do others.
@matty_shilly: Will the players be taking a stance against the World Cup being held in Qatar? A place where slavery is common place.
@8dwa4: Fuck no. They dont mind getting huge checks off that oil money.
@TomLong78: Well said Tyrone Mings. Also always good to read a Priti Patel answer written out in quote form. Rarely makes any sense…