Two League One matches ended up getting halted due to crowd trouble with chants condemned during the games and after the final whistle.
Cheltenham Town say they are "saddened" by reports of alleged homophobic abuse during Saturday afternoon's draw with Charlton Athletic.
The Gloucestershire outfit said police are investigating the alleged incident at the Jonny-Rocks Stadium, while there was also a pitch invasion by a number of supporters from the away end.
Cheltenham said: "We are aware of the reports of homophobic abuse during this afternoon's match against Charlton Athletic.
"We are saddened by the incident, which is being dealt with by the police. We will not be making any further comment at this time.
"Cheltenham Town has a zero tolerance policy to discrimination of any kind and works closely with Proud Robins and the Robins Trust to promote football for everyone at the Jonny-Rocks Stadium, irrespective of their background.
"Proud Robins, our new LGBTQ+ supporters network, was launched in December to drive inclusion at the club. We will continue to work closely with everyone to ensure all supporters can enjoy football in a safe and welcoming environment.
"We encourage fans to report discriminatory behaviour to their nearest steward so that appropriate action can be taken."
In a tweet, Proud Robins said: "We are bitterly disappointed to hear reports of homophobic abuse at today's Match. Discriminatory abuse is a hate crime and any person using it is not a fan and needs to face the full consequences."
Chuks Aneke's last-gasp equaliser cancelled out Dan Nlundulu's earlier goal to earn Charlton a 1-1 draw, leaving Cheltenham 13th in League One, and the Addicks in 14th.
As mentioned there was a pitch invasion from a group of Charlton fans, coming after the late equaliser with some running to a stand containing Cheltenham supporters.
DEAD😂 #cafc pic.twitter.com/IKweIhiaUf

— Nicole (@nicolexearl) January 15, 2022
#cafc pic.twitter.com/KwEFi4TS1c

— Sparky 🤙🏻 (@addickted1905) January 15, 2022
Oxford United manager Karl Robinson and Wycombe Wanderers boss Gareth Ainsworth have both condemned alleged homophobic abuse reported at their League One match at Adams Park.
The game, which saw Wycombe come out 2-0 winners, was briefly stopped in the second half as referee Anthony Blackhouse spoke to both managers after a conversation he had with Wycombe goalkeeper David Stockdale.
A stadium announcement then reminded fans to not use homophobic language at the ground, with those doing so being reprimanded.
Oxford said they would work with the authorities to investigate and 'would like to state as clearly as possible that discrimination of any kind is not acceptable at matches, home or away, or on social media.'
There was also a fan coming from the home end who thought it would be a good idea to run on the pitch, before getting held back by Oxford players with security and stewards took him away.
Massive twat on the pitch. Embarrassing!#wycombewanderers #OxfordUnited
Steve Seddon grabs the idiot #OUFC #WWFC #COYY#FigueirenseUK #FigueiraOxford pic.twitter.com/7fJiqgqlGA

— Robert John Rolph Bedding (@RolphBedding) January 15, 2022
When questioned about what the referee said, Oxford boss Robinson said: "He said there was a homophobic shout from the crowd.
"If it was one person, point him out and he's removed. But no one could point him out and we don't know what part of the ground that came from.
"Someone said to me it was one person. I've known the goalkeeper for a long time – he's a good person and he wouldn't tell a lie.
"It's not acceptable. I've always been called one or two things throughout the course of my career but it's not acceptable the abuse that people get. There's words that people say that aren't acceptable but there's physical acts that are even worse and these also have to be stamped out. Some of the stuff going on today was disgusting.
"[There needs to be] education on the homophobic chant that's come out. I think we all know that the industry's working incredibly hard to stamp out any form of discrimination. But this one narrow-minded fool can't tarnish the reputation of this great game.
"We only ever speak about this moment of stupidity, rather than a collective group of fans who sang their hearts out for their teams."
Asked about the homophobic abuse, Ainsworth said after the match: "I didn't hear anything myself but obviously the people closest to the fans heard it.
"All I'll say on that is I'm proud to be in an era now where players are comfortable reporting it and referees are very comfortable dealing with it.
"We'll see what happens but there's no room for that in football and hopefully we can eradicate that.
"We regard our values highly and our values are that this is a community and family club.
"Passions run high in a game, especially when it's against Oxford, but there's no room for stupidity or any kind of abuse in the game."
Writing on his Instagram page after the match, Stockdale said: "Great win today. Everyone put the massive effort in.
3/4 clean sheets makes me 😁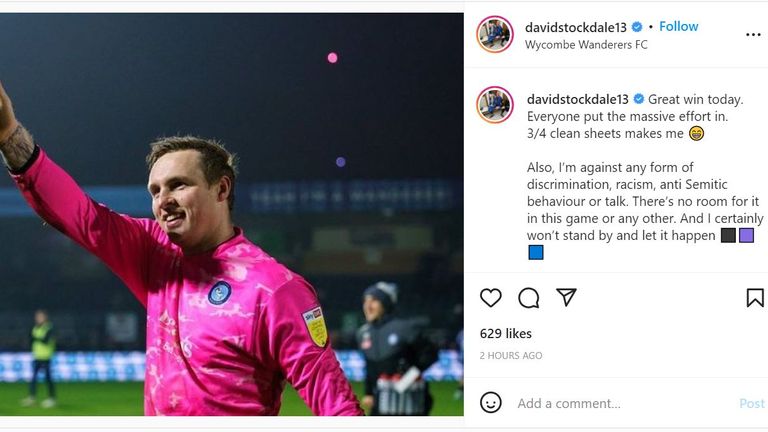 "Also, I'm against any form of discrimination, racism, antisemitic behaviour or talk. There's no room for it in this game or any other. And I certainly won't stand by and let it happen."
Stockdale's team-mate David Wheeler tweeted praise for the goalkeeper for "standing up against homophobia".
OXFORD UNITED STATEMENT
Oxford United will wait for reports to be completed but will work with the safety team at Wycombe Wanderers and all of the relevant authorities to investigate allegations of homophobic comments during today's game at Adams Park.
The club will examine all of the available evidence but would like to state as clearly as possible that discrimination of any kind is not acceptable at matches, home or away, or on social media.
Oxford United remain committed to providing a safe, inclusive environment for all supporters and will not tolerate any form of discrimination.
Twitter users reacted after two League One matches get halted due to crowd trouble with chants condemned…
ON THAT AT CHELTENHAM v CHARLTON
@Darren15313878: 3 Charlton fans arrested for homophobic comments
@ShawnHa47487632: And there was me thinking the club were going to do something about the 20/30 fans invading 🤦🏻‍♂️
@B212Adam: Ban them from every ground in the country!! Absolutely no need for it!!
@JonnyrobCAFC: Disappointing to read this! #cafc
@JamesTarget03: Idiots the lot of them! Majority of our fans don't tolerate stuff like that.
@MikeGormo: Completely disgusted by this
@02_JDB_: Good to see a no nonsense approach taken. No need for it whatsoever and must be heartbreaking for any LGBT home or away fans there today.
@cafc_h: Whoever this was needs to be fucking punished. Absolutely disgraceful. #cafc @CAFC_PV
@ossaclaves: im genuinely so disappointed i thought our club had decent fans :/
@RhysCafc44: Fucking idiots whoever you are
@SteveHyndside: Hope lifetime stadium bans follow @CTFCofficial
ON THAT AT WYCOMBE v OXFORD
@geoffy13: Will Wycombe also work with Oxford on the 'assault' of our player by one of their fans – their stewards only seemed interested in congratulating him
@El_Snell: Plenty of idiots in our end today I'm afraid. Horrible abuse, breaking seats and fighting. An absolute disgrace and embarrassing for OUFC.
@danedwards1981: Brings shame on the club I believe Oxford will sort it and find those responsible
@John_WhiteVlogs: As much as today was a shambles it's never okay too discriminate anyone wether it's for race gender religion or sexuality and I hope the investigation sorts it out at the same time I hope the prat that assaulted whyte is also investigated no need for it
@chappers_paul: Considered response and absolutely the right thing, this has no place in our game. Assuming Wycombe will also be investigating the fan on the pitch, the fan who pushed whyte and the subs who seemed intent on winding the supporters up…
@StrattonZak: Some Oxford "fans" need to take a look at themselves, embarrassing.