West Ham player Tomas Soucek is forced to undergo plastic surgery after getting a horrific facial injury against Everton on Sunday.
The Hammers midfielder has undergone plastic surgery to repair his broken lip after being stamps on by Salomon Rondon in the Premier League clash.
Soucek was struck in the face by Rondon's studs at Goodison Park, leaving him with severe cuts around his eye, lip and nose.
The Czech Republic midfielder said after the game that it was "great to add to my collection" of stitches and he is set for availability for Thursday's Europa League match against Genk, despite the trip to the plastic surgeon.
"Tomas wants to play," said David Moyes, the West Ham boss. "He has had his lip stitched and he got it done by a plastic surgeon on Tuesday because it was stitched up after the game. Now it has been redone.
"He has also had a couple of stitches on his cheek, and he has had a couple of his nose, in between his eyebrows. He is fine. I said to him, 'Look at my eyebrows, Tomas. My eyebrows have been stitched up from my years of being a centre-half and getting cut'. He has to get a few more stitches before he gets to this level."
Meanwhile, Moyes has warned of the mental health issues that can affect football managers, following Steve Bruce's admission that it was "very, very tough" to be consistently abused as Newcastle manager.
"I have been called lots of things," said Moyes. "I have had periods in my career where it has been bad and still, in many places you go, it is difficult.
"There are a lot of mental health issues which come from being a football manager, I have to say. Football managers are no different to other human beings who work in other industries, in other roles, but maybe we are not treated the same because it is seen as fair game that football managers can be called out or publicly talked about."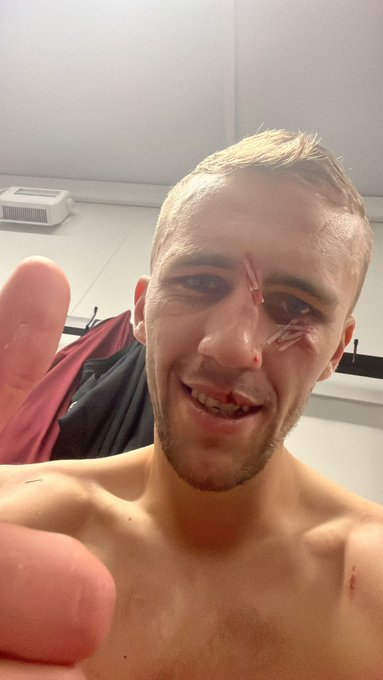 Fans reacted after seeing that Tomas Soucek was forced to undergo plastic surgery after suffering a horrific facial injury…
@The_BoleynBoys: What's everyone's thoughts on Rondon/Soucek? Only seen small clips, can't for the life of me see why Rondon needs to step back like that though, he knew the big man was there and it went completely unpunished. Shocking decision! @premierleague
@abiodunyesboss: So sad the player responsible didn't even get a yellow card for this challenge @premierleague 😞
@BlueToffee11: I think I can speak for behalf of all Everton fans that we wouldn't complain if he was banned for the entire season 👍
@BenA64731998: Surely some retrospective action needs to be taken? Rondon clearly meant to stamp on Soucek.
@andyjsb: Here's hoping so… From an Everton fan
@JackRising3: Not even a foul, the guy literally runs forward and then puts his boot back!
@gowens1878: Please please please ban Rondon for the rest of his Everton contract
@Connelldinho02: Terrible and deliberate from Rondon. Ban him for the season imo
@Vicaz22: 30 game ban for Rondon 🙏
@THlERRYNEVERS: ref didn't even give a free kick ffs
Can't believe people think this is unintentional. There's absolutely NO reason for him to be stepping backwards here. Rondon could have cost Soucek his eye and his career. No red card given and ref doesn't even stop play for a head injury 🤬 #EVEWHU pic.twitter.com/92vzRthcT8

— Michael Montanye (@Montmich) October 17, 2021
@JPM1406: Ban Rondon
@RiddledBlues2: Rondon needs a season ban
@DanBandell: Totally agree it was horrific… please seek action and ban him immediately
@1bbyWHU: Rondon is a prick
@deanrmarsh: Surely retrospective evidence can prove Rondon deliberately stamped on his face! I've watched it back loads now… Purposely pushes foot backwards!
@Tom_coyi: Rondon is a cunt pass it on
@AlfieMax_WHU: And it wasn't even a booking for Rondon let alone a red card 🤬
@nikoIavlasic: dirty cunt @salomonrondon
@richythepigeon: The damage that salomon rondon did u cant let him get away with this @premierleague @FA
@CHtillidie1: Rondon intentionally hit him. Where is the VAR when it is needed?
@FomMara57: Agreed, was furious at the challenge, especially the way the commentators brushed it aside. If you account for Matic's foul of Coufal, that's too bad fouls unpunished
@RichardGSBOUT: I would say he knew exactly what he was doing.
@Joeythekid100: He stepped forward then moved back for no reason to hit soucek, 100% was intentional. If that was Kane or grealish it would be all over the news.
@bubsy_1977: Looked deliberate to me.
@GrazaWhu: He knew he was on the floor behind him, he wanted to give him a dig, it's a totally unnatural movement ergo it must have been deliberate. Benefit of the doubt says he didn't intend to catch his face, but he did intend a dig. VAR should have looked at it and he should have gone.
@Sam6WHU: He meant it! The fact it wasn't even mentioned on MOTD or reviewed just shows how we are up against it sometimes. Other way round and we'd be sent off and branded thugs.