The amount of money Wrexham could receive due to their new takeover by Hollywood actors Reynolds and Rob McElhenney is revealed.
Reports have emerged, claiming that the duo will take Wrexham "to the next level" financially, that's according to current manager Dean Keates.
Keates expects Reynolds and McElhenney's takeover of the National League club to be completed within a fortnight after the Supporter's Trust approved it recently.
After speaking to the duo this week, Keates is convinced Wrexham's future is bright. and will certainly benefit financially.
"I had a good chat with them on Monday night," he said.
"We had a conference call. Obviously they are extremely busy men. There were one or two things we spoke about, about the club going forward.
"They are very humble, how they speak. They are very excited by the project and looking forward to working with the football club, developing it infrastructure-wise and taking it forward."
Reynolds and McElhenney are to take control of the North Wales outfit, who have been fan-owned ever since back in 2011, after the club's supporters' trust voted overwhelmingly in favour of the proposed deal.
The takeover could lead to a stunning $2.63million (£2million) being invested in the National League club, who are 11th in the fifth tier after Saturday's win over Aldershot.
"The biggest thing for me they spoke about was the infrastructure of the football club," Keates added.
"People have worked and sacrificed a lot for this club. It now looks like the baton is going to be passed on and we're probably going to have a lot more funds available to take us to the next level.
"That's not just league position – it's going to be hard – but it's going to make us a lot more competitive and the infrastructure side is going to be big."
Keates said a week ago: "You don't really see investors and owners of football clubs this high profile but it's exciting times for the football club," Keates said.
"It's gone through the steps it needed to go through and the fans have voted in mass numbers in favour.
"It offers the football club security. Short term it guarantees the club's future and mid to long term it makes it look like an exciting project ahead.
"I had a conversation with Rob and Ryan, they are very excited about the project and putting their ideas in place.
"They were humble and down to earth. It is all a bit surreal. They are well researched, they are looking at it and they are learning."
Fans reacted after seeing the amount of money Wrexham could receive due to the new takeover…
Terry Thatcher: Wow, what a huge boost that would be to the club
Jason Lee: It would be so good to see Wrexham back in the Football League again
Paul Osbourne: £2M! That's going to do so much good for the club, and no doubt there will be much more to come
Ryan Edwards: So exciting for this. A significant amount, it's only going to get better
Billy Wright: £2million being invested into our club, get in there!
Liam Hawes: We are going up say we are going up!
Now that you have seen the amount of money Wrexham could receive due to the new takeover, what do you make of it? Let us know!
New Wrexham owner Rob McElhenney recently made a stunning gesture to the club's disabled supporter Aiden Stott, who has cerebral palsy.
He had been trying to raise much needed cash to get a bathroom so his family could wash him, so set up a donation page.
However, he has now been left "feeling amazing" after the Welsh side's Hollywood actor donated £6,000 to give him and his family all the essentials.
Aiden Stott woke up one morning to see the generosity from the stars, saying he couldn't believe it.
The diehard lifelong supporter, who has been a season ticket holder for several years and is a member of the club's Disabled Supporters' Association, was completely blown away by the donations handed not just the stars, but of the fanbase.
"It means the world to me, it really does," said Stott.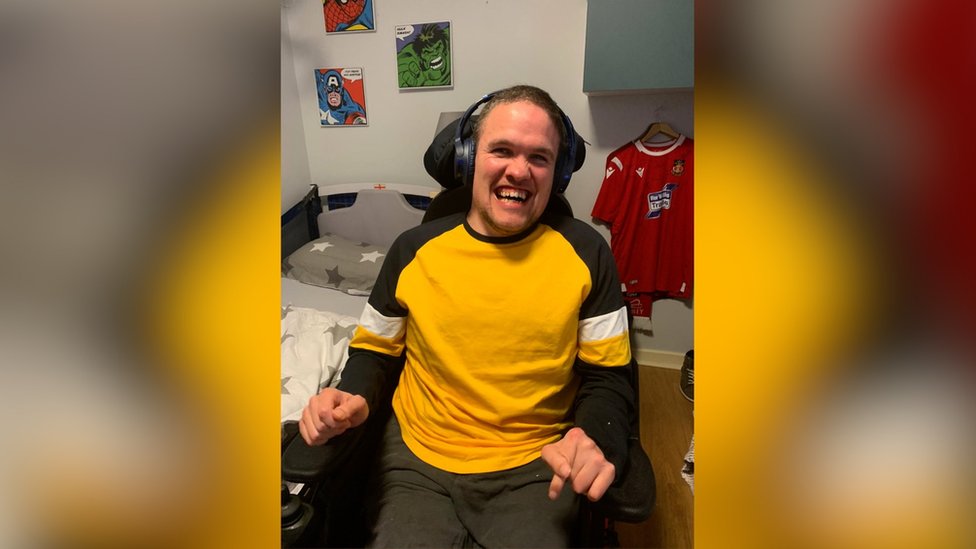 His care suffered cuts, and the 37-year-old's parents sold their family home to buy a flat for him to live closer to them in Manchester.
Though they discovered that in order to adapting the bathroom to make it safe for Aiden, his family and carers, it would cost £6,000, so the family decided to set up a fundraising campaign.
"I had been deliberating whether to do it or not, because there are so many people in worse positions than us, it's not like Aiden is starving, he's got a roof over his head," his sister Cheryl said.
While a number of people had already donated to the fundraising campaign, Cheryl said she was woken up on Wednesday by a friend telling her to look at the page.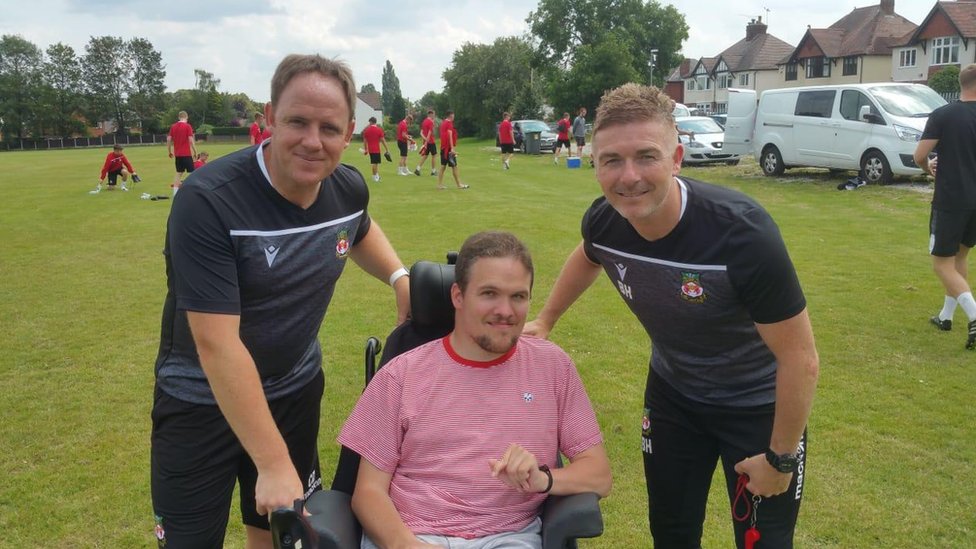 It was only within the last week that McElhenney along with Ryan Reynolds were chosen by fans to takeover the National League outfit.
Then on Wednesday, Aiden Stott woke up one morning to see the generosity from the stars, saying he couldn't believe it.
"It was there, his name, no message, obviously I wrote a message to him and told him he made my mum cry, but we haven't heard anything from him," she said.
"That a Hollywood movie star looked at a picture of my brother and read his little story and what he's going through, it's just incredible.
"It's amazing that he bought the club in the first place, which we are all really excited about, but to do that as well, it just shows his true character and meaning."
Ms Stott, a firefighter, said since the donation, more companies have helped out saying they would adapt the bathroom for a lower price.
"This means we can get him carers quicker as well… it's not just the bath it's being able to employ people to look after him and not to rely on his dad," she said.
Steve Gilbert, chairman of the club's Disabled Supporters' Association, said everyone was overwhelmed by the star's generosity.
He said he tweeted McElhenney the link to Aiden's campaign on Tuesday in the hope he could generate some interest, a retweet or something.
"I am still choked up about it, I still can't really put into words what it means," he said.
"Rob contacted us on Twitter five or six weeks ago, he told us he had spoken to Ryan, and he had said accessibility and inclusion was very important to them.
"A day into their ownership and they have already done this, we are just chuffed."
Mr Stott said he would love to meet the club's new owners and thank McElhenney for his lovely gift.
"That would make my day," he said.