Swansea City close in on a managerial replacement for Steve Cooper as talks progress and the 2021/22 season's start around the corner.
The Welsh outfit had hoped to announce Jody Morris as their new head coach within the next 24 to 48 hours if they can agree terms with him, according to Planet Swans.
However, late on Friday night, an approach has been made for MK Dons' Russell Martin, and it's him who now looks the more likely to be named.
In yet another confusing job search, it had looked like John Eustace would be getting the job a short while ago, however he turned down the opportunity and stayed as assistant manager with Queens Park Rangers.
–
Eustace emerged as the early front-runner to succeed Steve Cooper in the Liberty Stadium hot-seat a few weeks ago and seemed almost certain to be unveiled as the club's new boss, only to seemingly perform a dramatic U-turn.
It's understood Eustace's decision was not a footballing or financial one and he was reportedly relishing the task at hand and the chance to rebuild the squad, having previously come close to taking over in 2019 when Graham Potter left the club.
Eustace had even discussed terms with previous chairman Trevor Birch before the club eventually opted for Cooper, but he is a coach that has seemingly been on the radar ever since.
It seems the deal taking him to SA1 this summer has fallen through due to matters beyond the control of Eustace or the club, with both parties believed to be bitterly disappointed at how things have developed.
The Athletic reported days ago that the club were in talks with Jody Morris but also were eyeing up MK Dons boss Russell Martin as well, although any move to bring the latter to the Liberty would require compensation to be paid.
MK Dons boss Russell Martin insisted there has been no approach from Championship side Swansea City for his services – little over a week before his side take on Bolton Wanderers.
"If something official ever happened, I'm pretty sure you'd know that pretty quickly," Martin said when questioned whether an approach to MK had been made.
"As far as I'm concerned we're here and doing a job. A job I really enjoy.
"After that, I don't know how long the journey with us will last. I'm planning to be here a long time, but in football you never know.
"At this moment in time, I'm happy and I'm with a group of people I really enjoy doing it with.
"I think the club would have told you. No one's told me there has been."
"Nothing really changes for me," he added. "I've been in this situation already early on in my managerial career where you get talked about. I've become really accustomed to being able to ignore the noise over the length of a long career because there's always noise.
"Outside my office on the wall as you come in, there's a huge thing that says, 'Ignore the noise. Trust the process. And enjoy the journey'.
"So that's something I live by. So nothing's changed for us. We worked like absolute dogs this week getting ready and worked so hard over the last five or six weeks in assembling a squad we're all really happy with. We roll on, and we keep going and we keep making sure we're getting better and better all the time."
He's set to be in charge of the Dons' Carabao Cup clash with Bournemouth this weekend while Chris Wilder, also a new favourite, is not even being considered.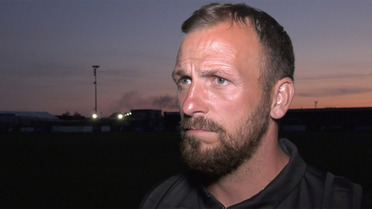 Morris coached Chelsea's under 18s between 2014 and 2018 and most recently was assistant for Frank Lampard before the pair were let go by the Blues in December 2020.
He had lead the way to become Cooper's successor but even though Swansea want the 42-year-old secured imminently, there is no done deal yet and it would seem a blow to him that the club are now asking for Russell Martin's services.
Fans reacted whilst Swansea City close in on their managerial replacement as talks progress…
@andytidy_80: Wish Jody all the very best if it happens 👍🏻 However, disappointing, IMHO, if not surprising. I think it's a massive gamble, and in no way guarantees us a brand of football. Martin would, even if it needed a smart revisit of the balance of autonomies in the back room.
@andytidy_80: Contacts aside. I'd be keen to understand Jody's credentials. Post Cooper, the main objective for me was rediscovery of a strong playing identity that translates positively to the fan base. Not sure how we can say Jody will necessarily deliver upon that anymore than Cooper.
@Kadswan: I'd rather they did everything they could to get Martin in tbh
@Bristol_jack79: Needs to be sorted soon with so many players needed to come in!
@Lewis7Rhys: I hope it is Jody Morris but i won't believe it until it's a done deal
@scfcelis: Hope it happens
@ale_vokes: Do it @SwansOfficial
@vetchfieId: Tate in for the first game.
@craigowen15: If morris wanted the Job it would have been done by now , he,s out of work , theres not much money on offer simple as that.
@TheTrueJackYT: Happy with that
@SportCoachingDS: With the money I've had on Morris this better be bloody true!
@scfcliam_: beg we get this done
@littlebuster6: Let's get it done then. No mucking about.
@ill_shank_urDad: @SwansOfficial get jody morris in and be done with it
@rowan_scfc: would be very happy with Morris, the clubs lack of urgency for a manager is still worrying tho
Jody Morris the favourite again? Made a quick little 're touch 🦢 pic.twitter.com/NFxaaSwfKL

— Ķýłė 🦢🏴󠁧󠁢󠁷󠁬󠁳󠁿 (@scfc__kyle) July 30, 2021