Southend United chairman Ron Martin stoops to a new low by SWEARING at a fan in the Zoom meeting on Friday night ahead of the weekend's game.
Right now, the club are under a very dark cloud with fears they could end up suffering a third successive time, and playing in the National League South.
They currently sit 18th in the top tier of non league football, and things took a nasty twist earlier this week when the Shrimpers chairman lashed out at one member of his own team's supporters.
A minute long clip has been uploaded to social media and is quickly doing the round, showing just how it went from bad to worse.
Southend United Chairman Ron Martin swearing at yet another fan in this evenings zoom meeting.@shrimperstrust pic.twitter.com/xQW19jGwxK

— Simply Shrimpers (@SouthendSimply) October 8, 2021
As seen in the footage, a fan asked: "Just a hypothetical one Ron, if I won the 72 euro millions on Friday, and I came to you and said here's 25 million, would you walk away and give me the club?"
Ron bluntly replied back: "No. Absolutely not. And you can make it 40 million and I still won't do it because I'm going to deliver this new stadium for you."
Pure silence follows, for a good while in fact.
Ron interrupts on fan trying to speak, adding: "If you do you can buy me a beer instead."
The supporter replies: "You just said you won't make any money from all this building, which I don't really understand, and I'm not a businessman, I'm a plumber, that's what I do for a living. I understand my game. I don't understand you game. Erm, I don't see how you can be here this long and then not actually, just here for the end game, you've got to be making money?!
Ron raises his voice: "Because I fucking love the club you idiot. That's why."
The fan sits back which shock and says with surprise: "Thank you for that."
The other supporters on the Zoom call can be heard saying "Right, I'm going to step in here now" whilst another claims "And that is what we're dealing with here."
This plan for Southend United's new 22,000-seater stadium was first submitted four years ago, but now it's expected to be heard by the council at the end of the month.
The Shrimpers dropped out of the EFL for the first time in 101 years in May.
They got their first win of the season Tuesday but was overshadowed by protests against chairman Ron Martin.
Carole Mulroney, from Southend Borough Council, said she was expecting a large turnout at the meeting.
The authority's development control committee will review the application, which includes 1,450 homes on the 25th of October.
Plans include the council partnering with developers to build 800 of the homes at the new stadium, at Fossetts Farm, which will be let for affordable rents, the Local Democracy Reporting Service said.
The club's current home at Roots Hall will be redeveloped into 502 new homes for rent once the club has relocated.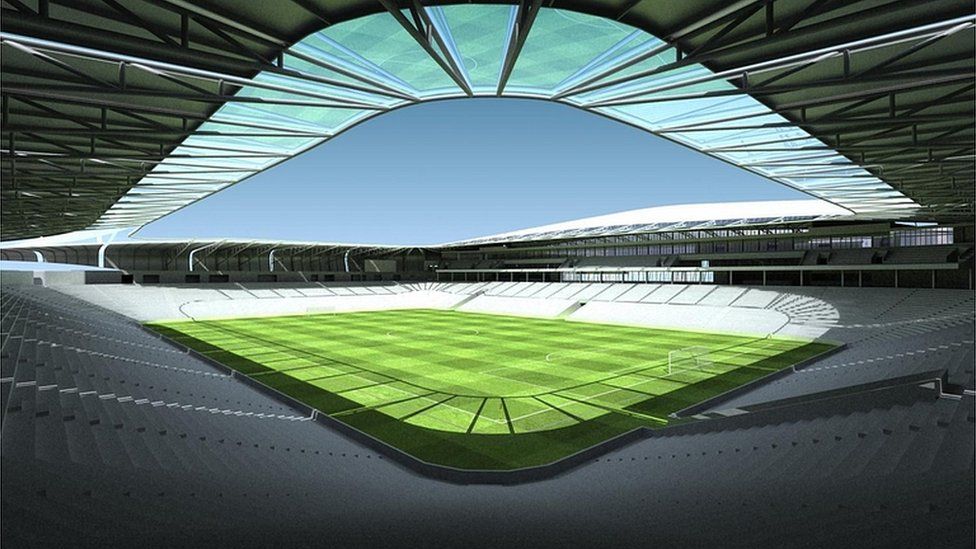 Liberal Democrat Ms Mulroney, the councillor responsible for planning, said: "The council chamber is the biggest space we have got.
"The public gallery runs around the top but if we get inundated with people there will be difficulties.
"In normal circumstances, planning applications bore everyone to death but this is such a big one for the town."
The council said no banners or demonstrations would be allowed within the civic centre… eek just you try and stop that from happening.
Ms Mulroney added: "People are disgruntled about how the club is doing at the moment but I would hope that doesn't cause problems.
"The process has to go through committee and we can't defer it because we have a crowd of angry people."
Fans reacted as the Southend chairman Ron Martin stoops to a new low by SWEARING at a fan in Friday's Zoom meeting…
@HaywoodAlan: Omfg. Wow just wow. Honestly think he is losing the plot. Who is he to speak to someone like that
@stevedeltasix: It's taken 23 years………. now you can all finally see what a lovely man he is 😂😎
@TidburyG: Finally someone challenged him
@stewmitch64: Time to STOP these Zoom meetings and start treating him as the enemy.
@leytonorient: How long has he been going to "deliver" this new stadium? I wouldn't trust him to deliver a pizza.
@Alex_Wakeham1: My Chairman
@yankeeyk: This is what we are dealing with, a fan asks a good question and gets called an f**** idiot by Ron. Well Rin with an attitude like that you are going to see a lot more protests
@djspireite: This owner of yours sounds so like our ex-owner at Chesterfield! You don't talk to your customers/fans/punters like that!! Sounds like he's digging his heels in! There for long haul! You have our sympathies.
@Chefbradpoker: Get that clown out of our club #martinout I'm disgusted with his behaviour
@jstableford1998: All football ownership needs regulation, deluded old man running a club into the floor here just because he's a fan of the club and can't let go, terrible
@JordHunt98: Feel so sorry for Southend fans having to deal with this shit
@GabSutton: If Ron Martin loves the club, why not say yes to the gentleman's question?
@Seanhogan1997: Fuck me, hope Southend get him out sooner rather than later 🤦‍♂️
@OurSouthend: Watch. This is what we are dealing with ladies & gentlemen.
@mattadlington: The CEO's face (middle right) says all you need to know about this clip
@AlfieLeecollins: I seem to be missing something because as far as I'm aware nobody even wants the new ground
@sufcberry: Another week another episode of our chairman alienating more fans. Never let your football club be taken by a property developer #martinout
@mattytrfcjamess: Southend being held hostage by a Lunatic owner
@ScottWallace_: Here's where we actually have something in common Ron… like you I also love the football club… and also like you I don't have the deep enough pockets to deliver that Lego set built by the council. Sell the club.
@TangerineRob: £40 million?! I'd take the money and run if I were you Ron.
@jimmbass18: "Passion" but running us into the ground fucking hell man open ya eyes
@Tjw0401: Also he loves the club? Has a very strange way of showing it
@Josh_1906: Genuinely think he's going insane. Fuck man hahahahahaha
@lew66whu1: He is so deluded, he has absolutely lost his head
@Jack_Sargeant1: Our Chairman everybody, Martin Out
@SmithySUFC: This is the kind of heel digging, disrespectful dictator we are dealing with.
@ciaranafc: He's such a cunt 🤣🤣
@scottyfroggatt: Another club down in the dumps due to an owner who thinks he's head over shoulders better than the fans
@BernieFriend38: No you don't! Absolutely disgraceful behaviour #southend #shrimpers
@RyanStubbs_: To think people were still backing Ron and defending him just this past week. This is the bloke who runs our football club, this is the bloke who is killing our football club. Enough is enough. #MartinOut
@1970jaya: Summed up perfectly at the end. Honestly this man is deluded!
@ashwilsonauthor: Jesus Christ 🤦🤦🤦. The man is an absolute weapon of the highest order.
Ron Martin after he's been asked why on earth he's had a go at another fan again… https://t.co/O5LAagbSYz pic.twitter.com/dBlymbGcne

— dave williams (@nostressdave) October 8, 2021