Another Sky Sports reporter quits after 18 years to take up what will be a new impressive job, it has been confirmed on Thursday morning.
Bryan Swanson is currently the chief reporter at Sky Sports News, but after a long time in the role, he is stepping away this week.
The 41 year old has issued a statement with fans wishing him all the best, but also gave their memories from the days he first appeared on our TV screens.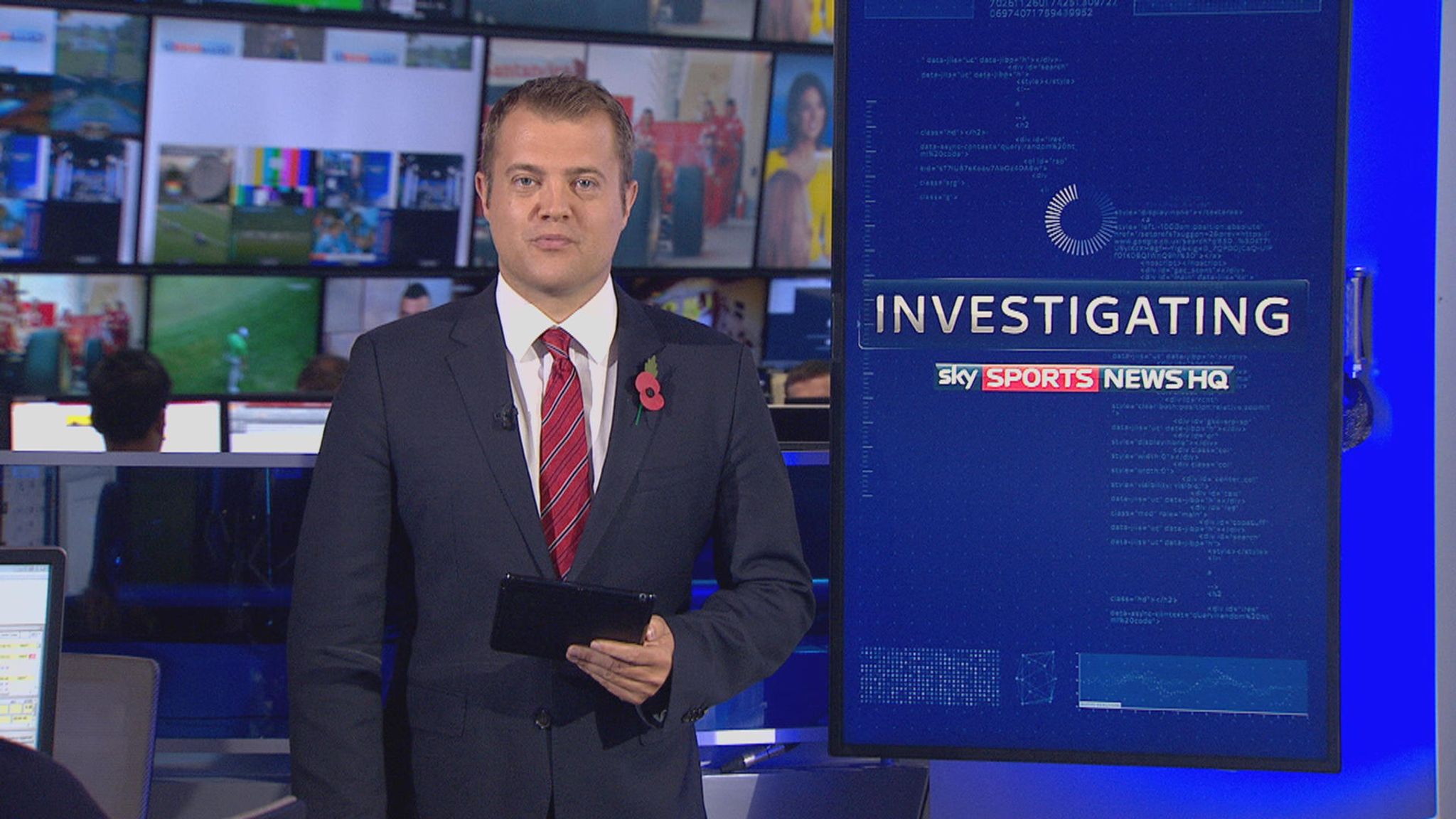 He wrote via his Twitter account: "Today is my final day at Sky Studios, before leaving the company next week, rounding off an incredible 18-year journey.

"It's been an immense privilege to travel the world, interview the biggest names and cover so many memorable stories in sports news – not to mention the transfer window (Deadline Day, Totaliser, Deal Sheet) and VAR.
"Thank you to the committed teams at Sky Sports. They care passionately and it's been brilliant to learn from them.

"I've been in sports journalism since leaving school in 1997 and look forward to a career change as FIFA Director of Media Relations in Switzerland.

"Thank you for the memories – stay safe!"
Swanson went to George Heriot's School in Edinburgh and left aged 17 for a job on Edinburgh's outpost of L!VE TV as a sports reporter and presenter. The following year, he joined Manchester United Television (MUTV) as a reporter.
In August 1999, he moved to Newcastle, and became the youngest ever sports reporter/presenter on major regional ITV station Tyne Tees. He received a Commendation in a regional division of Royal Television Society (North East & Border) as a Promising Newcomer.
In 2003, he then linked up with Sky Sports News as North East Correspondent in Newcastle but relocated to London in March 2004. Foreign assignments include reporting on the 2006 FIFA World Cup in Germany.
In September 2008, Swanson became the new Chief News Reporter for Sky Sports News, replacing Dan Roan who moved to rival Setanta Sports.
In 2015, Swanson was seconded to Head of Internal Communications at Sky, before returning to Sky Sports News HQ 11 months later in August 2016.
Fans reacted as the Sky Sports reporter quits after 18 years to take up a new impressive job…
@darrenyarlett: No doubt Sky are replacing you with Big Tom. Mark Wright. Flex Utd or some other div who football fans have zero interest in watching
@jmfizz57: Good luck, I think you're leaving at the right time SSN has been deteriorating in the last couple of years
@iAmReeg: Good luck Bryan. SSN is my default background channel, the familiarity you develop with the presenters etc occurs naturally and its always a shame to see them depart. Again, good luck in your Knew role!
@iamjoelyoung: All the best to the best presenter out there 👊🏻
@Amoky: Wow Bryan you deserve it. i remembered way back in the 90s when you worked with ITV. all the best in your next journey
@tedjankey: The end of an era Bryan. I still recall your first day at SSN 18 yrs ago. You turned up at 8am for a 10am start after your Mum had warned you about "London traffic"!! Congratulations on everything you achieved, & gd luck with everything going forward, a legend of "The Dome".
@dougymanson: Good luck in your new job 👍👍 @SkySportsNews have lost some great people in the last couple of yrs
@J_Langston_NUFC: Good luck Bryan, watched you give us our NUFC updates back in your Tyne Tees days and have a lot of respect for the work you have done. Onwards and Upwards. ☝️
@jamezymaryan: @SkySports having a proper clear out of their presenters. Let's hope the new ones are as good.
@DavidMarkReed78: Good luck! Remember you on Tyne Tees! All the best!
@Enrohd_1992: Good luck Bryan ! 18 years wow! What a stint that has been! I wish you nothing but the best for your new adventure! Been a pleasure watching you on @SkySportsNews all the best 👏
@maxmufc7: Good luck Bryan, will miss your updates 👏🏽
@Doyley1208: Sorry to hear that but not surprised the way sky are going. Seem to have spent the last 2 years trying to kill what was working perfectly.
@K_33BRO: Best of luck in your new role. @SkySportsNews loosing good ones and using folk from YouTube channels 😂😂 Oh Dear!
@joseph_wilks: All the good ones are leaving!! All the best
@CovIam: All the very best, and good luck in your next venture. Top drawer reporter and always 'in the know'!
@murray1867: What a great role, all the best
@trevm44: Wow that's a huge loss for @SkySportsNews. You were one of the people I really enjoyed and who really knew his stuff. Best of luck Brian 👍😊
@nickkingtwo: How many is that who've left recently? Good luck in whatever you are doing next.
@zoeei: Wow sad news Bryan, you will be missed but that's an amazing role congrats xx
@DazzlerAnderson: Best of luck Bryan, always loved the transfer window with u and Dharmesh, peace out and safe travels
@beerbelly1973: Wow what a brilliant move for you. One of the few presenters worth listening to at Sky and wish you the very best in your new role. Feel your going to be very busy there 😀
@stublue79: Are you being replaced by a Youtuber or someone from Towie, Made in Chelsea or Geordie Shore?
@scottmilne007: Another one of the greats gone so they can put some YouTube or reality TV show person.. tragic …Good luck Bryan
@_SteveDare: Media director for FIFA, now that's a ballsy job move! Good luck with it Bryan, sad to see you and so many faces moving on but you can see @SkySportsNews is clearly aimed at the teens now so for the best I'm sure
@CoyrawwPaul: Good luck in your new career Bryan, it's been a joy watching you over the years, Sky's loss is FIFA's gain
@Graemethedean: Best of luck in the new job Bryan – sounds exciting!
@Deanodibiagio: Wow!! What a change. Good luck 👌
Very disappointing news Bryan – always enjoyed watching your coverage. Here's a picture from the 2014 UCL final fanzone in Lisbon. Good luck in your next adventure. pic.twitter.com/qIlSWDq8M6

— Lee (@Lee34961011) July 22, 2021
Meanwhile, it was also recently announced that Jim White would be leaving Sky Sports, leaving fans rather mixed on the news.
The Scot joined Sky Sports News back in 1998; during his two decades with SSN, he has interviewed everyone from Sir Alex Ferguson to Pele, being first with breaking news as provided many a Deadline Day.
In a statement written on his personal Twitter account on Friday, he said: "Breaking news!! After 23 fantastic years, it's time to bid farewell to Sky Sports.
"After much thought and with a heavy heart I leave Sky Sports News – but what a journey it has been.
"To all the superb producers, assistant producers, directors and floor managers, a massive thank you. To my fellow presenters, thank you.
"Other media challenges lie ahead! Have presented every late shift on every Transfer Deadline Day – thanks for everything Harry! To everyone out there, keep watching the best sports news channel in the business."
He then added the hashtag "YellowTieForSale".
SEE MORE: Sky Sports set for shake-up with very familiar faces at risk of redundancy