Rotherham United boss Paul Warne makes a plea to his own fans after a crowd incident marrs last weekend's game at Fleetwood Town.
The Millers suffered late heartbreak on Saturday afternoon after losing 1-0 when the Cod Army's Anthony Pilkington scored deep into stoppage time, seeing Rotherham side drop to third in the League One table.
They also have two games in hand over Sunderland and Wycombe Wanderers, who make up the automatic promotion places.
Now they sit outside the top two for the first time since mid-November, but a frustrating afternoon was made worse and more disappointing after an incident in the stands.
After the full time whistle of Fleetwood's win, reports of away supporters fighting amongst themselves came to light, with stewards quickly stepping in to calm the situation.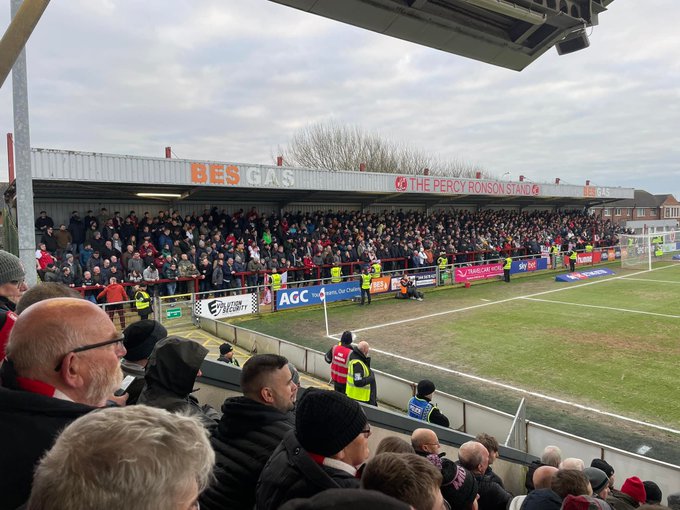 Paul Warne simply said: "I'm disappointed to hear some of our fans have been fighting each other. It's a bad day."
Rotherham themselves issued an apology to Fleetwood, but on a seperate matter which saw a fan disrespect the minute's silence to remember those lost last year, it read: "Everyone at Rotherham United would like to wholeheartedly apologise to the players, staff and supporters at Fleetwood Town for the behaviour of a small minority of our fans during the minute's silence ahead of Saturday's game.
"We totally condemn the actions of a number of individuals who disrupted the pre-match tribute, and reaffirm our association with the vast majority of supporters in attendance who observed it with great respect.
"The actions of said individuals totally goes against the values that we pride ourselves on as a football club and we know that the tribute was incredibly important to everyone at Fleetwood Town.
"We felt compelled to issue this apology on our official website to reassure everyone associated with today's hosts that we condemn the actions of those involved."
Millers have said they are to observe minute's applause in tribute to League Cup finalist Lol Morgan and former player Glyn Jones ahead of Lincoln fixture on Tuesday night.
Meanwhile, Rotherham boss Paul Warne has urged the club's supporters not to boo wantaway striker Freddie Ladapo ahead of the game.
The 28-year-old player has been an unused substitute on two occasions since he expressed his desire to leave the club, but both games were away from home.
Warne hopes the home support focuses more on cheering their side on rather they wasting their energy on booing Ladapo.
"I don't know how they are going to react and I can't ask people to react the way I want them to because they are all humans with their own opinion," Warne told the Star.
"It is a difficult one when you are a football fan, you cannot understand why anyone would not want to play at your club for the rest of their lives.
"You can't blame players for being ambitious, but – hence why I didn't want it leaking that one of my players put a transfer request in for this reason – come February 1 Freddie is still our player and if he is I would like to think the fans would support him.
"If he is scoring goals and gets us promoted then everyone is happy.
"Then if Freddie decides in the summer he is not happy and wants to play football elsewhere then that is another conversation to be had.
"But I think whoever puts a Rotherham shirt on should be supported by the fans.
"However, I do understand why they would be upset.
"If I could give them a message I would say if they are unhappy with it I would not ask them to sing his name but it doesn't give any benefit to the team if they booed him.
"Respectfully they choose to do whatever they do. They pay their money, I would rather them sing songs and cheer the team for 90 minutes rather than use any energy on trying to make a player feel uncomfortable."
So far, it's said that there are no bids for the striker, Warne again expressed his surprise at Ladapo's course of action.
He added: "If I wanted to buy Bobby Charlton from Newcastle and I'd encouraged the agent to tell the player to put a transfer request in, I don't see the sensibility of leaving it three weeks for someone else to come in and buy him and leaving it to lastminute.com.
"It doesn't make sense to me unless there is something I am not aware of and they think they will leave it late and, 'Oh Rotherham will fold and take a lot less money', then I don't think they know my owner very well.
"That won't happen. So I do find it strange that an offer hasn't come in."
Twitter users reacted as the Rotherham boss makes a plea to his own fans days after a crowd incident marrs the game at Fleetwood…
ON THE INCIDENT:
@RyanHolmes123: Embarrassing we had to even consider this, identify and ban
@kayPATCHxxx: Thank you for acknowledging and to the Rotherham fans that equally called the minorities out when the whistle was blown 👏🏼 good luck the rest of the season! X
@cal_rufc: always some weapons in our fan base
@NicciG3: Excellent statement but a majority of your fans showed upmost respect. Every credit to them
@stuessexmiller: Well done Rotherham. And to the 🤡 that caused this to actually become a thing. Stay away you mindless uneducated baffoons #rufc
@mcrane2000: Every credit for this statement. It was clearly a minority of "fans", and they were condemned by their fellow supporters immediately. Classy of the club to issue an apology though.
@Corey_The_Cod: Fair play to the Rotherham fans, every fan base has their dickheads, but they made it well knows after that whistle was blown, safe journey home to the fans!
@rothman2cook: Two weeks ago we had a great tribute to Millers fans who had passed away in the last year including Dad. 24 hours after laying our Dad to rest, some disrespectful low lives allegedly Millers fans, besmirch our good name. RIP to all @ftfc fans who sadly passed on and apologies.
@DavidSnape1: Hats off to the club for that. The majority of your fans behaved impeccably during the silence and what noise there was was largely them trying quieten down the idiots.
ON LADAPO:
@Rufcjoe87: Imagine this means he'll play tonight #rufc
@doug53693793: He will get my vote still a miller till gone.
@cal_howis: Such a weird situation, seems like he's been advised badly. Not sure why you'd put a transfer request in without any hint of an offer from elsewhere.
@JoeIinton: Fuck the transfer request. Start Ladapo. #RUFC
@NigeAireValley: Manager throwing him under a bus there. If a player wants to leave his club its no different than a employee wanting to leave a job. At least he's done it openly and not feigned injury to get a move.
@smith98_josh: Get him away from squad then, he doesn't wanna be here so fuck him off.
@PatriceBooth: He scores goals, it's in his locker, fans won't get on his back