A revolting racist message targeted at England players has been left next to a Darlington building on the first English black pro footballer.
Earlier this week, artwork with the numbers 17, 25, and 11 was painted as a show of support following the online racist abuse the three players received after they each missed a penalty in the Euro 2020 final shootout loss to Italy.
But, anti-immigration sentiment was recently written on the wall, on Widdowfield Street, in Darlington, County Durham, which is next to another mural celebrating Arthur Wharton, England's first black professional footballer.
Arthur Wharton became the first black professional footballer in the world when he played as a goalkeeper for Darlington Football Club in 1885. He went on to be selected to play with the more prestigious Newcastle and District team.
The vandalism comes after Three Lions stars Rashford, Jadon Sancho and Bukayo Saka were bombarded by racist abuse online following the Euro 2020 final defeat to Italy.
A tribute to Marcus Rashford on the wall of the Coffee House Cafe in his home town of Withington, Manchester, was defaced in what is being investigated by police as a possible 'hate crime'.
Superintendent Richard Timson added: "On Monday morning when we saw the damage done to the mural in Withington we were all left appalled, and we stand with the rest of the community whose solidarity against this vile abuse ever since has really shown the best of our city.
"The person responsible for this knows who they are and we believe there will be others who also suspect the identity of this offender, and I therefore urge anyone with such information to get in touch to help progress our enquiries at speed."
Since the mural was vandalised, floods of messages of support have been placed by the artwork, which was also restored by street artist named Akse.
Greater Manchester Police launched an investigation after it received a report of racially aggravated damage at the mural at 2.50am on Monday.
Now new messages have been sprayed onto a wall in Darlington, one read 'we do not stand with the 3 Black Lions'.
Hundreds of people have taken to social media to condemn the graffiti. Darlington MP Peter Gibson said: 'The Arthur Wharton Foundation has done much to promote understanding of the contribution of black footballers throughout our history.
'I am appalled by the vandalism, and the racism of that has been daubed on the murals.
'Our town is an open welcoming place to all people. Those responsible for this graffiti should be identified and punished.
'If you have information please contact the police on 101 or contact Crimestoppers anonymously.'
A spokeswoman for Durham Constabulary said: 'Officers are investigating following reports of damage to the Arthur Wharton mural, in Darlington, overnight on Friday, July 16. Enquiries are ongoing.
'Anyone with any information is asked to contact Durham Constabulary on 101, quoting incident reference 129 of July 17.'
The racist words have since been covered up by the good citizens of Darlington, back to how the wall should do .
This week already saw crowds of supporters come together at the mural of Rashford after it was repainted because of 'racist' graffiti in the wake of his heartache. Further graffiti said 'f**k Sancho'.
Residents rushed to cover up the abuse with hundreds of positive notes and messages praising the England player – including terms such as 'hero', 'inspiration' and 'role model'.
One touching message read: 'I can take or leave football but I cannot take or leave people like you. Thank you for your passion, compassion and desire to change lives.'
Another said: 'Dear Marcus, please know that you are so admired and people find you an inspiration.'  
Fans reacted at the revolting racist message targeted at England players left on a Darlington building…
@Sam_OUFC: And people say England doesn't have a racism problem
@m___wood: Must be some cctv about?
@s_shots3: We need to reject this. We need to let these people know they are hideous. If you see it – challenge it and let them know.
@mattymillfield: Disgusting yet people still deny there's a problem
@rycxnnxr: Literally in the shadow of a mural of Arthur Wharton too – the first ever black professional football player, who played for Darlington. This is an embarrassment.
@DanSmithForTees: Absolutely sickening. It's even more sad when you consider the mural behind the mural…
@YoYoYoRW: Who the fuck wakes up in the morning and is worried about white people being outnumbered and what difference does it make anyway
@Djamel__1997: Ffs the state of it 😡
@Stonehouse88: Wow. Fucking knuckle dragging cunts. Unbelievable.
@OfficialDPope: Awful that, just don't know what goes through people's heads to even contemplate doing that let alone carrying it out.
@MattyJones93: You just have to despair at this 😔 What is wrong with people?!
@G_Harrison29: That's literally white supremacy
@quarantiern: That's awful, what a kick in the teeth to Shaun and the Arthur Wharton Foundation. We have a long way to go as a country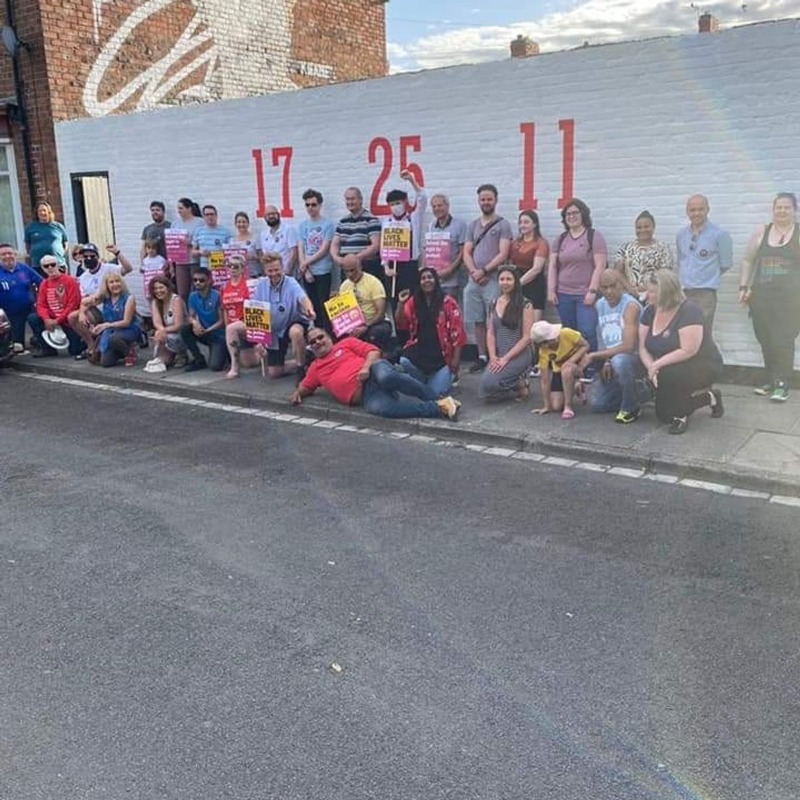 @DavidKershaw7: Some terrible people in the world
@Craig_Honeyman: Disgusting. If immigration rids the country of these kinds of views then let's do all we can to speed it up.
@jackendean11: This is just disgusting. Whoever did this is absolute scum. What do you expect though when the prime minister and Home Secretary refuse to condemn racists
@NathRobbo1973: Can't believe what I'm seeing fuck me man.
@_jamiestarr: Fucking hell. What have we become?
@podmundo: It really is saddening 😞😞
@Grtgrt788: The irony of moaning about folk not being English and writing it like this.
@_JakeC91: Not to make light of this, but why did they add an apostrophe for the word 'Brits'? In agreement with others, this is fucking awful and abhorrent. Bet the knuckle draggers who done it at this moment, are chugging paint and sniffing dog crap off the ground.
@waynehu10844900: What the fuck is wrong with this country, disgusting
Took the kids down to see the amazing mural at the @arthurwharton Foundation in Darlington today after the speedy work by Shaun Campbell and other willing locals to get rid of the vile racist abuse that was scrawled on the wall overnight. Great work Shaun 👏🏻 #HateWontWin ❤️ pic.twitter.com/Iw3GLSvXH0

— Jon Tait 🎓 (@TeamTait) July 17, 2021