Puzzled FC Halifax Town chairman David Bosomworth makes a plea to supporters following a low turnout at their recent home matches.
He has called on more supporters to turn up on Saturday and get The Shay Stadium rocking in a bid to help cement their playoff bid and even give those at the top a run for their money
Halifax are again offering £10 entry for season ticket holders of clubs in League Two or above and free admission for under 12s.
 

 

 

View this post on Instagram

 

 

 

 

 

 

 

 

 

 

 

 

 

 

 

 

 

 
1,693 fans came through the turnstiles for Tuesday's win over Bromley, and even though Bosomworth is aware the cost of three home games in a week is 'prohibitive', the Halifax chairman has called for more people to show their support in the club's promotion push.
"Obviously we're fully appreciative that we've had three games in a week but we were hopeful that attendances would be higher on the basis that generally they would be because of our position in the league," he said via Halifax Courier.
"But we don't seem to have had the lift you'd have ordinarily have expected.
"We're playing some of the best football this season that people have seen in quite a long time at The Shay.
"So this is a plea to say if people can find a way to come down, there's a real buzz around the place at the moment.
"It'll be a tough game against Torquay, they've won on their last two visits to us so we'll be looking to turn the tables on Saturday, but it won't be easy.
"But we need the fans to be there and get behind the club.
"The fans have such an important role to play, they really can be the 12th man.
"You have difficult spells in games that you need to be pushed through, but they can lift the lads in terms of their performance, and if they're upbeat right from the start and making plenty of noise, that's what we want, and that they stick behind the lads for the whole game."
The Shaymen currently find themselves in third position when it comes to the National League standings, seven points behind Stockport and have a game in hand.
Pete Wild's men are on an winning run of four games, and Bosomworth says: "We've got to be boring about it and take each game as it comes and grind out the best result.
"I know Pete wants to try and stick around that two-points-a-game ratio, we're obviously absolutely delighted with our progress so far because it's a tough, tough league, as has been shown by the last three or four games, there are no easy points.
"But if we can keep this winning run going, and try to hang onto the shirt-tails of Stockport, that would be great, because they're on an incredible run.
"We've just got to keep doing what we're doing.
"Our target is automatic promotion, failing that it's second or third and to progress through the play-offs, and failing that, it's fourth to seventh and try to progress through that.
"We've just got to keep going and get ourselves in the best possible position by the end of the season.
"And the fans have got a vital role to play in that."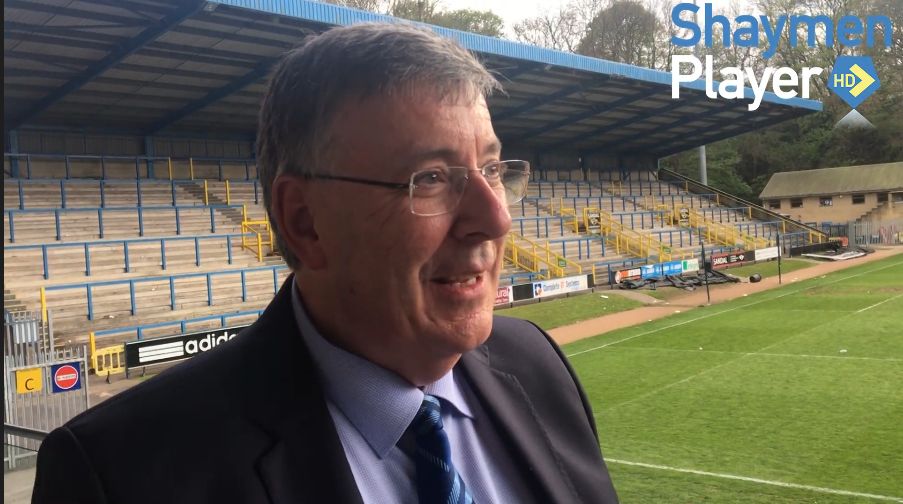 HALIFAX'S REMAINING GAMES:
Sat 19 Mar – H – Torquay United – 3pm
Tue 22 Mar – A – Wrexham – 7.45pm
Sat 26 Mar – A – King's Lynn Town – 3pm
Sat 2 Apr – H – Wealdstone – 3pm
Tue 5 Apr – H – Solihull Moors – 7.45pm
Sat 9 Apr – H – Woking – 3pm
Fri 15 Apr – A – Altrincham – 3pm
Mon 18 Apr – H – Chesterfield – 3pm
Sat 23 Apr – A – Southend United – 3pm
Sat 30 Apr – H – Yeovil Town – 3pm
Mon 2 May – A – Eastleigh – 3pm
Sat 7 May – H – Aldershot Town – 3pm
Sun 15 May – A – Stockport County – 3pm
Twitter users reacted as a puzzled Halifax chairman makes a plea to supporters following a low turnout in the stands…
Three home games in a week is too much money for many ..3 games for 50 pounds plus a free child ticket for the games … might have helped .. April has a lot of home games .. need a similar offer

— Nick Maden (@NickNimm) March 17, 2022
This graph shows what a difference the fans can make- away from home, goals are split evenly between first and second half, but at The Shay the floodgates open when the team are attacking the home end in the second half: https://t.co/fmtUNaZp8u

— positively shaymen (@positiveshaymen) March 16, 2022
@davidjohnsmith3: Yes. The attendances are dismal, considering where we are in the league.
@LewisKilduff2: Print this onto some posters, send them to me and I will post them around the Queensbury area…come on lads, let's go for 3000
@Gregory34576421: Why not pick a joke game in a few weeks time and do a game for a tenner? I applaud the club for trying to get people down The Shay but they need to build up to reduced price games, rather than doing it 3 days before a game.
@southwell_zack: Apart from leeds what clubs are going to come and watch us with their season tickets Bradford and Huddersfield both at home same day ?
@samsmithbitter: good initiative – sure it helps -brilliant atmosphere last night -unfortunately the people of Halifax are apathetic towards the club -they really don't know what they're missing
@TheKingOfSpin22: This would look good on billboards and posters around town. Get the community team (if there is one) to hit the shops and drum up support Just an idea like. Marketing is key to getting more fans down and unless your on social media you haven't a clue there's a game on
Trevor Thorpe: So fans who don't support the shaymen can get in for £10 but fans who pay £21 for each home game don't get a discount?
Chris Tony: Trevor Thorpe my thoughts exactly. Good that they're trying to boost the numbers, but I wonder if a trick has been missed. 🤔 Maybe £15 for everyone or something.
Danny Jones: I don't get this either.surely attract more home fans than fans of other clubs