Premier League and EFL's longest away day distances for the 2021/22 season has been revealed, making for an interesting read.
Finally, following a long absence, supporters are allowed to travel and attend matches up and down the nation as pandemic rules have eased.
With that in mind, we have taken a look at ranked which teams and their supporters have to travel to furthest and least amount of miles across the whole campaign.
If you add up all the trips dedicated Plymouth Argyle fans will have to make, they would go as far as Bhutan and back again when totalling the miles up.
The League One club's location in the far south west of England means that the club's travelling fans are used to racking up plenty of miles to back their side in away matches – and this season will be no different.
An Argyle fan going from Plymouth to each away league game and back again will travel a total of 9,925 miles.
That's further than fans of any other club in the top four divisions of English football will have to travel doing the equivalent journeys, according to the Mirror.
Alternatively, Argyle fans could undertake a return trip to Manaus (Brazilian rainforest), Nevada, or even Zambia, for the same amount of mileage they'll rack up getting to and from away league matches this season.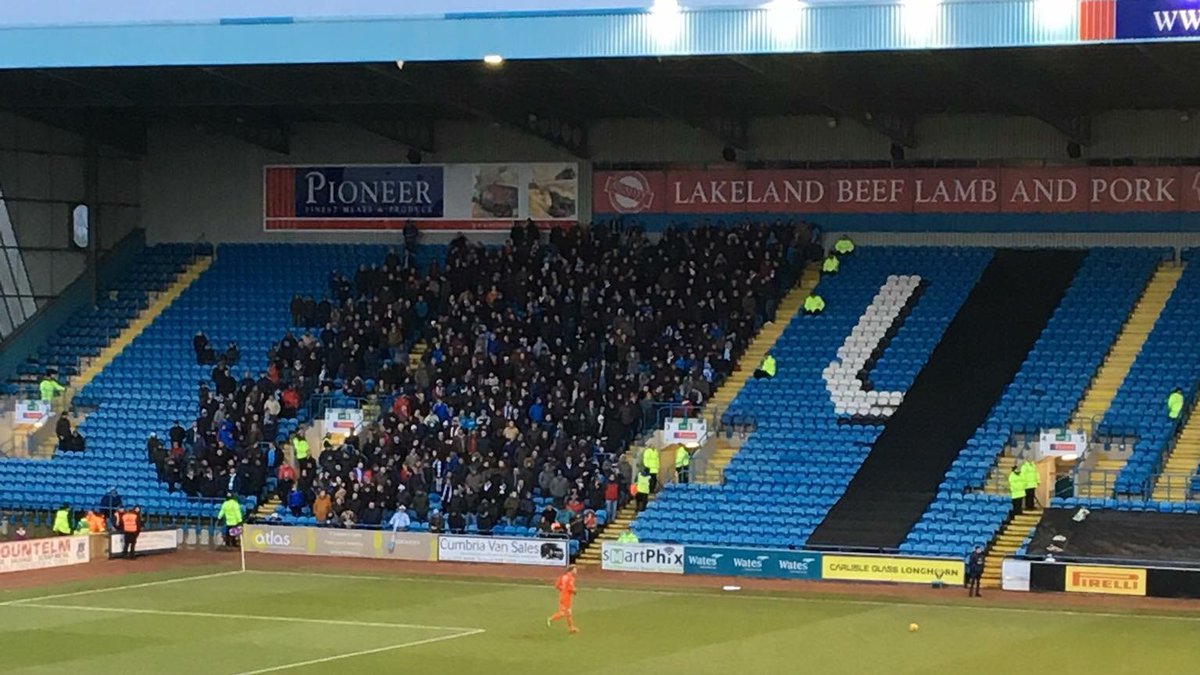 In stark contrast, Leicester City supporters will travel fewer miles than any other club's fans for 2021/22.
The Foxes faithful will travel a total of 3,407 miles going to and from each away league ground from the King Power Stadium this season, compared to Plymouth's 9,925.
That's not much less than the 3,512 miles for Watford fans, 3,535 miles for Aston Villa fans, and 3,619 miles for Coventry fans. Why not check out the Premier League and EFL's longest and shortest away day distances for 2021/22 revealed…
Most distance to travel (miles)
Plymouth Argyle: 9,925
Exeter City: 8,172
Sunderland: 7,989
Carlisle United: 7,756
Newcastle United: 7,229
Hartlepool United: 7,130
Middlesbrough: 6,973
Portsmouth: 6,855
Crawley Town: 6,780
Bournemouth : 6,697
Least distance to travel (miles)
Leicester City: 3,407
Watford: 3,512
Aston Villa: 3,535
Coventry City: 3,619
Derby County: 3,620
Birmingham City: 3,640
Tottenham : 3,643
Arsenal : 3,644
Brentford: 3,656
West Brom: 3,666
Back in 2015, Carlisle United supporters, 169 of them to be exact, spoke about the experience of travelling down south for the game against Plymouth, only to see their side lose 4-1 after making a near seven hour trip with it 389 miles away.
You might think the authorities would have these two distant adversaries meet on a weekend, allowing the supporters to travel at reasonable hour, however for that season, that wasn't the case.
You might also think that nobody would willingly sign up for a journey that starts at 10am on a Tuesday and finishes at 5am on the Wednesday. But you'd be wrong again as the Carlisle United Supporters Away Travel (CUSAT) went and supported the team's players who had also made the trip, though probably on a different mode of transport.
Nearly 12 hours before that goal, 41 CUSAT members assembled outside Brunton Park in overcast and unremarkable conditions in Cumbria but as with most football fans, the excitement and hope was enough to get through the long ride down south.
While some travel in light clothing, shorts and T-shirts etc, others came prepared, with travel pillows and blankets.
"You've got to do it, haven't you? It's Carlisle. It's our team," said one supporter as we drove.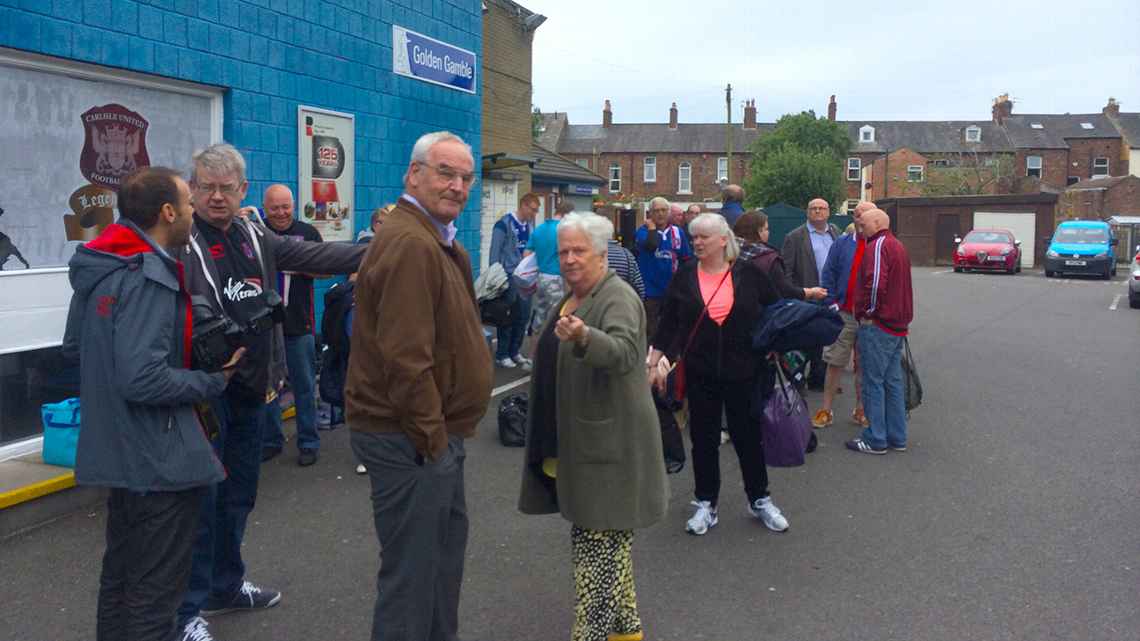 CUSAT arrange travel for the Carlisle supporters for every away game, independently of the club and on an entirely voluntary basis. This was led by respected matriarch Kate Rowley, booking the coaches, arranging insurance policies in case of cancellations, organise payment plans to suit the needs of the fans and ensure that everyone is well looked after. In addition to the time, this trip costed every fan £40 for the coach and another £20 for the ticket.
A season of per-game bus travel would cost approximately £730 although a pre-booked "season ticket" will set you back £600. Tickets for the 23 Carlisle away games are likely to cost another £460 and an actual season ticket for the home games back then was another £380. That's around £1,500 for a season of this.
"We're not here to make a profit," says secretary Ali Ross. "We're here to make sure that as many fans as possible can get to the game. If there is any money left over, as there was last year, it goes straight back into the club when we sponsor players."
Ali's late father, Allan Ross, was Carlisle's goalkeeper between 1963 and 1979, making a record 466 league appearances. She and her mother still go to almost every game, home and away.
"It was a way of life," she says of her upbringing. "My dad had a job, everybody else's dad had a job, but my dad's job was on a Saturday. We went to the football; that's the way it was. When he retired, we just kept going to the games. Mum and me have a season ticket.
"Unfortunately Dad isn't with us anymore. I'm not sure what he would have made of all this. But you can see the camaraderie, the banter, the friendships here, it's just great for us to be able to do it. It's not really about the football. The social side is absolutely superb. This is our football family. Carlisle United has brought all of us together. Everyone else thinks we're mad … They're probably right."
Bus driver, Paul Farish (one of two deployed for the journey), said in 2015 that he kept his energy levels up with boiled sweets. "Aye, they're a good lot. We wouldn't take them otherwise. And I'm a Carlisle fan anyway. Most clubs let the bus driver in to watch the game, so that's a bonus."
After watching Plymouth win 4-1 against Carlisle, it was back on the coach for the long journey back.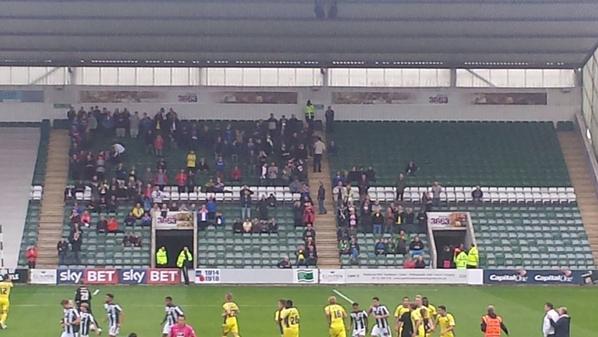 Kate Rowley said with a chuckle: "Ah, it's a day out, isn't it? Yeah, I've enjoyed it. We always enjoy it on the bus. The team played all right in the first half. Didn't play so well in the second half. They got four goals, we got one. We'll live another day. You can't get upset about results. There are good days and there are bad days."
Asked how will she occupy herself for the next eight hours?
"I'll listen to some records and have a little snooze," she says. "And then when I get back home, I'll start work on the next trip. We're off to QPR next Tuesday for the League Cup!"
Speaking before the game, Norman Steel, chair of the supporters club and club director, paid tribute to the fans, like those who form CUSAT.
"I think we're talking about a combined distance of approximately 12,000 miles this season and so we're talking about a very loyal bunch. A lot of them will be there game after game. Whatever their commitments at home or at work, they'll take holidays to build in the time. I think everyone is amazed by the commitment of these people, especially the players and the manager."
Football without fans is truly nothing. Just look at how much of a welcome boost it's been since being allowed back in the stands from the summer of 2021 going forward. No fake crowd noise, being able to live that usual matchday experience, seeing friends, being with relatives, loved ones whilst cheering on your club. No better feeling.