Joey Barton reveals Premier League and Championship veterans are training with Bristol Rovers after his side lost 4-1 at Exeter on Saturday.
The Grecians ran rampant against a shockingly bad Bristol Rovers side conceding all four goals in the first half in front of a great travelling support.
Exeter made a strong start and opened the scoring after just three minutes when Padraig Amond saw his shot saved by James Belshaw and Matt Jay was there to finish the rebound from close range.
It was 2-0 on the 15th minute and it was Jay again, the frontman getting across his man and brilliantly turning in Josh Key's low cross from 10 yards.
The hosts went and got a third goal in the 22nd minute when a superb move ended with Jevani Brown crossing for Tim Dieng to nod in from close range.
That was the cue for some of Rovers' 1,200-strong support to head for the exits, and then others followd when Harry Kite curled a beauty into the corner from 20 yards after 24 minutes.
It could have been more as Exeter missed a couple of clear-cut chances while a Paul Coutts shot, saved by Cam Dawson, was as good as it got for Rovers in a dreadful first half.
Jay was denied his hat-trick by a superb save by the newly relegated side's keeper immediately after the restart as Exeter sought more goals.
Rovers pulled themselves a goal back in the 70th minute when Sam Finley curled a wonderful shot into the top corner from 25 yards, but it was no more than scant consolation.
Following the game, Joey Barton had some explaining to do following that result, and came out with saying Glenn Whelan and Leon Clarke have been training with Bristol Rovers with a view to potentially signing.
His new signings are failing to get off the mark right now, but he still wants to add to his 13 signings before the 31st of August deadline.
He's confirmed they are trying to bring in free agents Whelen and Clarke, aged 37 and 36 respectively.
"They've been training with us this week, Leon Clarke and Glenn Whelan," Barton told Bristol Live after Saturday's heavy defeat at Exeter City.
"They came in this week so we could have a look at the. Obviously, they're still on the open market and we had a good week.
"I think they're going to come and join us next week and then we've obviously got a deadline looming."
Glenn Whelan has had a great career, playing for the likes of Fleetwood, Sheffield Wednesday, Aston Villa and Stoke whilst also earning himself 91-caps as an Republic of Ireland international.
He has also made more than 600 appearances across the EFL pyramid and playing nine Premier League seasons with the Potters.
The much travelled forward Leon Clarke has played more than 500 games and can also say that he has as much as 150 goals to his name.
He has turned out for the likes of Sheffield United, Sheffield Wednesday and Wolverhampton Wanderers.
Clarke made 10 appearances for League One Shrewsbury Town last season, scoring once, and was recently on trial at National League North side Gloucester City, who turned him down.
Joey Barton admitted that he was "shell-shocked" after his side were thumped at the hands of Exeter on Saturday, but the manager remains adamant he will lead the Gas to promotion this season.
It may be early in the season, but they've played four, won once and lost three, earning three points but sit 20th.
Forest Green are storming the league already, taking 12 points from their four games, top of the table while Bradford City are 2nd, picking up 10 points from four played.
"It was really difficult, bizarre really," Barton said. "No team I've ever coached has conceded two goals or three goals in that type of period, probably barring the play-off semi-final (at Fleetwood).
"So I'm a little bit shell shocked and there was no indicator of that this week. The lads trained superbly and yesterday's training was arguably as sharp and as crisp as it's ever been at the club.
"We've got to realise no one is going to respect us. Nobody is going to care about the travelling fans that we've brought and the size of the club that we could potentially be.
"We are a massive target for everyone in the division because of some of the players we've got and we've got to learn and I think that the lads have learned today that you've got to win the physicality. It takes 50, 60, 70 minutes, whether that's in Sunday league or Premier League.
"You've got to turn up and you've got to establish where the contest is going to take place, credit to Exeter at every opportunity they turned our backline round, and that's where their good play and moments came from.
"It's very rare in a game you see six shots and four of them go in the back of your net.
"I apologise to the fans who paid their hard-earned cash.
"They're going to have to stick with us and I thought they did. I thought they were superb. A couple were giving a bit of stick, which is expected. I'm a football fan, I've paid my money and I get that.
"But the majority understand the process. I think they're quite smart and they understand the process and they know it's going to take time to change what has been in many regards a very amateur setup.
"The club was in the dark ages in many departments when we came in and it takes time to change that.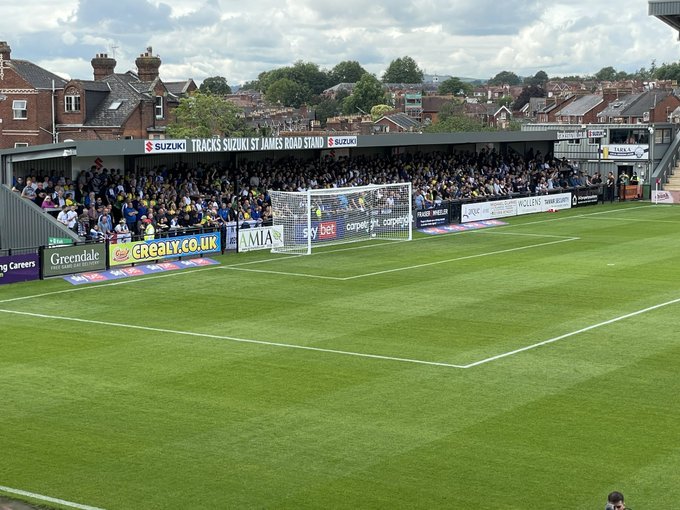 "They've just got to stick with it, and if they do I'm absolutely convinced we can get them a football club and a football team that starts to put smiles back on faces and rewards their excellent support.
"I know we're going to get promoted. I have no doubt about that.
"It was always going to be tricky this start. I've been in the game a long long time and you can't (just) cut the cancer out of a club like we have done since we've been here.
"We've got bits to do, clearly we're not fully in remission and recovered."
Fans reacted to reports Premier League and Championship veterans are training with Bristol Rovers…
Only if they have proven their fitness and won't cost a bomb in wages. Our younger players could learn a lot from Whelan.

— Hols (@roamingbrit) August 22, 2021
— Kevin Chubb (@swanseagas) August 22, 2021
@FinchyP77: Maybe Whelan as a coach but neither as part of the squad. Think we could do better in the transfer market.
@EdJacobs14: i'll take clarke but not whelan
@EastTerraceGas: Swear last season plenty of Gas were crowing over how decent Whelan was at L1 level 🧐
@darrell_ben: We are becoming a retirement home for washed up players now are we 😂😂
@toyntonbirder: Hardly rebuild material
@Dan190984: No problem with signing players that are known to management teams through previous teams but it highlights massive issues in our scouting that we can't get anything else.
@Harley1883BRFC: No thanks both too old
@brfcharryy2: oh god
@DarrenLye6: Hopefully their experience will help
@stevegas2: Training ground becoming Jurassic Park
@Neelio2019: Great, we're going to have a team of substitutes
@stockhambrfc: Leon Clarke had a trial with gloucester City recently who decided not to offer him a contract that should tell you enough. It's a NO from me.
@toyntonbirder: Too old
@mrkenjenkins: Is Joey trying to ruin our club, what happened to buy young to sell on?
@harr_barter: Awful, please don't sign either Rovers ffs
@OX14Gashead: Glenn Whelan I would probably say yes too, Leon Clarke more than likely no
@dr_jones_: Liquidate immediately …..
@mattjonesutg: retirement home gas
@Dinsedale: The problem at the gas is we are a team of mercenaries from the boardroom down to the staff and players. One last wage or a stepping stone and little inbetween. We need people who care
@charlie__BRFC: Would have whelan in but not Clarke the boy wasn't good enough for glos city
@Ryann_BRFC_95: Combined age of 73. Whelan is basically another Coutts so not sure how it'll immediately enhance the midfield unless Coutts collects red cards for fun. Clarke is what Pitman is given he's older and scored about 40 less goals. Is this a "played at the highest levels" argument?
@SimonDGould: This is turning into a club for Joeys mates, absolutely ridiculous – both long past their Best Buy date
@jackmacmichaeI: Fold this fucking club
@tomvinall00: you'd have thought one fat tub of lard up front that can't move would be enough for one football club
@harr_barter: Both players worse than Westbrooke and Hanlan who are on their way out, this is so so bleak 🤢
@LP1194: How have we managed to go go from an after school club to a retirement home in one season?
@CamWhits_: Combined age of 73, we really are scraping the bottom of the barrel
@BRFCSamuel: Going from an entirely young team last season to possibly the oldest team in the league this season??
@NickoWhite98: Fuck sake
@Ben_H90: I really hope we don't become a graveyard for veteran pros coming to pick up their last pay check