Over 20,000 fans sign a petition calling on Everton to drop betting sponsor which is set to feature on their kits for the 2022/23 season.
The Merseyside outfit announced the "record" deal with online casino Stake.com a few weeks ago, this will see logos will appear on men's and women's team shirts next season.
However it's caused backlash from fans, with campaigners calling the move "saddening" with Everton previously saying betting sponsors are "not ideal" but needed to consider commercial decisions.
Many supporters have accepted the club needed to take a different path after posting £372m in losses over the last three seasons, and it is understood there are no plans to ditch the new partnership.
But the recorded level of opposition to a sponsor is believed to be unprecedented in English football with the signatures rising ever higher.
Norwich got rid a gambling sponsor last season after fans protested about sexualised marketing material, while Preston didn't renew their betting partnership after they said they took fans view into consideration.
A recent YouGov survey found that 1.4 million people in Britain were being harmed by gambling with a further 1.5 million at risk.
However the Premier League, the EFL (title sponsor being Sky Bet) and Betting and Gaming Council all say there is no evidence to show a causal link between gambling sponsorship and problem gambling.
The government is set to decide on whether to change gambling laws, including a ban of sponsorship in football, next month. It's also opposed by my figures within football with clubs also making it aware that they will not be sponsors by gambling firms.
The petition page, as written and created by Everton season ticket holder Ben Melvin, reads: "Everton must cancel its sponsorship deal with gambling company, Stake, and protect its fans from gambling harms.
"Why is this important?
"The football club I support and love, Everton FC, has announced a multi-year partnership with an online gambling company called Stake.
"The Stake.com brand will feature on the front of the men's and women's playing shirts, as well as appearing on screens and media backdrops at Goodison Park, Finch Farm training facility and across the Club's digital platforms from July 1st 2022.
"Children and young supporters will be bombarded with the Stake.com brand every time they watch their favourite team play.
"The advertisement of such a harmful product to children is dangerous and irresponsible.
"I should know the dangers.
"As someone who suffered with a gambling addiction for many years. I wouldn't wish what I went through, the devastation my family and friends experienced, and what other young people are in danger of, on anyone.
"Gambling harms millions of people in the UK and takes hundreds of lives every year, leaving broken and bereaved families behind.
"There are already 55,000 children addicted to gambling in this country and the impact is felt disproportionately amongst more deprived areas – such as the one our club represents.
"The advertisement of such a dangerously addictive product increases the risk of this figure going higher.
"These obscene levels of harm is why the UK government is strongly rumoured to end all types of gambling sponsorship imminently.
"I can't wait for government to act.
"In the meantime, we can urge Everton FC to recognise the dangers of entering into partnership with an online gambling company.
"Our current chief executive Denise Barrett-Baxendale clearly recognised these dangers in 2020, when she stated In an ideal world the club would not be sponsored by a gambling company. She also stated 'we certainly don't want to be responsible for driving irresponsible betting'
"In recognising the many dangers of this partnership, our club should drop this partnership with Stake.
"Everton are the people's club. It is a club that cares deeply for the people, and it's supporters.
"Everton, over the years, have constantly set very high standards and trends for others to follow. We have to maintain these high standards.
"A partnership with Stake cannot sit comfortably alongside the fantastic work done by the club's Everton In The Community in tackling mental health issues.
"I'm calling on fellow blues, and other football fans, to urge Everton to U-turn on this gambling partnership.
"Fellow Evertonians, I ask you three questions:
"- Don't want to be walking billboard for an online casino?
"- Do you want our young fans to be able to wear the same shirt as the players and as us adults?
"- Do you think the many people harmed by gambling – like me – deserve to be able to watch the club we love without being encouraged to gamble?
"If your answer is yes to all these questions, please support me by adding your name to this petition."
Click HERE if you want to sign the petition.
SEE MORE: Ex-Bolton, Newcastle, Reading, Blackburn player now bankrupt over £120k gambling debt
Are you a problem gambler?
Try this questionnaire:
Do you bet more than you can afford to lose?
Do you need to gamble with larger amounts of money to get the same feeling?
Have you tried to win back money you have lost (chasing losses)?
Have you borrowed money or sold anything to get money to gamble?
Have you wondered whether you have a problem with gambling?
Has your gambling caused you any health problems, including feelings of stress or anxiety?
Have other people criticised your betting or told you that you had a gambling problem (regardless of whether or not you thought it was true)?
Has your gambling caused any financial problems for you or your household?
Have you ever felt guilty about the way you gamble or what happens when you gamble?
Score 0 for each time you answer "never"
Score 1 for each time you answer "sometimes"
Score 2 for each time you answer "most of the time"
Score 3 for each time you answer "almost always"
If your total score is 8 or higher, you may be a problem gambler.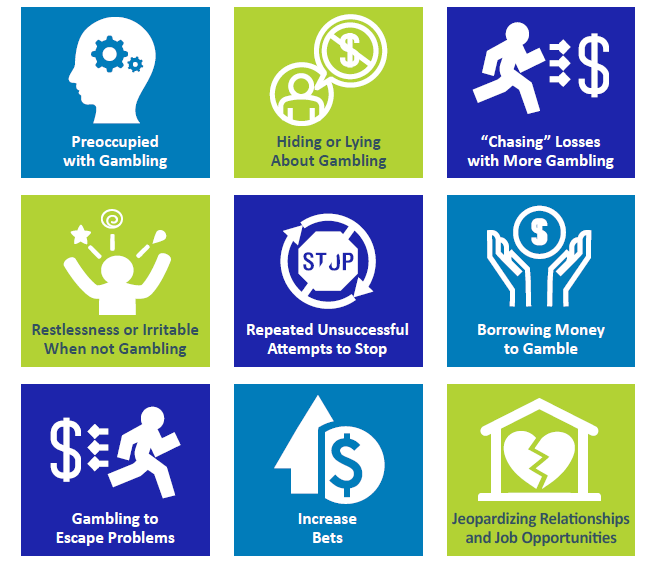 GAMBLING HELPLINES
NHS
Help for your gambling problem
National Problem Gambling Clinic
Read about gambling addiction, its effects and treatment options, and where to get help.
Royal College of Psychiatrists Leaflet
This leaflet is for anyone who is worried about their gambling and the families, partners and friends of anyone whose gambling has become a problem.
Gamcare
Helpline: 0808 8020 133
www.gamcare.org.ukA confidential counselling, advice and information service for people affected by an gambling dependency, including family and friends of compulsive gamblers.
Be Gamble Aware
National Gambling
Helpline: 0808 8020 133
The National Gambling Helpline gives confidential information, advice and support for anyone affected by gambling problems in England, Scotland and Wales. You can speak with our Advisers one-to-one over the phone or on live chat 24 hours a day, every day of the year. We will listen to what is going on for you, and talk through options for support in your local area, online or over the phone.
Gamblers Anonymous (UK)
Helplines: See contact page for regional phone numbers.
Provides information about a fellowship of men and women who have joined together to do something about their own gambling problem.
Gam Anon & Gam Anon Scotland
For anyone affected by someone else's gambling.
Gordon Moody Association
For all application enquiries call 01384 241292
Gordon Moody Association is a registered charity with over 40 years experience in providing residential support and treatment for people who are severely addicted to gambling. We have two treatment centres, one in the West Midlands and the other on the Kent/London borders.
Our specialist approach and experience since 1971 has allowed us to develop treatment interventions that are purely gambling focused whilst also addressing the extremes of the associated behaviours often experienced by problem gamblers.