Notts County slam the "no warning" match postponement after their fans travel 420 miles to Dover Athletic in a wasted day out on the road.
The Magpies have hit out at the decision to call off their National League game away at Dover, coming just two hours before kick off.
The match officials postponed the game at just after 1pm due to a waterlogged pitch at the Crabble Stadium in Kent.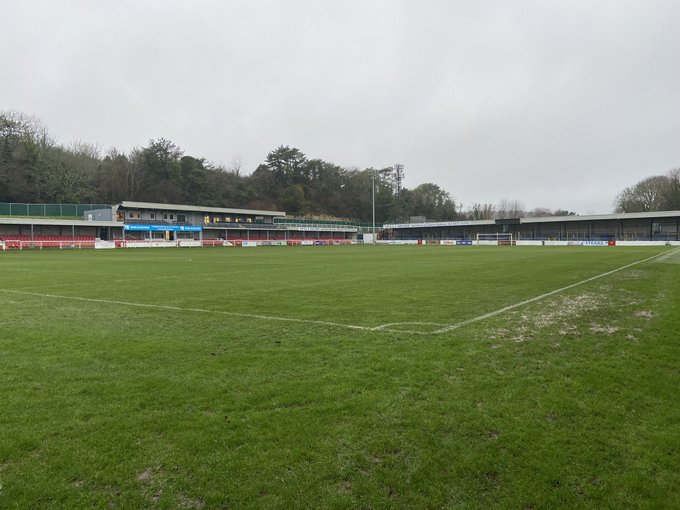 That was despite a previous update, just two hours previously, that there were no concerns over the playing surface.
County posted on their official Twitter page, confirming the late postponement which left the travelling fans enraged.
It read: 'Despite receiving no warning whatsoever of a pitch inspection or the match being in doubt, the referee has arrived at the stadium and called the game off – stating the pitch is totally unplayable.
"We can only apologise to supporters who have made another wasted journey."
The club's previous update, provided at 11am, said: "We've been in contact with @DoverAthletic and there are currently no concerns about the match going ahead. Safe travels to all Pies!"
Dover tweeted confirmation of the postponement, saying: "Game off. The referee has decided the pitch is unplayable and with further rain forecast has called the game off."
Chairman Jim Parmenter gives his thoughts after the referee made the decision to call off the National League game against Notts County.
He told the club website: "Really disappointing. I don't know exactly why the referee has made that decision!
"The pitch is firm, there's no standing water.
"He said he's done it for the welfare of the players – well, I don't know what they are used to playing on these days, but the pitch was much worse when we played Dagenham.
"I think it's the wrong decision. I believe he is a new referee, so maybe he is not that experienced.
"But the game could have, easily, gone ahead (so I'm) very disappointed in the decision."
Parmenter adds: "I was here from 10am this morning and the pitch was great. There was very light rain, and the pitch was perfect for playing.
"The rain got a bit heavier at about 11.30am or 12 o'clock.
"The referee arrived at about quarter to one and decided that, because the weather forecast was that it was going to continue to rain this afternoon, he was going to call the game off.
"He has called it off, in my opinion, based on the view of the weather forecast, rather than the actual state of the pitch because the pitch is clearly playable."
Magpies boss Ian Burchnall said via their club website: "For me, today has been a disgrace.
"Fans have sacrificed their Saturday, and a lot of money, to travel four hours in support of their football club and they have been massively let down by a complete lack of communication from Dover – just as they were at King's Lynn.
"We understand that weather conditions can worsen even in a short time period. But to not inform us of the game coming under question shows a complete lack of respect to our supporters and us as a club.
"Last season, when games were being played behind-closed-doors, proved just how important fans are to football, particularly at this level of the game. It's disgraceful that Dover have allowed this completely avoidable situation to play out as it has.
"Our supporters have been badly let down once again and the National League need to address this for the good of all clubs."
SEE MORE: Fans outraged at League Two match being postponed 20 minutes before kick off
As mentioned, Twitter users have reacted as Notts County slam "no warning" match postponement after their fans travel 420 miles for nothing…
@tomcresswell22: But im in dover and I'm drunk as fuck – Hythe Town fc vs whitehawk fc it is. Up the hythe
@chogger5: Do clubs in this league think Notts supporters just like travelling for no reason than or something?
@NigelCameron8: It's time a law was brought in, if a club is unable to host a game without giving sufficient notice then it forfeits the game and 3 pts
@mikemartintweet: Better yet, if a game isn't called off by 9pm the day before, it goes ahead regardless of referee's view of the pitch.
@JaymeSporton: Travelled last night. It started raining very heavily at 5am this morning and has not stopped. So predictable and totally unacceptable. Any local ref could have called it. Shambles @TheVanaramaNL @CharlieSlater15 @Calroberts_ @LeighCurtis_NP @DanWestwell
@ks18103: Same here came yesterday and staying tonight. Absolute shambles. Perhaps the away team should start sending their hotel bills to clubs calling games off so late. Might make some teams think about when to get a pitch inspection & not leave it until the ref arrives at the ground.
@stevo1862: Same at Kings Lynn on NYD – They should start awarding full points to the away team if it's called off less than two hours before with no warning
@willbobs46: How can they not identify if a pitch is playable or not, my team 50 steps below Dover can even carry out a pitch inspection ! It's embarrassing
@achandler2409: Disgraceful. This on top of Kings Lynn🤷🏻‍♂️ Totally unacceptable. @TheVanaramaNL Your league is losing spectator support. Please intervene and put some reasonable governance in place.
@jackdakin8: That's fucking outrageous that
@alexwest88: That's absolutely disgusting. Why the hell is the referee arriving 90 mins before kick off in this weather – knowing full well the distance it is for travelling fans. @DoverAthletic also need to be held to account for this. It's an absolute disgrace
@BuntingsWorld: Not the refs responsibility to get there earlier. Local ref should've been requested to have a look. Can't blame match day ref.
@malone_msm: What a waste of time for the fans something needs to be done ASAP wasting peoples time and money why didn't they just switch the match in the the week to be played at Notts
@carpetncfc: Forfeit, 3pts notts! This is the only way people will start sorting their grounds out! If you cant supply a suitable pitch you shouldnt be in the league
@CountyRoadPie:
Full tank of petrol – £40
Dartford Crossing – £5
9 hours with the family – priceless
Thanks @DoverAthletic
@SamGuideDogTra1: What. I mean, what. @TheVanaramaNL, you need to sort this out. The fans that have travelled to King's Lynn and now Dover, for this to happen, is a disgrace. And it will no doubt have cost Notts a lot of money for the hotel etc.
@adamjamesred: Disgraceful situation. As ever, no regard for travelling fans coming from far away. Why does football authorities continue to treat fans with contempt by not having more advanced plans to prevent supporters making needless and wasted journeys at their own cost?
@HarryPie1862: Half of a short wasted drive from London, could be a lot worse. How small the club is is irrelevant, the lack of early warning & inspection is inexcusable.
@OhBirkenhead: They did the same to us in that bastard league. Called off at 1:30pm. I think the whole of football will celebrate their relegation this year.
@K_Motson: Sorry but that's absolutely disgusting. We should be given the 3 points
@notts_twit: If only we knew someone who could help the Notts fans, who have now made two huge wasted journeys in the shambolic @TheVanaramaNL with free transport for the rearranged matches. If only there was a company in the motor industry looking for a good news story @Vanarama
@tonyhenderson73: Been pissing down here constant since yesterday and the pitch was already a shit show. Should've called it off yesterday, zero common sense!!!