A certain non league club are getting set to play their first 'home' match in over 30 years having played elsewhere for the time being.
Woodford Town currently sit bottom of the Essex Senior Football League Premier Division, but are hoping to pick up their first points of the season on their return to Ashton Playing Fields.
They will play host to FC Stansted, who themselves are flying high this season, sitting 5th and taking six points from two games played.
After 30 long years away!!!!

"Football's Coming Home"

📅Friday 13th August 2021
🏆 @EssexSenior
🏟️ Ashtons, IG8 8AA
Vs @FCStansted
🕖7:45pm KO
🍻 Bar Open from 6pm
💷 £7 Adults, £3 concessions

Looking forward to welcoming you all 🟡⚪🔵⚽ pic.twitter.com/g58vqtBnud

— Woodford Town FC (@woodfordtownfc) August 9, 2021
The club played at Waltham Forest's Wadham Lodge ground in Walthamstow until 2011, when they moved to Coles Park in Haringey to groundshare with Haringey Borough.
In 2016 they moved to the Terence McMillan stadium in Newham before starting a groundshare with Broxbourne at Goff's Lane for the 2017–18 season.
The club relocated to the Harlow Arena prior to the 2018–19 campaign, and announced their intention to return to Woodford at Ashton Playing Fields for 2020.
'It's beginning to look a lot like Ashton's', little by little we're getting a presence at our new home. A lot of hard work going on behind the scenes @ola___11 @Ricky_Slaughter #KeepOffTheGrass pic.twitter.com/fT25nJIDiu

— Woodford Town FC (@woodfordtownfc) July 29, 2021
The club were due to move into Ashton Playing Fields in November 2020, however new lockdown measures due to the Covid-19 pandemic in England postponed the club's return to Woodford.
The stand at the new ground is named the 'Jas Athwal Stand' in recognition of Jas Athwal, the Leader of Redbridge Council, for his contribution to bringing the club home to Woodford.
Ashton Playing Fields has seen a £1.6 million refit to bring it up to senior football and Grade A athletics standards, and is only a stone's throw from their legendary original ground in Snakes Lanes.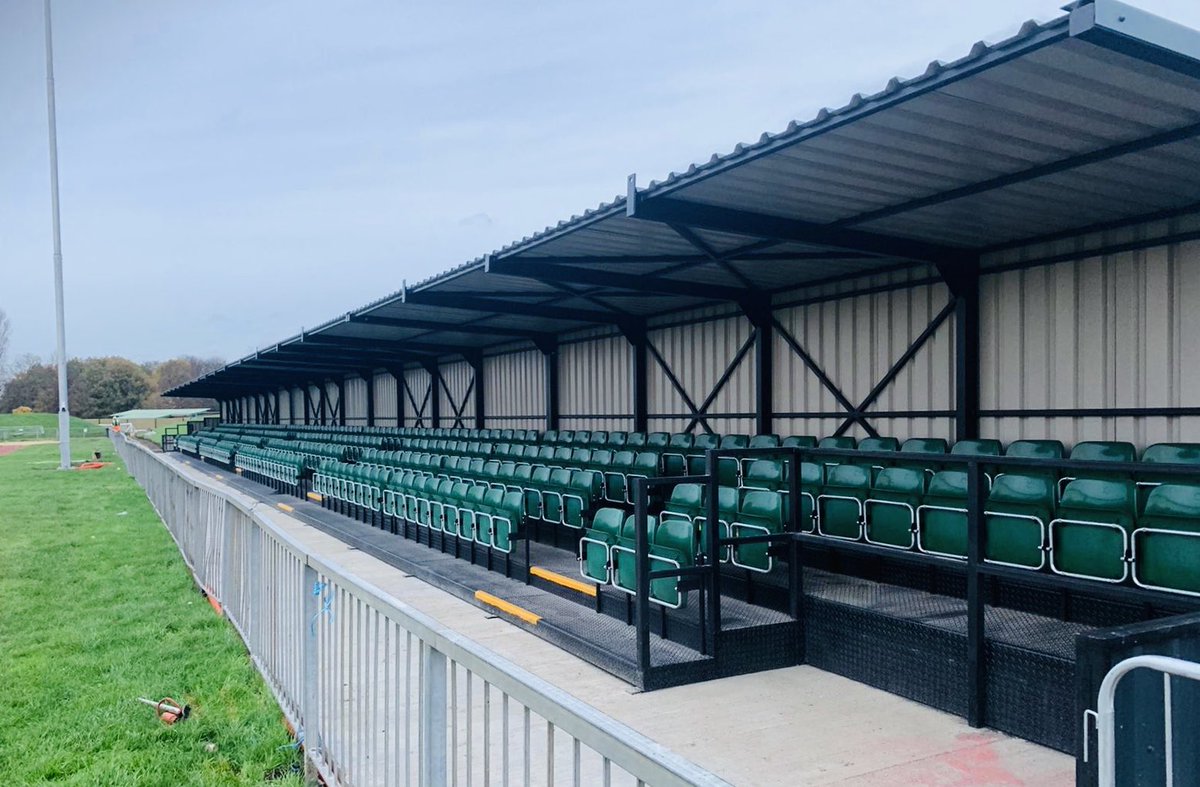 Joint-manager Dee Safer said a few weeks back: "Myself and Julian (Charles, joint manager) have worked hard to not only bring fresh faces in…
"…but also players with the attributes to execute the type of football we want to play to consolidate and improve our standing in the ESL."
Club chairman Tony Scott was equally optimistic about the season and said he couldn't wait to see fans coming through the turnstiles' despite the obstacles the club have had to overcome to make their homecoming a reality.
It's going to be absolutely rocking, much more of this to come Friday Night as we return home v @FCStansted .A chance to be part of the clubs history & experience the extraordinary atmosphere generated by our fans @NonLeagueCrowd @MANapier_20 @TonyIncenzo @thecoldend @callum_g04 pic.twitter.com/c6Fu8ogs62

— Woodford Town FC (@woodfordtownfc) August 11, 2021
Speaking from the club's gleaming new hospitality suite Woodford-born and bred Scott added: "It's been frustrating at times, mainly because of delays due to Covid, but very pleasing how things have come together in a reasonably short space of time and we're all delighted to finally get so close to our first game back.
"There's been a lot of hard work to get where we are and I literally can't wait to see fans coming through the turnstiles and experiencing the positive experience we aim to give them, it should be a very exciting time."
After two games, they sit bottom of their league, but eight other teams also are level on points with them (zero), with 21 clubs in their division for this season.
Woodford had been struggling near the bottom of the league for much of the last curtailed campaign.
 

 

View this post on Instagram

 
Woodford Town's club records:
Best league performance: 6th in Essex Senior League, 2018–19
Best FA Cup performance: First qualifying round, 2013–14
Best FA Vase performance: Second round, 2011–12, 2015–16
Fans reacted with the non league club set to play their first 'home' match in over 30 years…
@RussWWFC: This for me on Friday, fans were brilliant when I saw their game at Harlow, sadly an Athletics Stadium but I'll make the best of it.
@essexfootie: #FridayNightFootball is a bit of a historic one. Covering the @EssexSenior clash, between Woodford Town v @FCStansted. Stansted looking to maintain their 100% league start, and bounce back from FA Cup disappointment. For the hosts, their first* game back in their home town.
MORE PHOTOS AROUND THE GROUND