New Norwich City shirt sponsor, BK8, have been made to apologise over sexually explicit social media posts and issued an apology to fans.
The Canaries have had their new shirt sponsor take down provocative posts from one of its social media accounts after a backlash from supporters.
A number of the club's fanbase criticised the newly promoted side for agreeing a deal with BK8 after discovering the betting company used raunchy adult content to promote itself.
 

 

View this post on Instagram

 
Norwich said they "worked swiftly" with BK8 to remove the posts, something which has happened, but to a certain extent.
"These posts and marketing do not align with the wider Norwich City vision and values".
While adult content was quickly removed from at least one of BK8's Instagram accounts, supporters continued to complain that they found similar content on other social media accounts linked to the company.
Another video on BK8's youtube🥴 BK18+ more like #NCFC pic.twitter.com/mXk6FeXTkI

— Danny (@D_Rens180) June 7, 2021
Norwich City – co-owned by Delia Smith – said that after being made "aware of a series of marketing posts across the social media accounts of our new principal partners" the club will be "reviewing our due diligence process going forward".
In a statement, BK8 said "following concerns and issues raised" by the club and its fans it "would like to wholeheartedly apologise for any offence caused by our historical marketing".
"We accept that this form of marketing isn't befitting of a Premier League partnership," the company continued.
"We have immediately removed all marketing material of this nature and will conduct a review of our marketing strategy moving forward."
Norwich have named gambling company BK8 as their new main sponsor.

Their Instagram page is… interesting… pic.twitter.com/QGJKNn3VpY

— The Second Tier (@secondtierpod) June 7, 2021
The Asian betting firm replaced another betting company, Dafabet, as the club's main sponsor for 21-22 despite calls to have a sponsor away from gambling.
Gambling sponsorship in football has come under increasing scrutiny, with a petition urging for change set up and signed by thousands of fans.
In the Premier League last season, eight clubs had betting firms on their shirts but 17 had betting partners, which advertise around the pitch, on training kit and on social media. In the Championship, 10 of 24 clubs have shirt sponsorships but that number also increases when partners are considered.
The UK government is considering whether to ban gambling sponsorship in football as part of its review of the Gambling Act.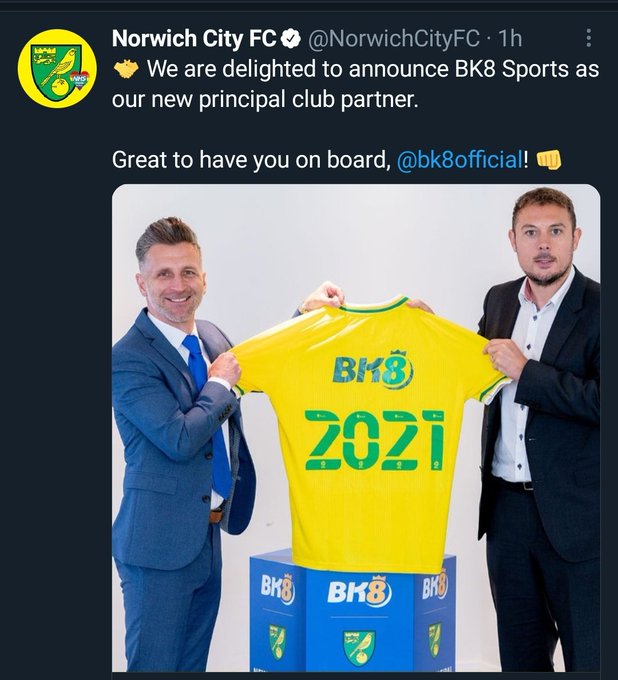 Rob Butler – BBC Radio Norfolk's sport presenter said: "This has been a PR own goal for Norwich City.
"Following the reveal of the club's new shirt sponsor BK8, fans were quick to spot social media posts by the betting company which included images of a sexual nature. This was all on the same day that City announced their star player Emi Buendia is set to leave Carrow Road.
"The Canaries have worked hard to promote themselves to be a community club which prides itself in being inclusive and diverse. They have a thriving community of supporters' clubs all over the world who firmly stand against homophobia, racism and online abuse. This won't sit well with that ethos.
"Norwich City Women are also very much part of the club's plans going forward, it will be interesting to see if they end up wearing the kit emblazoned with the name of a company who has this kind of marketing plan in place."
Fans reacted as the new Norwich sponsor BK8 are made to apologise over sexually explicit social media posts…
Half time Entertainment should be a bit tasty then 🤣

— Ian Dunn (@dunster77) June 7, 2021
Buzzing to see Captain Canary try this at half time… Or will they only let Women do it? pic.twitter.com/Py6W264fEh

— Lee ♿️ (@mrleeleencfc) June 7, 2021
You didnt put a vote button ????

— Ben Cary (@bencary77) June 7, 2021
Surprised they didn't put "man up" or "pull yourself together" on there 🙄

— Lee ♿️ (@mrleeleencfc) June 7, 2021
Not to mention their ambassador… pic.twitter.com/8g425DC9aq

— Adam (@adamjshew) June 7, 2021
Stuart Webber going into BK8 headquarters with the Buendia money pic.twitter.com/jHIhcO7DOh

— Ben (@BenNCFC_) June 7, 2021
BK8's social media pic.twitter.com/Sjh4VwlMwg

— Norwich City Simpsons Memes (@NorwichSimpsons) June 7, 2021
This pretty much sums up the BK8 apology over their "Historical Marketing" pic.twitter.com/VvFrZ63ahI

— Stuart (@Soulfrost00) June 7, 2021
@J_WritesStuff: I didn't really have @NorwichCityFC down as a club which would actively promote sexist, misogynistic attitudes. Anyone at the club heard of due diligence? Naked baccarat anyone?
@narwichboy: This really is poor from the Club – seems like basic due diligence not carried out. Somebody needs to teach Kelsall about how to manage your brand.
@rjthorpeuk: Another example of a family club simply following the money offered by gambling companies. Do you really feel a Cambodian gambling operator have the interests of the Norwich at heart, or is it simply the fact your TV coverage next year gives them huge brand exposure globally!?
@HaydnFox3; Genuinely think I'd have preferred Ed sheeran
@KeithGallois: It would appear that the majority of your fans are less delighted. The person that decided that this sponsorship was appropriate for our club should take a long hard look at themselves.
@jhl1959: As a long time season ticket holder this has not only disappointed me as it's another betting firm,I am ashamed that my family orientated club has aligned with a firm that promotes itself using young girls like this. A quick search threw up Instagram, video examples. Shame on you.
@Djm00r3: What do you take us for? This is a shocking decision that is completely out of line with our club values. Please rethink it.
@ndarmes: You cannot be serious about this. Heads need to roll and this deal cancelled
@iamstevegirling: Our family/community club tag has long gone. Self sustaining club only.
@stansbie: Very disappointing that someone at the club thought this partnership was a good idea, and signed off on it! You've scored a bit of an own goal. I thought we were better than this!
@Andy69078254: The pride I felt on promotion has been tempered. This new sponsor is simply awful in every respect.
@JimFigurine: I know the club will argue that from a financial point of view this is necessary, but @NorwichCityFC pride themselves as being a well-run, family-orientated club – gambling sponsorship is the complete antithesis of this messaging.
@iamstevegirling: Disagree – you can't pride yourself on being a family/community club with this announcement. That tag has now gone.
@fplcareless: I thought this is supposed to be my game too? Or is that only if I am an Insta model? #disappointed #itshergametoo
@CollingsPaige: you cannot be serious about eradicating sexism and making football safer for woman by partnering with a business like these. their social media tells all we need to know. this is very grim.
@iblatch: Still time to terminate BK8…..
@duncanmaci: Such a disgrace. The club and Darren Eadie should feel ashamed. This is a decision that should be reversed and another sponsor named.
@Joolsbrown58: And we had the audacity to mock 1p5hits shirt sponsor. Oh deary deary me. This is a mahoosive own goal @NorwichCityFC. Worse than the weekends transfer news by a million miles. Awful, just bloody awful.
@Barnoid1: Sold your soul for 30 pieces of silver I'm afraid.
@KevBarnbrook: Absolute shocking from the club. How can fans take less than 10 minutes to find the official social media's and the club didn't find them!?
@ben_dl: This really is embarrassing.
@rogerfive: This is very disappointing. Poor decision NCFC. Problem gambling still a major problem @NCFC__News
@1zazzy: And what little number will Delia be wearing for the opening game of the season?
@p_farrar: Would have loved it if the club walked away from the constant betting company's sponsors.
@ChrisJ_Burt: Selling Emi. Fine. I understand even if I don't like it. Community self funding club. Ok fair enough. But then you sign this deal which seems to totally goes against this ethos?! You've done a lot of damage to a great reputation that the club and fans had built up. Shame.