The National League title winner and playoffs are revealed while the North and South playoff finals are confirmed after Sunday's action.
We went into today's National League finale knowing that Stockport needed just a point against Halifax at home to guarantee promotion to EFL, and the title.
A defeat would open the door for Wrexham, who travelled to play-off seeking Dagenham & Redbridge who themselves knew they would get a playoff place if they win and Chesterfield lose their last game. Here's how it played out…
It took just 10 minutes for the Hatters to break the deadlock, Paddy Madden dropped a shoulder on the edge of the area, took aim and drilled it into the bottom corner. A stunning finish as you can see below…
It's Paddy Madden once again for @StockportCounty! 💙

It's a quality finish. Listen to the noise around Edgeley Park! pic.twitter.com/5EQA6WeKbQ

— Football on BT Sport (@btsportfootball) May 15, 2022
It was almost 2-0 three minutes later when Sarcevic's corner was delivered towards Palmer, but he just couldn't get his head to it.
The 24th minute saw Stockport go close again to a second when Sarcevic's corner was fumbled by the keeper, Madden bended it towards the top corner but it rattled back off the crossbar.
Finally Stockport extended their lead early in the second half when Andy Cannon's effort from the edge of the area was beaten out by Johnson, but there is Will Collar to leather home the rebound.
Some finish that, Will Collar! 👏

Quick to follow up Andy Cannon's effort and he drills the ball home.

They're almost there, @StockportCounty! pic.twitter.com/XRS9ZXwm0s

— Football on BT Sport (@btsportfootball) May 15, 2022
A flare was randomly thrown onto the pitch by the Halifax fans to bring the game to a halt with around 10 minutes remaining.
Stockport held on for the win and be crowned champions of the National League, returning to the EFL for the first time since being relegated from it in the 2010–11 season.
The Football League awaits @StockportCounty! 💙🏆

Dave Challinor's side win promotion to League Two as CHAMPIONS of @TheVanaramaNL.

Scenes at Edgeley Park! pic.twitter.com/deiD68zCS5

— Football on BT Sport (@btsportfootball) May 15, 2022
"I've completed this now.

"I've lost a play-off final, won a play-off final and now gone up as champions. That'll do me."

Dave Challinor is thrilled not to have to endure @TheVanaramaNL play-offs 😆

The @StockportCounty boss reflects on a season The Hatters will never forget. pic.twitter.com/CbTP9nqhV1

— Football on BT Sport (@btsportfootball) May 15, 2022
NATIONAL LEAGUE PLAYOFF SCHEDULE:
A: Mon May 23rd: Notts County v Grimsby Town: 745pm
B: Tues May 24th: FC Halifax Town v Chesterfield: 745pm
Semi-Final: Sat May 28th: Wrexham v A winner: 1230pm
Semi-Final: Sun May 29th: Solihull Moors v B winner: 1230pm
Final: Sun June 5th: 3pm
NATIONAL LEAGUE RESULTS
Aldershot Town (1) 1-3 (1) Wealdstone
Altrincham (0) 0-1 (1) Yeovil Town
Barnet (1) 2-4 (1) Bromley
Boreham Wood (0) 0-3 (2) Solihull Moors
Chesterfield (0) 0-0 (0) Woking
Dagenham & Redbridge (0) 3-0 (0) Wrexham
Dover Athletic (0) 1-2 (1) Weymouth
Eastleigh (0) 4-4 (2) Grimsby Town
Maidenhead United (0) 0-1 (0) Notts County
Southend United (0) 1-1 (1) Torquay United
Stockport County (1) 2-0 (0) FC Halifax Town
NAT LGE NORTH / SOUTH PLAYOFF SEMI FINAL RESULTS
It took 80 minutes for the deadlock to be broken at AFC Fylde as Boston United's Danny Elliott swept home the loose ball amid a packed penalty area.
The Pilgrims were handed a penalty in the 90th minute to seal the win, and that they did with Elliott blasting home goal number 31 for the season.
Brackley Town 0-1 York City
AFC Fylde 0-2 Boston United
Ebbsfleet v Chippenham had to go into extra time to be settled, with the Kent outfit coming out on top and getting the only goal of the game in the 97th minute.
There was great play as Poleon flicked a ball into space for Paxman to run into and he found lee Martin unmarked on the edge of the box and curled it past Henry.
Dorking Wanderers 3-0 Oxford City
Ebbsfleet United 1-0 Chippenham Town
NAT LGE NORTH / SOUTH PLAYOFF FINAL DETAILS
North Final – Saturday, 3pm kick-off: York City v Boston United at the LNER Community Stadium
South Final – Saturday, 3pm kick-off: Dorking Wanderers v Ebbsfleet United at the Meadowbank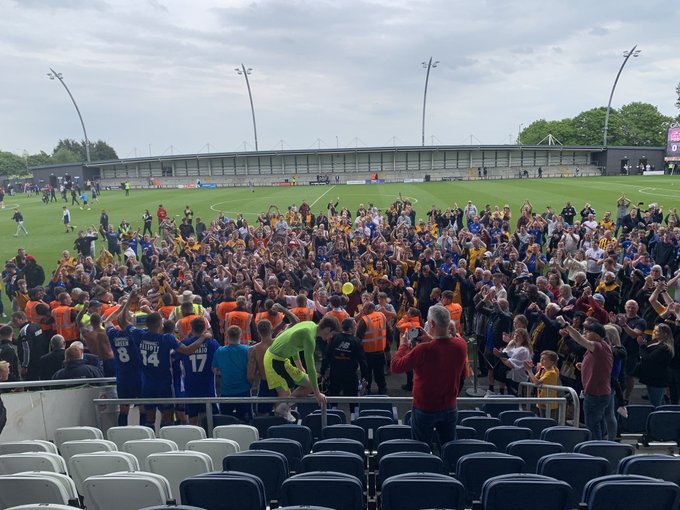 Can I shock you? I like the play-offs, despite what I just tweeted earlier. #EUFC pic.twitter.com/sbJ7EP4KPa

— David Byrom (@DB1993) May 15, 2022
Twitter users reacted with the National League title winner and playoffs revealed while the North and South finals are also confirmed…
ON STOCKPORT
@caitlinjjwebb: Congratulations Stockport! See you next season! 👏✅
@S_a_M_2022: Congratulations stockport from a Wrexham fan wasn't out day today but I'm sure we'll hopefully meet again in league 2 next season
@Danielh27716295: WE ARE GONNA BE IN FIFA
@PFCJ96: Congrats from Pompey 👏🏻
@Martwill87: Absolutely made up
@AcresSam: Yesss Stockport go on guys… what a club with great fans all the best in EFL (Wealdstone fan) ⚽️🍺
FULL TIME – after an 11 year stint in non-league, Stockport County are CHAMPIONS and going up! Fans charge on to the pitch to celebrate #StockportCounty pic.twitter.com/7rr1O7DdPJ

— Gary Carter (@GaryCarter_1979) May 15, 2022
11 years ago my pregnant wife and I watched County's (then!) last game in the football league. Today the now 10 yr old Finn was able to watch our return with me. National League, it's been real, but…

COUNTY ARE BACK!#stockportcounty #champions pic.twitter.com/y0tPBSVwx1

— Matt Hoskisson (@StockersAggi) May 15, 2022
ON AFC FYLDE:
@dodds_chris12: HAHAHAHAHHAHAHAHWHAHWHAHWHHAHWHWYWAHAHHAAHHAHAHAHAHA FULLY DESERVED ABSOLUTE TINPOT CLUB
@darlo_paul12: Flyde bottled it….
@AL2Spireite: Ha ha ha ha ha.
@Michael66674265: Can we look forward to a statement about the next project please?
@Dan_1160: 2022, see you next year lads
@KrasnyiDJW: Money can't buy you class.
@BarryGCurtis: So is Rowe still a winner then? 😆
@RochdaleAFCcom: #BottomleyOut
@g_morgan1994: Hahahahahahaha it's 2022 why aren't you in the football league? 🤣🤣🤣
@StuartAkister: Is the skip ordered for tomorrow morning for all the 2022 branding? #StopUsIfYouCan
— Rob Hay (@RobdHay) May 15, 2022
— luke (@Luke_s18) May 15, 2022
ON BOSTON
@babe101bod: Well in lads love you
@BUFCSupporter: OH WOW!! WE'VE DONE IT! ABSOLUTELY FANTASTIC PERFORMANCE ONCE AGAIN! WERE IN THE PLAY OFF FINAL AGAIN!! UP THE MIGHTY PILGRIMS!! 🟨⬛️🟨⬛️
@leonwilce: Pass James Rowe my condolences please said NO ONE EVER !! GET IN LADS !!
@yorkshire_kk: Possible Full house at The LNER 8000+ should be a great atmosphere

@scottbufc: If someone said three months ago we'd beat both Kiddy and Fylde away in the space of three days….. Wow, football. Absolutely superb!
@TrailOfDebt: If someone had told me two weeks ago I'd have said they were mad. Bonkers stuff. What an unbelievable pair of results.
@sambingham2708: FUCK OFF JAMES ROWE! Well in @bostonunited
@KrasnyiDJW: Congratulations from another Kiddy fan. I reckon you can beat York. Either way, good to see a proper club going cup. Let's all laugh at Flid and Brackley! 🤣🤣🤣
@TrickyBiccy: Fantastic achievement, congratulations & well done all! Time to finish the job at the LNER!
@MarkReynard3: It's going to be absolutely rocking on Saturday, let the scramble for tickets commence.
.@bostonunited ➡️ Playoff Final #BUFC pic.twitter.com/IltncQzUsq

— Ryan 🙂 (@Ry_aaaann) May 15, 2022
ON EBBSFLEET:
@pattzz7: We are in the National League South Playoff FINAL,so proud of every single @EUFCofficial player staying strong and getting the Job done. On We Go to the FINAL 🔴🔴🏆 #eufc
@mrbarnesscience: Made us work for that as fans!! Fair play, Great game, clean sheet, one of the best atmospheres I've experienced in a long while. Fair play plough end boys
@64AdeP: One more win and back where we belong.
@RobDelbene: Great game, great win, fantastic atmosphere! One game left to win! Come on boys
@RolyEdwards: Well done all… on to the final. Thought Lee Martin injected some much needed energy when he came on…. and of course one bit of class. Bring on Dorking FC. ⚪️🔴
@Adamdrew1979: What a final this is going to be
@motleefleet: We deserved that. But fair play to Chippenham and their fans – that's some effort this week in the back of a long
@WiseyCabby: Up the Locals!!! In to the final. Away to Dorking. Up The Fleet #eufc #Playoffs
@rustyspanner: Playoff final here we come!! #eufc