Millwall have had to call the police after removing their hooligans' offensive stickers which were taunting Tottenham Hotspur.
A "disgraceful" antisemitic poster was also put up by hooligan firm 'Millwall Berserkers' which has since been taken down by the Championship club and reported to the British Transport Police.
The south London outfit condemned the sticker poster, which had the words 'Achtung Juden' [attention Jews, in German], along with the Tottenham Hotspur symbol, and blood.
The poster included the symbol of hooligan group, which has previously posted the neo-Nazi odal rune on its Instagram page, a Nazi-style eagle and death threats to the left.
After saying the poster had been removed from a cycle path by its stadium, near South Bermondsey station, the club said: "Millwall Football Club has a zero-tolerance policy against discrimination of any kind.
"This is a disgraceful action which the club immediately reported to the British Transport Police. Millwall will provide them with full and comprehensive cooperation with their investigation and any individual or group identified will be banned from the club for life."
Millwall FC Supporters Club said it "abhors any such comment or content and that such material has not been produced or distributed by anyone with our knowledge. Whoever did so does not represent the Millwall fan base."
Paula Griffin, who noticed the sticker and shared it onto social media, said she has got "used to some pretty nasty stickers that the club apparently seems fit to leave there… Seems to have reached a new level of hate when people in England feel they can post up such antisemitic stuff as this."
The BTP have been asked for a statement.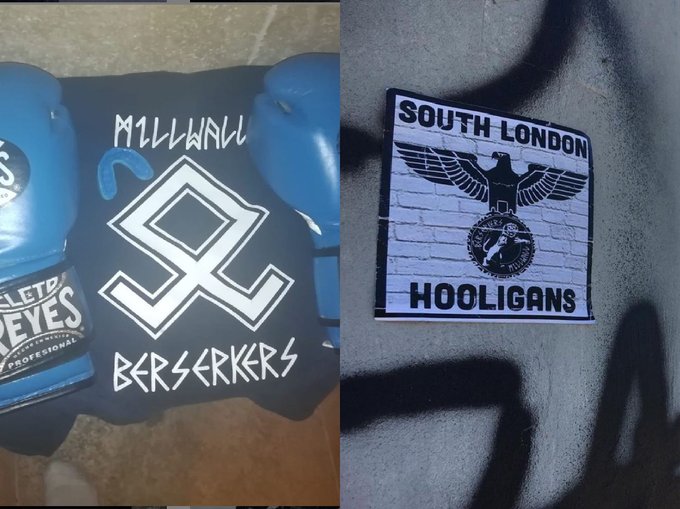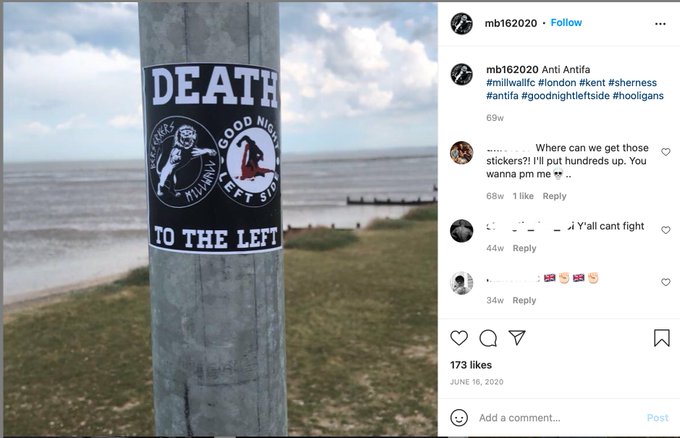 Spurs have a historic connection to the Jewish community, and rival neighbouring clubs have been accused of using antisemitic chanting and rhetoric, including the use of the term 'yid'.
The word Yid is a Jewish ethnonym of Yiddish origin. It is used as an autonym within the Ashkenazi Jewish community, and also used as slang by European football fans, anti-semites, and others. Its usage may be controversial in modern English language.
In 2020, Tottenham Hotspur criticised the Oxford English Dictionary for new definitions of the words "Yid" and "Yiddo" which include references to the club.
The OED has updated its entries for the words to include "a supporter of or player for Tottenham Hotspur Football Club".
The dictionary's publisher, The Oxford University Press (OUP), said in a statement that the word is labelled as "offensive and derogatory", with reference to Tottenham Hotspur being "a reflection of the evidence for the word".
"As we state at the closely related word YID… Tottenham Hotspur Football Club is traditionally associated with the Jewish community in north and east London, and the term is sometimes used as a self-designation by some Tottenham fans," it added.
"We will ensure the context for this connection is very clear in both definitions."
The OUP said the OED was a "historical dictionary" that "records the usage and development of words in the English language".
"We reflect, rather than dictate, how language is used which means we include words which may be considered sensitive and derogatory. These are always labelled as such," it added.
Twitter users reacted as Millwall call police after removing hooligans' offensive stickers taunting Tottenham…
@Paula_Griffin65: WTAF?? Morning walks often take me past @MillwallFC & get used to some pretty nasty stickers that the club apparently seems fit to leave there… Seems to have reached a new level of hate when people in England feel they can post up such #Antisemitic stuff as this..
@daveraybould: Scumbags
@nadinebh_: Disgusting yet unsurprising from Millwall fans
@genwilliams: That is GRIM. @MillwallFC are you cool with this?
@deanowall19: Obviously there not but they are not in control with what's posted on lamp posts at train stations are they🙄
@danielsevitt: Perhaps not, but an official statement of some kind condemning the people behind this hate crime and threatening them with banning from all Millwall games would be a welcome act of allyship, no?
@OliveQueen1472: Why are you blaming Millwall FC for this disgusting sticker? What makes you think they know anything about these vile things?
@DanHoughton_: Yeah because @MillwallFC are actively looking at every lamp post to remove stickers. Without even asking them, it is pretty damn obvious the club condemns such stickers! 🙄
Slight difference in connotation there.. after all your sticker makes the target yourself and could only be offensive in its use of "industrial" language… Whereas use of a phrase proliferated around 1930s Germany as a message of hate against the Jews is rather different..

— Paula Griffin 🏳️‍⚧️ 💙💖🤍💖💙 (@Paula_Griffin65) October 14, 2021