Mesut Ozil brutally trolls Tottenham with his three word tweet posted after watching Man City come out victorious at Wembley on Sunday.
Pep Guardiola's side won their fourth-straight trophy in this competition, with Aymeric Laporte scoring the late winner following what was a rather poor match.
Former Arsenal midfielder Mesut Ozil couldn't resist a dig at their bitter rivals Spurs, whose 13-year wait for a trophy goes on.
A number of Tottenham players appeared devastated at full-time, and of course we all saw Heung-Min Son mocked as he shed some tears on the pitch with Eric Dier giving an emotional post-match interview, standing on the touchline at full time looking at what his side conceded the goal.
But there was clearly no sympathy from Mesut Ozil as he brutally trolls Tottenham with his three word tweet, keeping his old club close to his heart.
In a reference to Spurs' trophy cabinet after the game, Ozil tweeted: "It remains dusty…" along with an emoji of a trophy and wind blowing, of course it provided much delight to Arsenal supporters.
It remains dusty… ⚪🏆💨🤷🏻‍♂️ #LeagueCupFinal

— Mesut Özil (@MesutOzil1088) April 25, 2021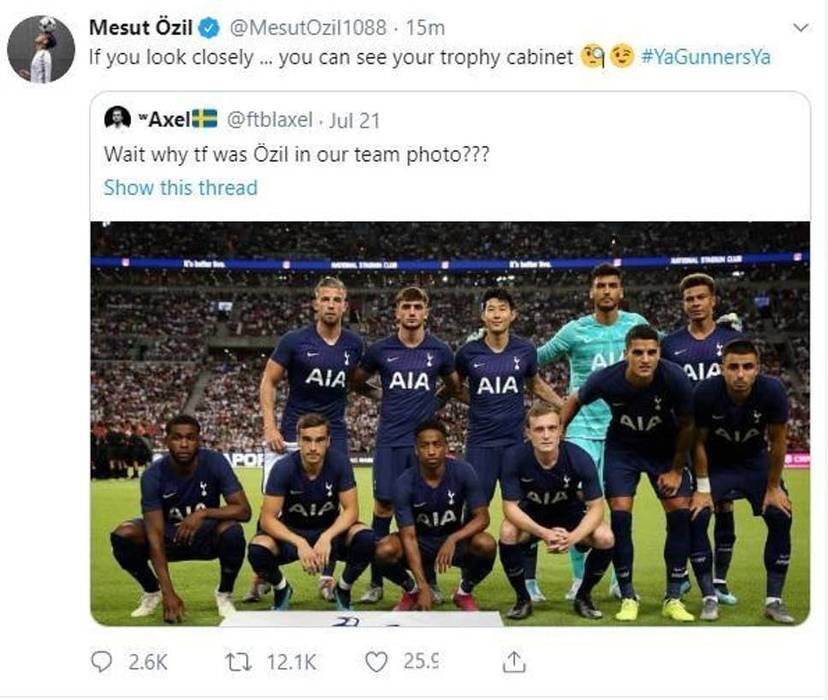 It's not the first time Ozil took a big dig at Spurs,the above photo shows him ripping the piss out of the club not winning a trophy in years.
During a Twitter Q&A, the 32-year-old was asked if he'd rather play for Spurs or retire from football.
His response? "Easy question. Retire!"
Spurs last won some sort of silverware when they lifted the then-Carling Cup in 2008, and speaking to the club media Dier admitted this loss was difficult to take in.
"It was an opportunity to win a trophy and we've come up short," he said. "It has to drive you on. I'm not going to lie, this one is very tough because to not have a trophy in seven years here hurts me deeply. We just have to go again."
Eric Dier has finished a media interview and is now stood staring at the end of the pitch where Spurs conceded. pic.twitter.com/T2y1GKl8WH

— James Olley (@JamesOlley) April 25, 2021
Tottenham's Ryan Mason added: "I thought we were 100 per cent committed. They are a very good side. I thought we rode our luck at times, disappointed to concede from a set piece, but the guys gave absolutely everything. They believed, they left everything on the pitch. Very disappointed with the result, obviously, but can't fault the effort.
"I think City are probably four or five years ahead of us, they've had a manager for such a long time, worked a certain way for such a long time. Going forward, my idea and I'm sure everyone's idea of Tottenham is to be brave and try and dominate games like they do. It's a process, it takes time, I think the fact the players tried and believed. It says a lot, it makes me believe they want to work this way.
"But it's normal, we've worked this way for the best part of a week, had two day to prepare for this game, and played against the best team in the country. Yes we rode our luck at times, but I thought as the game went on they were creating less. It's difficult to take but I'm proud of the boys."
Manchester City's Pep Guardiola spoke with the media: "It's much better, much better [with fans]. We play to score, that's what's important. Today we're incredible. Happy to win the first title, In the past 33 games we won 30, that's incredible. We play with incredible personality, from the fit minute, to try to win the game. In general we play a really good final.
"We don't have time to work [on set-pieces]. With this schedule, we don't have time to do anything. Just the principles, it's our fifth season together so we know what to do. Just to recover, try to be a unit. It's tough, but the schedule is this way.
"Now we rest and prepare for the semi-final against PSG. And then after that we are two games away from winning the most important title – the Premier League."
Ozil, meanwhile, is now at Turkish side Fenerbahce, and he was one of the first high-profile current players to speak out about the proposed European Super League.
He took to social media last week in the wake of the news to say: "Kids grow up dreaming to win the World Cup and the Champions League – not any Super League.
"The enjoyment of big games is that they only happen once or twice a year, not every week. Really hard to understand for all football fans out there."
Fans reacted as Mesut Ozil brutally trolls Tottenham with a three word tweet…
@jungey_: Burned…. @SpursOfficial 😂😂😂 13 years!
@Lee01Nicholas: He really is a gooner and I will always love this man
@ScottyBoyGooner: His finest moment.
@rpaulon93: Credit when credit is due 👏🏼
@joshcurtis10_: What a guy
@STEFANCOYS: Yh mate nice one- playing in Turkey and still got Tottenham on his mind. Jesus how the mighty have fallen
@ricksonswheelie: Mesuts coming home
@AFC_Blogger49: Utterly phenomenal PR move
@formerleftback: A lot of time for this.
@Red_Haired98: MESUTTTTT!!!! MY GOAT 🤣🤣
@YazeedFB10: Bro the hate ahh because of this I love him
@aaronvine21: You love to see this! #afc
@Thereal_Nsikak: Premium banter 😂😂. We love to see it.
@anubrata_gunner: It's happened again! It's happened again! We all know the rest! RIP @SpursOfficial!!
@Goonerette7: Always a Gooner Mesut
@sesay_winnie: Ozil really roasted Tottenham? Ozil did Tottenham dirty
— chidi (@primeesr) April 25, 2021
That there is a violation my guy but they do deserve it 🤣🤣🤣 pic.twitter.com/3HiSmahcCj

— Ali (@AFCFahad7) April 25, 2021
— 🇸🇪 (@axelthfc) April 25, 2021
Omds😭😭😭😭😭 pic.twitter.com/mncKuknBVX

— #KroenkeOut (@afckiko) April 25, 2021
I always knew Ozil was not the problem, Arteta and Kronke were. I always knew Wenger was not the problem Kronke was. Nothing has changed since Ozil left. Nothing has changed since Wenger left. Instead we are worse of. Ozil deserved more, but got little backing from the fans.

— Okunlola Olaniyi (@simplyneyo) April 26, 2021