Mansfield Town boss Nigel Clough tells his players to stop their wild 'waste of energy' goal celebrations and to leave it for full time.
The 57 year old has tried to keep Mansfield's goal celebrations reserved, wanting them to keep concentration and not expend energy.
Clough, who has won the League Cup with Nottingham Forest as a player, said the time to savour the moment and show their relief is with their fans come the final whistle.
His team have earned success with the Stags currently sitting 3rd in League Two, with 32 points from 16 games and are 6 points behind leaders Stockport, who have played a game more.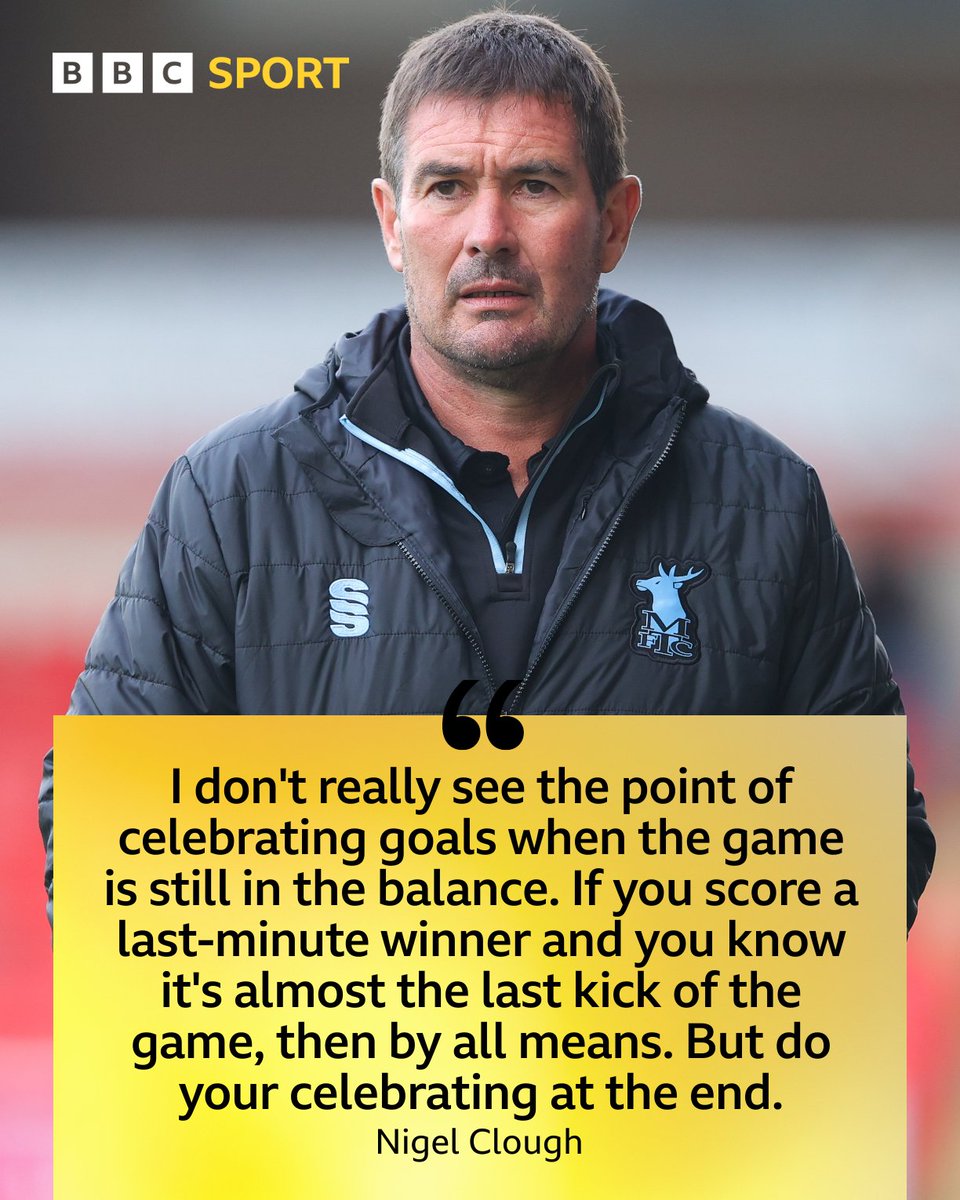 "I don't really see the point of celebrating goals when the game is still in the balance," Clough said to BBC Radio Nottingham.
"If you score a last-minute winner and you know it's almost the last kick of the game, then by all means. But do your celebrating at the end of the game, which is why we [Mansfield] always go over to the supporters."
Clough adds that the time celebrate is after an achievement: "You got a little pat on the back, a pat on the head or someone shook your hand.
"Yes, you have that individual moment when you do score, but I think it goes a bit over the top. Be a bit more reserved about it, save your energy certainly – because when they kick off, you have to go get the ball back.
"At the end of the game, if you have been lucky enough to have won, then that's the time to celebrate. Even the end of the season, because yes you celebrate each win, each unbeaten game, but then if you don't achieve anything it's a little bit wasted.
"But the individual games are important to recognise when we have this great record. We have just won for the first time at Salford when we haven't been brilliant – we dug in and won, scored two good goals and that in itself is worth a little celebration, but nothing over the top."
✌️ Two 🔝 goals.
#Stags 🟡🔵 pic.twitter.com/FjhMFlQRBt

— Mansfield Town FC (@mansfieldtownfc) November 11, 2023
👊 Passionate scenes at full-time today as we climb into the top 3️⃣ in @SkyBetLeagueTwo.
#Stags 🟡🔵 pic.twitter.com/SC2T7lFz31

— Mansfield Town FC (@mansfieldtownfc) November 11, 2023
🎬 The action as we took maximum points from the Peninsula Stadium yesterday.#Stags 🟡🔵 pic.twitter.com/WZYSxo2l88

— Mansfield Town FC (@mansfieldtownfc) November 12, 2023
Clough spent much of his playing career at Nottingham Forest, where he played over 400 times in league, cup and European matches in two separate spells, netting 131 goals throughout his Forest career between 1984 and 1993 making him the second highest scorer in the club's history, winning the League Cup in both 1989 and 1990.
Back then, celebrations was something more reserved compared to that of today, where you tend to have cameras pitch side of up in players' faces to captured it all.
Rodri's knee slide after putting Man City 4-3 ahead against Chelsea last week, in their thriller that ended in a 4-4 draw is being used as an example but the media of when celebrating wildly should be kept for full time. 
"You got a little pat on the back, a pat on the head or someone shook your hand – people like Ian Bowyer or Garry Birtles, who have have won European Cups," Clough said on what it was like in his playing days.
"And even when you see them scoring in semi-finals of the European Cup, or even the final, there was no everyone running into the corner flag and everything because they knew then that once they kicked off, you need all the energy you have got to get the ball back to try to preserve your lead, or increase it or whatever."
This is what fans had to say as Mansfield boss Nigel Clough tells his players to stop their wild 'waste of energy' goal celebrations…
@PatoEner: Celebrating a goal is a thing of the moment, you don't defer your celebration because of an unknown future
@saundeel: Hes not wrong though
@ALSP8: Perhaps the supporters should only celebrate at the final whistle too!? Or maybe the players could celebrate on special occasions- I'm sure his Dad would raise an eyebrow at this suggestion
@JonBell61123722: Or take it further and only celebrate when you've won the league and/or a cup. That way only about 5 or 6 teams would celebrate each season. Happy times 🤣
@PLCPolice: Welcome to the Celebration Police, Officer Clough 👮🏻‍♂️
@joewileman: I'm still looking forward to someone going full on, shirt off, half pitch length celebration, knee slide to the corner flag like it's just gone in, but after waiting 5 minutes for VAR to decide it's a goal.
@malp1878: I bet he's fun at parties.
@NUFCPhantom: He'll like VAR then, that pretty much makes celebrating a goal pointless. Honestly, why play football if you can't celebrate a goal?!?!
@theworldofwhat: Football like life is all about moments. Why wouldn't you celebrate the ball hitting the back of the net, whatever the situation in the game?
@The_Yielder: Big difference between getting carried away and celebrating a goal. As a fan I want to see the passion and meaning of a goal in the players too but not then get carried away and act like the game is won
@potentiallyjeff: It's easy for Cloughy to say that, we're behind every other week and come back. We had a habit of drawing 2-2 after going 2-0 down early, half of last season. Winning and holding onto a lead is a new to us. Probably just shock. But hey, we're still unbeaten in the league 💙💛
@kimnffckim: Nah, disagree with this. It's all about the moment when emotions are high.
@BleakAndBlue22: Quite right too. A firm handshake from the captain when the goal has been confirmed (ie. several VAR minutes after the ball hit the net) will suffice. Looking forward to successful implementation…