A Man City defender is under fire on Twitter for allegedly throwing a Christmas party with 19 fellow Premier League stars.
According to rumours, Kyle Walker thought it would be a good idea to throw a Christmas party in London, a tier 4 area.
This has resulted in the postponement of two Premier League matches, Everton vs Manchester City and Newcastle vs Fulham.
The Premier League, Manchester City, and Kyle Walker are all yet to make a statement on the allegations. If the allegations turn out to be true this will be the fourth time Walker has been caught breaking lockdown restrictions.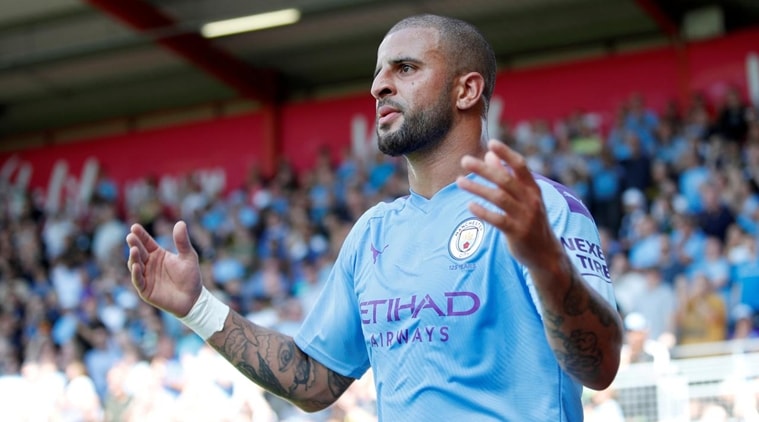 Walker had to have talks with the England boss, Gareth Southgate after breaking lockdown three times during the coronavirus pandemic, while also being caught hosting a 'sex party' which led to doubts over his international future.
Kyle Walker admitted then that he had made "bad decisions" and praised Gareth Southgate for giving him a second chance.
England boss Southgate had a heart-to-heart with the defender which has now led to a reprieve and he is now dreaming of reaching the 50 cap milestone.
Walker, 30, who is on 48 caps, said: "I reflect on, you know, my decision making."
"It was bad decisions from me at an important time for the country and the world."
"Obviously me and the boss spoke after the lockdown incidents and, you know, he assured me that we all make mistakes."
"Obviously, mine was on a bigger scale and gets magnified with me being in the public eye and a role model to young children growing up, so I have to take full responsibility for my actions, which I have done."
"But now I'm just moving on. I'm so happy to be here. It's lovely to see some of the lads again that you don't get to see so regular."
This wave of regret clearly passed before the year was out. If the claims turn out to be substantiated then we can all assume a heavy punishment coming Walker's way.
Hilariously, Walker even claimed he feels "harassed" by a section of the British media following a report that he broke lockdown restrictions three times.
"I have recently gone through one of the toughest periods of my life, which I take full responsibility for. However, I now feel as though I am being harassed," Walker said on Twitter.
"This is no longer solely affecting me, but affecting the health of my family and my young children too."
Walker said he travelled to Sheffield to give his sister a birthday card and present, and that he then travelled to his parents house to "pick up some home-cooked meals".
"What have my parents and sister done to deserve their privacy being invaded by photographers following me to their homes? I constantly feel as though I am being followed," he added.
Walker also said his mental health was not being taken into consideration amid the scrutiny.
"At a time when the focus is understandably on COVID-19, at what point does mental health get taken into consideration, an illness which affects every sufferer differently?" he said.
It's fair to say, Man City defender is under fire from fans online as Christmas party leads to Covid outbreak. Let's have a look at what some the users had to say…
Big rumours circulating Kyle Walker organised a massive Xmas party which included 19 premier league players, 11 of the 19 have tested positive for Covid & is why City v Everton & Tottenham v Fulham was called off, this will cause big shit, another brain dead footballer

— Dazza67@uk🇬🇧 (@Dazza02423090) December 31, 2020
Is literally the most believable Kyle Walker story you're likely to hear in life that.

— The Red Weegie #MUFC (@RedWeegie) December 31, 2020
There ain't no party like a Kyle Walker party…

Premier league endangered
2 games postponed
Massive breaking of rules

Sharp as a marshmallow that lad.

(Allegedly)

— Preno (@preno67) December 31, 2020
So it is now breaking that Kyle Walker held a christmas party in London causing the spread of Covid. Let's all pretend to be shocked it was him 😱 #kylewalker #ManCity

— Lee (@Red_ArmyMUFC) December 31, 2020
Kyle Walker should be banned for the remainder of the season if that story is true.

— Iver Hanrahan (@IverHanrahanGP) December 31, 2020
Kyle Walker should be banned for the remainder of the season if that story is true.

— Iver Hanrahan (@IverHanrahanGP) December 31, 2020
So there's Rumours Kyle Walker heard a party in London 19 players went and 11 of them have tested positive, Even Sancho went, If that is true what utter wankers.

— Dave (@Dave1984Dopey) December 31, 2020
So there's Rumours Kyle Walker heard a party in London 19 players went and 11 of them have tested positive, Even Sancho went, If that is true what utter wankers.

— Dave (@Dave1984Dopey) December 31, 2020
The rumours are spreading concerning the postponement of https://t.co/ClM2DRVbih and Fulham.
Kyle Walker arranged a Xmas party in London and 19 people accepted even Sancho from Dortmund hired a private jet. Out of 19 players 11 have tested positive. Walker should be thrown out

— mighty hammers (@mightyhammers61) December 31, 2020
The rumours are spreading concerning the postponement of https://t.co/ClM2DRVbih and Fulham.
Kyle Walker arranged a Xmas party in London and 19 people accepted even Sancho from Dortmund hired a private jet. Out of 19 players 11 have tested positive. Walker should be thrown out

— mighty hammers (@mightyhammers61) December 31, 2020