Kevin Ellison got a lot of people's attention over the last few days as he mocks an abusive social media troll after his match winner.
The 42 year old got himself on the scoresheet for Newport County, turning what looked to be heading for a point into three when he glanced in a spectacular header for a 1-0 win at Oldham Athletic in League Two.
It was Ellison's fourth goal for the Exiles and all of them have been important, the late winner against Port Vale, the famous clincher and laugh in the face of then-Morecambe boss Derek Adams, and the key strike from distance that got the Exiles back into the play-off semi-final at Forest Green Rovers.
Ellison has so far made 25 appearances for County in League Two but only two of them have been as a starter.
Though he understands that and isn't too surprised to be on the bench, especially if he can produce quick after being subbed on.
Nothing to prove to anyone 😉⚽️ pic.twitter.com/CNX2JazCbv

— KEVINELLY (@KEVIN11ELLISON) August 7, 2021
"People will look at me and say that I can play many games and that I can't play 90 minutes," said Ellison, who came on for the final 20 at Boundary Park.
"I know what I can do, if the gaffer is going to use me off the bench this season and that happens then so be it.
"If you tell me that I am going to come off the bench and have a chance every game then I will take that over starting [occasionally] and not getting involved as much. If I have one chance then I will take it.
"People will say that I'm 42 and must be finished now but I've got nothing to prove to anybody.
"I've done it for years and will continue to do it. I haven't got anything to prove to anyone, just myself."
After scoring against Oldham Athletic, a 'fan' decided to pop up in Ellison's social media messages, going by the name of Billy Mc, he wrote: "Fuck off you old cunt go to a retirement home."
Ellison seemingly hit back at the idiot, simply and hopefully with a smirk on his face sending a photo of the player scoring with he cupped ear celebration, wrote "Unlucky" and cheekily doubled tapped on the abuser's message to show up that he 'loved' what he had to say.
Ellison then posted a screenshot of it all and posted it onto his own Instagram stories… leaving many supporters laughing.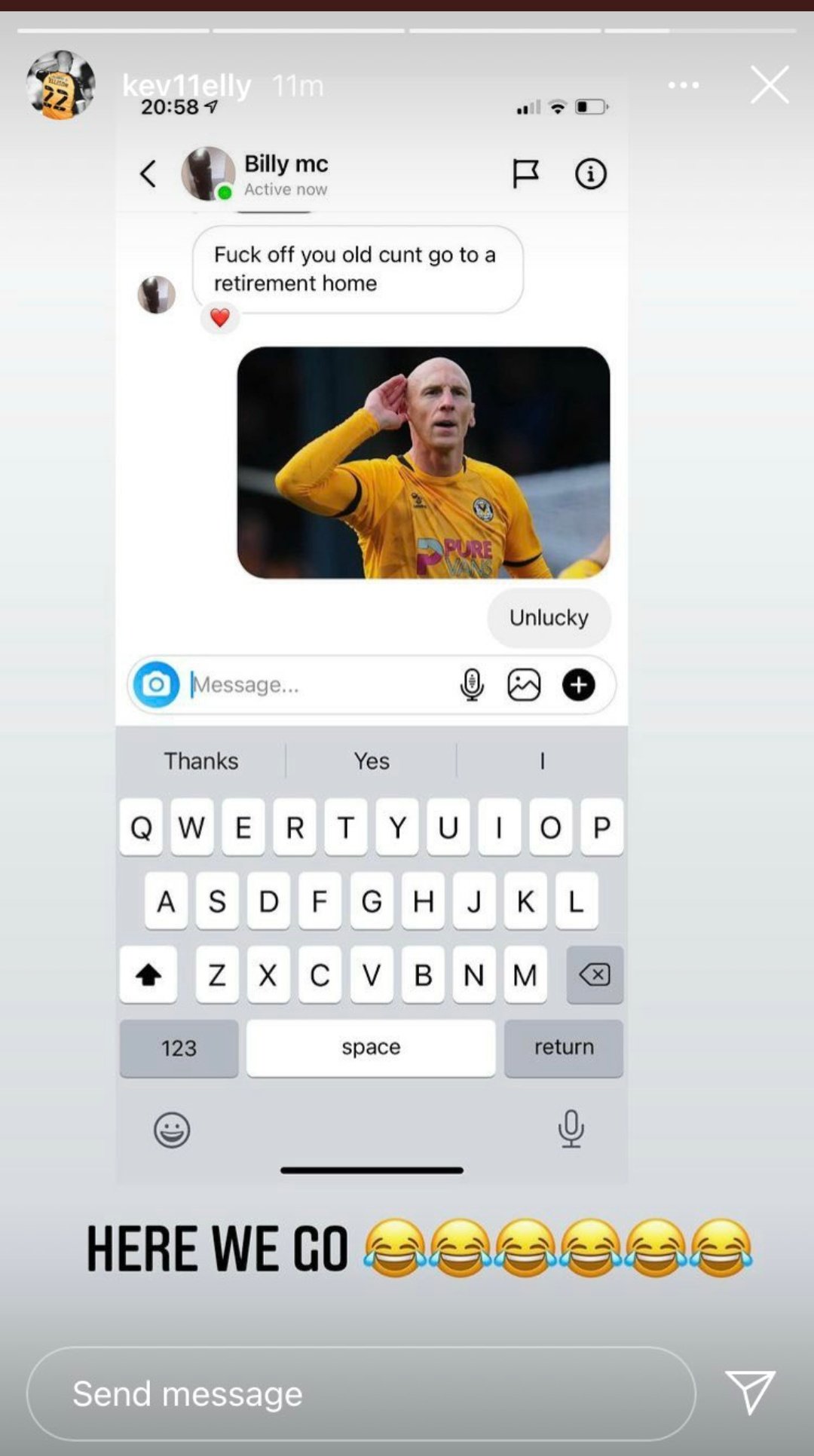 County will be aiming to build on their win as they head to Ipswich Town in the Carabao Cup First Round on Tuesday evening.
"We started the season well with three points, it's great to score but the main thing is that we won. Let's kick on from here," said Ellison.
"It wasn't pretty but we won and that's the main thing. It was vital because teams in the past have had a play-off hangover but we have started well and hopefully we can kick on.
"We've lost a few key players but the gaffer has brought others in, they are going to take time to settle down into how we play. There is quality there and it's just about blending it now."
Ellison was named a trialist in pre-season while working out a deal with manager Michael Flynn, and the delay about signing up for a second season was down to his Rodney Parade role.
"It was always getting sorted. I spoke to the gaffer and it wasn't about money, it was about me moving forward as a player-coach," he said.
"We call it the dark side of what I can offer and how I am going to implement in coaching as well as playing.
"I am grateful to the club for giving me a role and hopefully I can help the young lads. It's not just football, I've had life experiences that I can help them with. I am there to help them out."
"I enjoy having banter with the crowd. A few of them were giving me stick before the game and in the warm-up in Oldham," he said, as mentioned by South Wales Argus.
"When I scored I had a word or two with a couple of them and that's football. People asked last season about the R word (retirement), but I couldn't do the R word when there were no fans.
"I'm about mixing with the fans and having a bit of a laugh and a joke. Luckily for me it paid off at Oldham.
"Half the fans love coming to wind me up and have a bit of banter, getting stuff off their chest by having a go at the bald man.
"It's great to have the crowd back and I was made up to score in front of our fans. I've got so much stick from Newport County over the year and was lucky to do it in front of them and send them home happy after they travelled to Oldham in numbers."
Fans reacted as Kevin Ellison mocks the abusive social media troll after his match winner…
Only going in light as early days ⚽️👍

— KEVINELLY (@KEVIN11ELLISON) August 8, 2021
True story that's polite to the normal abuse we are meant to accept but that's life social media has its pros and cons !!! If they give it I'll be back at them in a nice way Paul 😉😂

— KEVINELLY (@KEVIN11ELLISON) August 8, 2021
@kevjohnson77: Jealousy mate Pure n simple
@nicnacnoopixs: Billy Mc showing a real need to have listened more at banter school😂
@Hovis1GK: Keep the good work up Kev 🙌
@loogx8: legend
@bigbirdbrfc: I've got a lot of time for this @KEVIN11ELLISON 😂😂
@LucccyAshcroft: 😂😂😂😂 honestly love this man, bloody hilarious!
@9597H: Was it ever in doubt!.. 🤔👍💪⚽️
@SimonLew87: 😂😂😂😂
Kevin Ellison's winner for Newport County yesterday against Oldham Athletic #NewportCounty #NCAFC #OldhamAthletic #OAAFC pic.twitter.com/FXxxT3VlIP

— English Home And Away Chants (@englishhaac) August 8, 2021
— Shane (@shamedonless) August 8, 2021