Jack Grealish deletes old tweets that he posted about Man Utd and Man City after being uncovered by fans on social media site Twitter.
The Aston Villa skipper has fuelled speculation that he is close to joining Manchester City in a record-breaking deal after deleting a tweet about soon-to-be-rivals Manchester United.
Premier League champions City are said to be approaching the England international for much of the summer, with Villa adamant that they are not letting their captain go and setting an enormous £100million price tag to ward off suitors.
But according to The Telegraph, after several days of talks, City have now officially submitted a nine-figure bid which meets Villa's asking price and would make Grealish the most expensive Premier League signing ever.
The 25-year-old is still on holiday after his time playing for England at Euro 2020, but City are now confident an agreement can be reached within days – and Grealish's social media activity suggests he may already be preparing for the move.
Eagled-eyed Sky Blue fans noticed that their potential new arrival had already published a tweet about the Red Devils several years ago, urging him to delete it before arriving at the Etihad.
The tweet from 2012 read: 'Love listening to Drake while going sleep. Off to sleep for a bit then up for the United game tonight #RedDevils!!'
#AVFC Jack Grealish media team deleted this 25 minutes ago…. 🤐 pic.twitter.com/R7SzzdClS2

— Villamole (@Villamole1) July 30, 2021
And, rather surprisingly, Grealish, or should we say a member of his media team, went and deleted the tweet within minutes of news of City's £100m bid breaking online.
To add to the concern of Villa fans, Grealish's brother Kevan, who has rubbished rumours about the playmaker in the past, has now gone and deactivated his Twitter account following reports of the £100m bid, with supporters fearing the worst.
Transfer expert Fabrizio Romano: "Manchester City are now in direct contact with Aston Villa for Jack Grealish. Negotiations ongoing to reach an agreement – not gonna take long, decision to be made in the next days.
"Aston Villa have already offered Grealish a new contract. They hope to keep him."
And with that in mind, more tweets posted from the player's account has caught a lot of people's attention.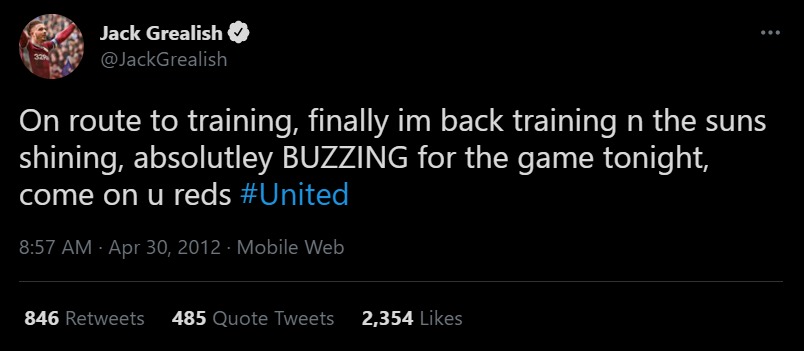 Aston Villa's dependency on Jack Grealish
Games – 24 with Grealish, 14 without Grealish
Win percentage – 54.2% with Grealish, 21.4% without Grealish
Points per game – 1.8 with Grealish, 0.9 without Grealish
Goals scored per game – 1.7 with Grealish, 1.1 without Grealish
Fouls won per game – 15.3 with Grealish, 13.2 without Grealish
Total carry distance with ball
Premier League, 2020/21
Player – Carry distance
1) Luke Ayling – 8,852m
2) Rúben Dias – 8,590m
3) Adama Traoré – 8,012m
4) Harry Maguire – 7,601m
5) Andrew Robertson – 7,431m
6) Jack Grealish – 7,035m
Total drives into penalty box
Premier League, 2020/21
Player – Drives into box
1) Adama Traoré – 16
2) Marcus Rashford – 15
3) Pedro Neto – 12
4) Sadio Mané – 11
5) Jack Grealish – 9
6) Bertrand Traoré – 9
7) Raheem Sterling – 9
8) Wilfried Zaha – 9
Grealish pressing from the front
Premier League, 2020/21, factors 900+ mins
Player – Possession won in final 1/3 per 90
1) Kevin De Bruyne – 1.39
2) Matheus Pereira – 1.26
3) Nathan Redmond – 1.20
4) Jack Grealish – 1.03
5) Adam Lallana – 1.02
6) Riyad Mahrez – 0.97
SEE MORE: Fans' debate over Jack Grealish gets heated as Aston Villa respond to £100m bid
As Jack Grealish deletes his old tweets about Man Utd and Man City after being uncovered by fans, Twitter users gave their reaction…
@keithmurphy1991: Grealish just deleted his old tweets about United so one can only assume the deal is going to happen.
@DG_Avfc: Yep, he's gone
@Gaz57333644: Shame he looks like he is going. Villa have a quality young team with bags of spiri, Gutted he doesn't want to stay but he has been a class act for us all the same.
@BenTebbutt3: Gone
@mikeyavfc19: Don't let the door hit you on the way out
@Bruynetime: Grealish has started to delete old tweets about our rivals, it's happening. Say the words king @FabrizioRomano
@rkmcr6: It's happening oh my god
@Barryryan85: I thought he always supported Villa – obviously not
@GiveItEddie: All old Grealish tweets being dug up lmaoo
@UnrealFoden: Grealish just deleted his United tweet too its really happening isn't it
@DougEllisStand: Jack you better be just stirring it 😭 #AVFC
@Ivorosullivan: He's been known to change his mind on football related matters ☘🤔
@Sammcanee: Grealish deleted all his United tweets. Definitely rejecting Villa.
@Valnoon13: Grealish is deleting his old United tweets 😂😂 what's the point we've all seen them broski
@Harry34740948: Unfortunately absolutely everything points to Grealish gone. Family deleting twitter. Grealish media team deleting tweets. City including a player we've obviously asked for as part of the deal. No pictures of Grealish. He's going.
Jack Grealish deleting all of his Manchester United tweets pic.twitter.com/9zMiLdXjKP

— mohamed 🍥 (@Mohamed_therad) July 30, 2021
Grealish deleting old United tweets. #mufc pic.twitter.com/3F7uQxca6o

— MerlinUnited (@MerlinUnited) July 30, 2021