"I did it, was punished, have to crack on now!" Boston United player Connor Dimaio speaks on serving a six-week long FA ban.
The former Chesterfield and Stockport midfielder wants to put his ban behind him after coming came off the bench during Tuesday's 3-1 loss to Brackley Town.
It was his first appearance since September when his side were victorious with a 2-1 win against Guiseley, but was then banned for gambling.
It had been discovered that he made 29 historic bets during an FA probe into player betting.
"It's my mistake," Dimaio said.
"It's in the past. Hopefully now I can get on with it and kick on."
The 25 year old was also fined £500 after suffering a net loss of £308.07 placing 29 bets between August 2014 and May 2016, whilst a player for Sheffield United and Chesterfield.
Three of those bets were placed on games in competitions in which his teams were playing and one bet was on his own side (Sheffield United) to win a league match, made in play.
He didn't feature in any of the games he placed bets on.
"I couldn't even remember it. It was (up to) seven years ago," Dimaio confessed, via Derbyshire Times.
"When I was being interviewed (as part of the FA investigation) I couldn't even say whether I'd done this or that. It was so long ago.
"When you're a young lad, everyone else is doing it. I did it and was punished, but I have to crack on now."
He was banned from football activity with the Football Association summary stating that the investigation had made an impact on the player's 'mental wellbeing'.
"I've been scratching my feet at home, ready to get back," Dimaio continued.
"It's been tough. I've been sat at home waiting for results.
"The boys had been doing well so I was just waiting for the YouTube stuff to come on and watch the games back as much as I could."
Now he's looking forward to better times, and just wants to be able to smile again.
"It's put a smile back on my face, as long as I'm playing football I'm alright," he said.
"The main aim is to play as many games as I can. I'm always fit and ready to go."
Footballers in the top eight tiers of the English game are banned from placing bets, but this an reoccurring issue over the last decade.
In October 2021, a National League North player was handed a five month ban from all football activity with another from the same team punished.
The Football Association has suspended and fined two Boston United footballers, Andi Thanoj and Jay Rollins, after they were charged with betting misconduct.
They were both charged with misconduct in relation to betting in August 2020, after it was found that a total of 757 bets were placed on football matches over a period of six years.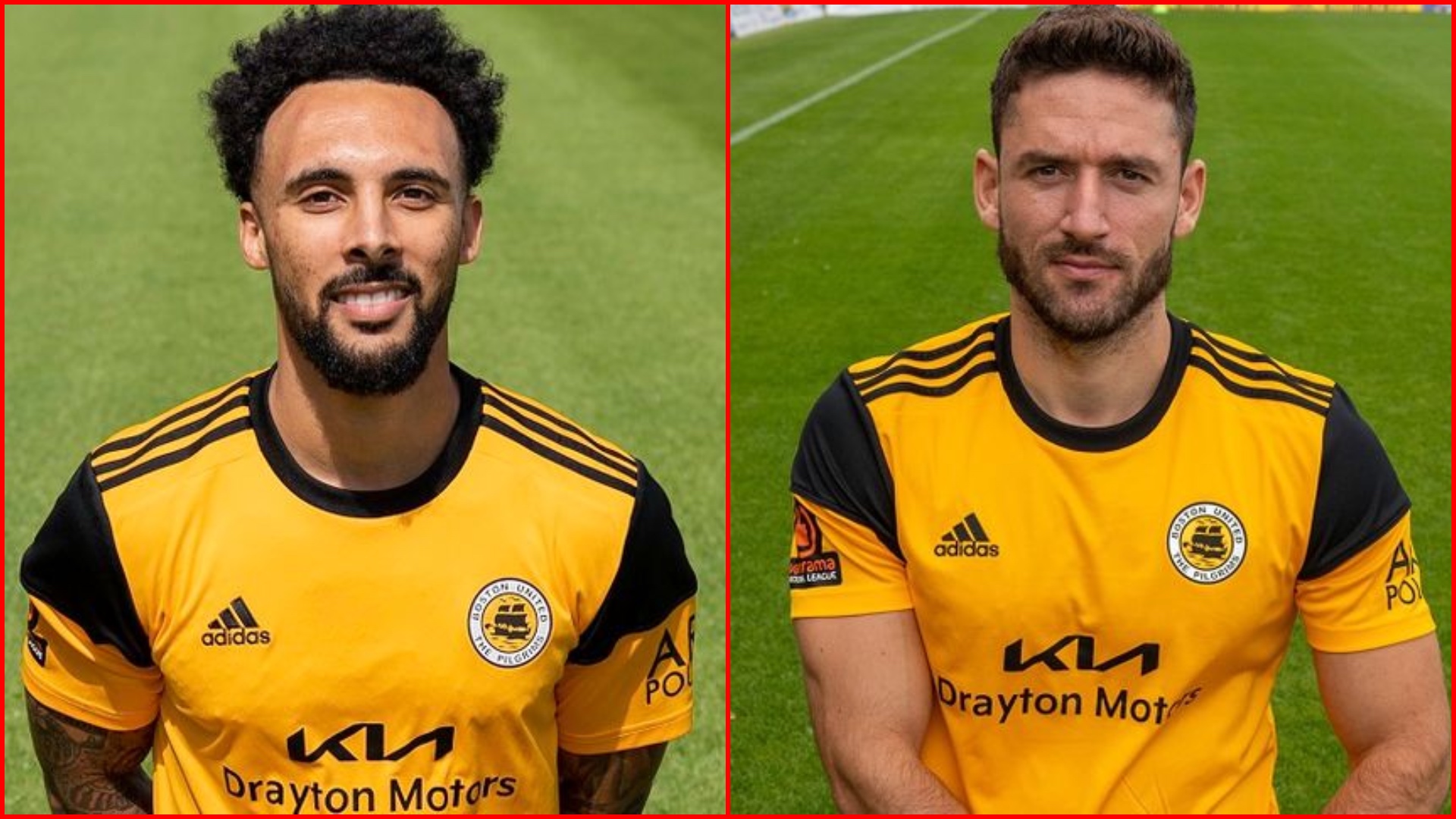 The duo breached FA Rule E8, which states that a participant shall not bet, either directly or indirectly, or instruct, permit, cause or enable any person to bet on the result, progress, conduct or any other aspect of any football match, or any matter concerning football in the world.
Thanoj was charged with misconduct after 319 bets had been placed on football matches between September 2014 and May 2020, while Rollins was charged after 438 bets were placed on football matches between September 2015 and February 2020.
Andi Thanoj was given a £950 fine and a five month suspension from all football and football related activity, and for Jay Rollins, he was banned for one month and fined £500.
It is unclear whether the players were betting on matches they were directly involved in or on other football games taking place anywhere else on the globe, but both have been hit with fines and suspensions for their actions.
Rollins is currently Boston United's longest serving player, joining in July 2015, while Thanoj is also a stalwart at the Pilgrims, joining the sixth tier club in December 2017 after beginning his career at Grimsby Town.
A spokesperson for the football club said: "Boston United acknowledge the Football Association bans from football handed out to contracted players Andi Thanoj and Jay Rollins.
"The bans relate to historical breaches of FA betting rules as part of a wide-ranging investigation across non-league football.
"Clearly, we are very disappointed with the situation as the club has clear policies regarding betting. The club will make no further comment at this stage."
Meanwhile, Boston United boss Craig Elliot believes the inconsistencies surrounding gambling in football have to be stamped out – labelling the current situation 'madness' as reported by LincolnshireWorld.
Elliott doesn't condone their actions and says he is 'disappointed' to lose the two players – hoping the punishments act as a warning for others.
The National League recently unveiled 32Red and Unibet as their new official betting partners seven days into the new season, leagues where players are not allowed to gamble on their own sport can still promote and profit from it.
The Boston boss believes this is a grey area in the sport which needs to be addressed.
"It's madness really," Elliott said.
"It's something that needs sorting out in the game from top to bottom, it's another inconsistency in football that needs sorting out."
Dressing room gambling cultures have been notorious in football for decades. However, with players now unable to bet on their own sport – or even pass on insider knowledge to others – Elliott believes improvements have been made.
He added: "I think now in the modern game it's getting stamped out a lot more. You see situations like this and it sends out a firm message."
Reflecting on the bans, Elliott said: "I'm disappointed to lose two fantastic players.
"This was what I was alluding to a few weeks ago with difficult situations behind the scenes. I've known about it since June, so managing that and not knowing what would happen has been difficult.
"As a football manager I'm disappointed to lose key players. But these things have happened.
"There'll be nobody more disappointed than the lads themselves. It's a short career and they've missed a lot through Covid – but they know the rules."
GAMBLING ADDICTION HELPLINES:
NHS
Help for your gambling problem
National Problem Gambling Clinic
Read about gambling addiction, its effects and treatment options, and where to get help.
Royal College of Psychiatrists Leaflet
This leaflet is for anyone who is worried about their gambling and the families, partners and friends of anyone whose gambling has become a problem.
Gamcare
Helpline: 0808 8020 133 www.gamcare.org.ukA confidential counselling, advice and information service for people affected by a gambling dependency, including family and friends of compulsive gamblers.Gamblers Anonymous (UK)Helplines: See contact page for regional phone numberswww.gamblersanonymous.org.uk
Provides information about a fellowship of men and women who have joined together to do something about their own gambling problem.
Gambling Therapy
It can really help to speak to someone if you are worried about your own gambling, or if someone else's gambling is having an impact on your life. We have trained advisors waiting to speak to you using our text-based multilingual Live Support service. The team will answer your questions, provide information and can offer practical and emotional support during difficult times.
Gordon Moody Association
For all application enquiries call 01384 241292
Gordon Moody Association is a registered charity with over 40 years experience in providing residential support and treatment for people who are severely addicted to gambling. We have two treatment centres, one in the West Midlands and the other on the Kent/London borders.
Our specialist approach and experience since 1971 has allowed us to develop treatment interventions that are purely gambling focused whilst also addressing the extremes of the associated behaviours often experienced by problem gamblers.
Gam Anon & Gam Anon Scotland
For anyone affected by someone else's gambling.