Huge changes are being planned for English football after a groundbreaking, much needed fan-led review was issued earlier this week.
A 162 page document has been laid out by former Sports Minister Tracey Crouch and contained 47 key recommendations to shake up the English game, but also to avoid any more crisis at clubs as well as prevent any future European Super League threats.
Every tier of English football has been affected in some way for years now, with warning thats the game is at a "crossroads" whilst "stark choices" must be made to avoid disaster.
Crouch said: "The Review has formed the firm belief that our national game is at a crossroads with the proposed European Super League just one of many, albeit the most recent and clearest, illustrations of deep seated problems in the game.
"I believe there is a stark choice facing football in this country. As was remarked to the Review, for all the good owners in the game clubs are only one bad owner away from disaster."
A 162 page document has warned the men's game stands at a "financial precipice" and "fans have lost faith" in the way clubs and the game in general is run in this country. You can see that for yourself below…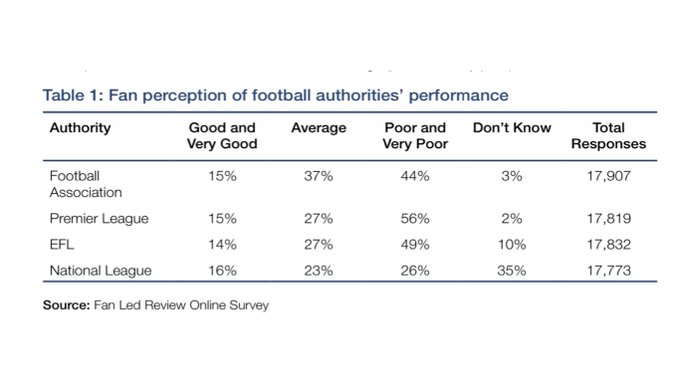 RECOMMENDATIONS
GOLDEN shares given to supporters to allow them to veto changes to club badges, stadium moves and entering competitions like the ESL in future.
FAN engagement with plans for a "shadow board" to give them a greater say on ticket prices and replica kits
INDEPENDENT Regulator for English football (IREF) should be appointed by the Government to stop any threat of the ESL happening again
NEW "fit and proper persons" test to replace the existing system which would also include an "integrity" test on potential owners and "real time" financial checks to stop another club like Bury going out of business.
PARACHUTE payments must be overhauled from the current system as it "distorts the market" with relegated clubs getting £40m-a-season and the Premier League and EFL until the end of the year to find a better system – or they must get "external advice" on finding a solution.
BOOZE should be allowed back within sight of the pitch on a trial basis for League Two and National League clubs as non-league clubs lose up to £100,000-a-year in sales plus it would stop binge drinking before games.
WOMEN'S football to be treated "with parity" plus action plans for equality, diversity and inclusion within football.
The report went into detail on how Premier League clubs are suffering pre-tax losses of £960m in 2019/20 with greater losses expected in 2020/21 because of the pandemic with wages spiralling out of control.
SEE MORE: Premier League clubs with the biggest debts
There is also evidence that "Birmingham City is currently £100m in debt", alleged the Championship club "breached profit and sustainability rules" and Reading spent approximately twice its revenue on wages in 2019/20 with Derby going into administration.
She told Mirror Sport: "Real time financial monitoring, assessment of owners and owners will be tested on a three year basis rather than just once and never again. If this had been in place then you wouldn't have seen Bury disappear or Derby in the position they are in now.
"Clubs chase success but they chase success not necessarily with money they have but they gamble on the future of the football club on what they think is the next step. It may sound complex but it's quite simple: do you have the money in the bank or don't you?"
Crouch added: "The darkest days have been watching clubs like Bury and Macclesfield Town disappear from our communities. Past and present Sports Ministers have often said 'football is in the last chance saloon' when it comes to reform.
"The saloon should be closed. Now is the time for an independent regulator to take on the reform that fans have been crying out for but which the authorities have failed to deliver, and it needs to be done now."
It's just been announced that the creation of an independent regulator for English football (IREF) has been "endorsed in principle" by the government.
The idea is the primary recommendation of a fan-led review of football governance, with Culture Secretary Nadine Dorries welcoming the review and said the government will work on a "substantive response" to be presented next spring.
"We are at a turning point for football in this country," she said.
"Football requires a strong, independent regulator to secure the future of our national game.
"The government will now work at pace to determine the most effective way to deliver an independent regulator, and any powers that might be needed."
Dorries responded on social media, saying: "We've seen clubs with centuries of traditions, such as Bury and Macclesfield Town, disappear entirely, while the European Super League threatened the very foundations of the game.
"The review also lays bare that incentives in the game all too often lead to reckless financial decision making.
"Football clubs are the hearts of their local communities, and this government will ensure they are properly run and fans are protected."
The Government welcomes the work of the Review and will now consider the detailed recommendations ahead of providing a full response in Spring 2022.

Read Culture Secretary @NadineDorries' full statement on the Fan Led Review of Football Governancehttps://t.co/bXd3UaPFUi pic.twitter.com/rPSdNBam6K

— DCMS (@DCMS) November 25, 2021
Premier League clubs face transfer tax to get more £ to the rest of football, along with an independent regulator & more say for fans, as ex Sports Minister Tracey Crouch tells me her landmark review into the English game will stop clubs 'lurching from crisis to crisis' pic.twitter.com/TxXGZTFCzm

— Dan Roan (@danroan) November 25, 2021
Twitter users reacted with huge changes planned for English football after the groundbreaking fan-led review…
@J_Morgs8: Team's time wasting from the 1st minute is the next big crisis. Ref's afraid to clamp down on it.
@utdfanculture: I truly hope that the ESL debacle serves to be a tipping point in our game. It's good to see the recommendations of the fan-led review on English football… now it's time to turn this into reality, while resisting the inevitable pressure to water it down #football #footballfans
@fielding_tam: Seems a long time since we had to listen to Shaun Harvey misinterpret the ODT and tell us that the EFL was just there to represent it's members interests not to regulate. Fantastic effort by all involved
@TheSkyBlueTrust: A massive thank you to @tracey_crouch and @WeAreTheFSA. So many great proposals….
@Atticus_75: Well done Tracey Crouch and all those involved. Hopefully the vast majority of these recommendations are passed to change how football is run for the better. #fanledreview
@ChrisParkerNo6: This is going to be interesting reading! Hopefully the appropriate steps will be taken to ensure there is real, and effective, change
@0001Eagle: What about the football index scandal when will we rightfully get our money back . Money was not lost through gambling!!!! It was lost through the @GamRegGB negligence.
@MattDoy: Well done Tracey, wish you were back as a sports minister. We need passionate and forward thinking ministers
@DreamerBFC: Thank you @tracey_crouch and to your team for your report. As a @BlackpoolFC supporter I'm grateful that at last steps are being taken to better regulate owners and involve the fans in their clubs. Sadly too many clubs have been managed, like we were, under our previous owner.
@prentonpete: On the face of it this seems positive. Watch the premier league fat boys try kick this down the road. One thing they hate is the thought of giving up any control and especially pound notes
@scooterboy0212: Some fantastic recommendations in the review but the importance of lower league football is highlighted fantastically