History has been made as the winners of 19-20 FA Trophy Final have been confirmed at Wembley Stadium on Bank Holiday Monday.
Just hours after Hebburn Town beat fellow North East outfit Consett 3-2 at the same venue for the FA Vase Final, it was time for the rather unique cup tie between two teams who would have gone head to head as non league sides.
However on this occasion, due to the pandemic preventing Harrogate Town from facing Concord Rangers, we've got an EFL side facing the National League South club in an competition for teams in the fifth tier of English football and below.
Of course, Concord went into the game as underdogs. They haven't played a competitive match since February and are taking on a Harrogate side who are playing every week and have kept their place in the Football League for another season.
Harrogate started the game having the most of the ball, however don't be fooled by this Concord side, they are giving it a good go.
On the 18th minute, the experienced Jon Stead turned well before curling a left footed shot wide of the left post from 20 yards out.
Shortly after, Burrell's right wing cross was headed over by Stead as Harrogate turned on the attack.
The North Yorkshire outfit produced a promising chance on the 26th minute, Muldoon was denied by Concord goalkeeper Chris Haigh, failing to get enough on it nonetheless a good save.
On the half an hour mark, Concord screamed for a penalty when Reynolds went down, however the referee gave nothing, there was a slight push.
Just before the break, Stead hit a left foot takes a deflection off Sterling and Haigh somehow diverts it over the crossbar with his leg.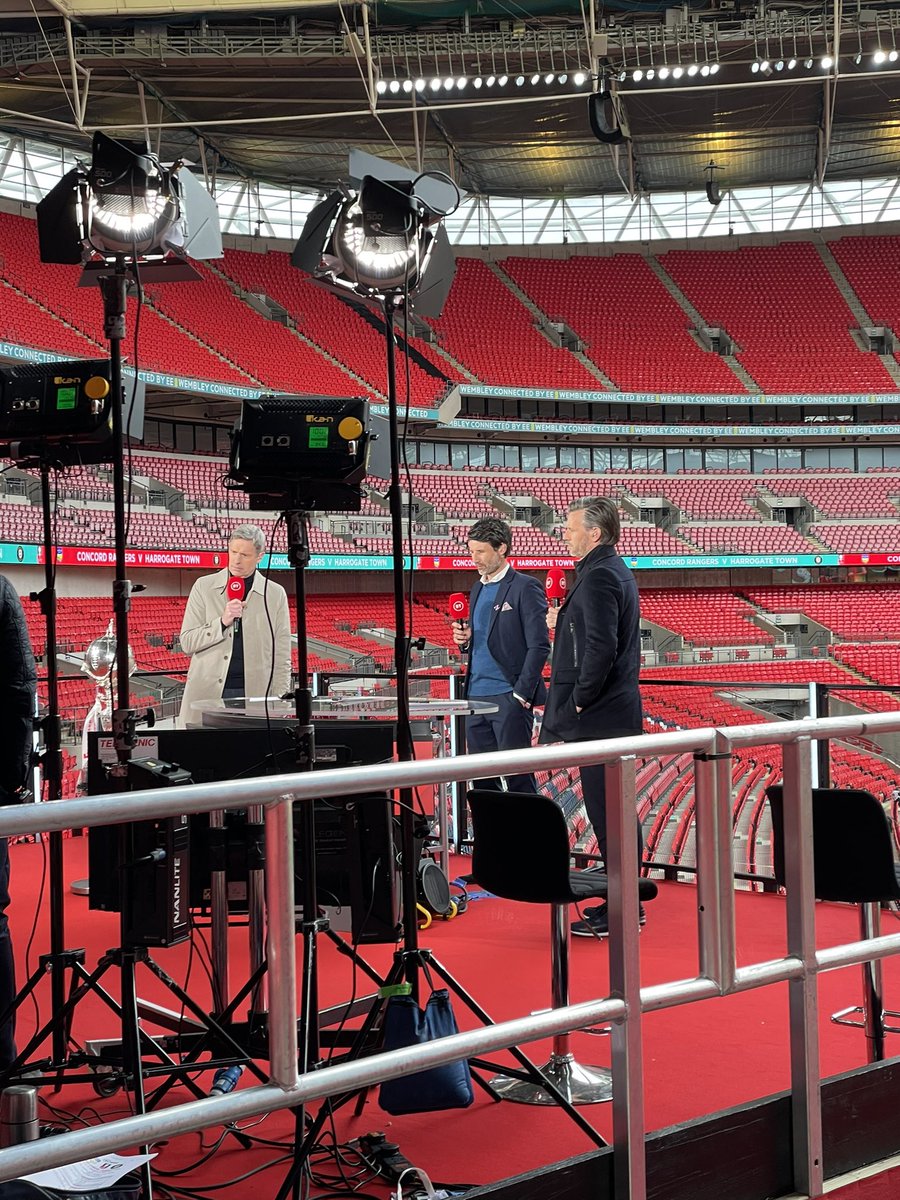 The half ended, well let's just say not as exciting as the FA Vase Final opening half, however Concord more than held their own, making for potentially intriguing second half.
Not long after the break, Concord come agonisingly close to taking the lead as Cawley's close range effort went over the bar from four yards out.
The side from Essex continued to show they can take something from this tie, though Harrogate's fitness was starting to show.
On the 66th minute, Harrogate came close to breaking the deadlock, Beck's close range volley from Falkingham's cross went over. A corner was given and the replay show it was a great challenge from Roast. Another fine save from Haigh as he palmed away a volley from Thomson just after.
GRITALO CAPITÁN 💛🖤 pic.twitter.com/Ln59B3xJqB

— Harrogate Town ARG💛🖤 (@HarrogateArg1) May 3, 2021
The 75th minute and finally, a goal was scored. Harrogate took the lead as Falkingham tapped in from close range after the ball rebounded off the post.
The Concord smacked that crossbar with 10 minutes remaining, Simper's ball into the box almost finds its way into the net, but bounces off of the bar instead.
The final whistle blew and Harrogate once again win at Wembley, almost a year after doing so in the National League Playoff Final against Notts County.
Fans reacted as history is made as the winners of 19-20 FA Trophy Final are confirmed…
@GarryNH: Great effort @ConcordRangers and man of the match has to be Haigh! Outstanding goalkeeping! Harrogate should be ashamed of themselves for their pathetic timewasting towards the end after their manager chasing the ref during the match to get playing. Great match til then
@andyw_wanna: Plucky non league minnows Concord Rangers beaten by late goal at Wembley by Football League moneybags Harrogate Town
@123bradsmith: Unlucky concord, gave it a good game and the gulf wasn't huge. Well played Harrogate, best team won on the day. Concord keeper was superb
@heyit5sam: Concord Rangers deserve so much credit. Threw everything at Harrogate but it just wasn't to be. And that's a bit of history for Harrogate Town, first EFL team to win the trophy #FATrophy #NonLeagueFinalsDay
@Buntingfootball: Harrogate Town win the FA Trophy, Josh Falkingham with the only goal of the game. Concord Rangers were absolutely sensational they haven't played since February playing a team two divisions above them who have played all season. They did themselves immensely proud today #FATrophy
@stadiahop: Sterling effort from @ConcordRangers vs football league opponents Harrogate Town in the FA Trophy final, gave absolutely everything, be proud. Congrats to Harrogate aswell.
@StreetMatron: Great to see the #FATrophy go to @HarrogateTown and Simon Weaver. A lovely club, great fans, team, manager and board
@sparkloaf26: Well done @HarrogateTown the first and prob only @EFL team to win the #FATrophy
@brody_pattison: Unlucky lads. Thought you were class. You're keeper was incredible. Keep your heads up, you're gonna be one hell of a team next season
@SteMcgreal: Harrogate are the 1st EFL team ever to win the FA Trophy who are a EFL team
@AdamSimmo73: Great effort, they scored 5 on Friday against a team that are full time and match fit. Don't underestimate how hard you made it for them You should be proud
@charlieflorey: Fair play to concord tbf for a team who hasn't played since February to only lose 1-0 against a league 2 club done well
@markyt86: That Concord keeper has been decent! Some cracking saves
@teadah: Celtic & Newcastle games yesterday…..awful…. the two FA finals at Wembley today….. different class, well done Hebburn & Harrogate, hardlines Consett & Concorde…., can non league football win new fans through turnstiles as more by one disillusioned with top level football?
@Chris_Brown7: Shows the disregard for football to see a full indoor snooker crowd who will sit in their seats for hours and not one fan of Harrogate or Concord Rangers allowed to 90,000 capacity outdoor Wembley for a once in a lifetime event @nigelhuddleston how can you explain that nonsense
Jubilant scenes in Harrogate this evening as Harrogate Town crowned FA Trophy winners @itvcalendar pic.twitter.com/bR1IMCHN6r

— Katharine Walker (@KatharineWalkTV) May 3, 2021
Full time 🎉 @CedarCourtHotel @HarrogateTown pic.twitter.com/xK5OQ43LNi

— Your Harrogate (@your_harrogate) May 3, 2021
Boooooommm !!!!! Congratulations @HarrogateTown for yet again winning at the home of #football #Wembley #FATrophy and making all of #Harrogate to proud ….. well done Simon Weaver & team #ProudToBeTown ⚽️👌😉🍾👏 pic.twitter.com/ncDJ69152L

— simon cotton (@simoncotton69) May 3, 2021
Congrats @HarrogateTown 👏🏻@ConcordRangers played very well, but unfortunately it wasn't their day pic.twitter.com/XwjlQ7ZFyH

— Harry Nathan (@HarryNathan404) May 3, 2021
And Harrogate Town become the answer to an immortal pub quiz question, the only actual League team to win a non-league trophy pic.twitter.com/bgIElneQsz

— Claret & Blue Pixels (@Dazzla84_SSFC) May 3, 2021