Havant & Waterlooville boss Paul Doswell slams the stay away Charlton fans after what's described a 'terrible' FA Cup attendance.
Just 3,865 were in attendance for the First Round tie at The Valley, of that was 874 Hawks fans, who watched on as the League One opposition struck four times inside the final 18 minutes to knock out the National League South club.
Josh Passley almost gave the minnows the lead in the 27th minute when his cross-cum-shot nearly found its way into the top corner of the Charlton net.
The Valley falls silent…#WeWillRememberThem

🔴⚪️ #cafc | https://t.co/f36HsGcQDw pic.twitter.com/Uyj5TiJqKI

— Charlton Athletic FC (@CAFCofficial) November 6, 2021
It wasn't until after the restart that the Addicks upped the tempo, showing more pace and power in their play.
Corey Blackett-Taylor saw his effort on the 53rd minute just cleared the Havant crossbar, before the visitors then suffered a blow just after the hour when defender Sam Magri had to be carried off on a stretcher.
The direction of the game was decided in the space of six minutes.
Havant & Waterlooville went close in the 69th minute, when a Jake McCarthy header from a corner forced keeper Stephen Henderson into a full-length save.
However, Charlton took the lead three minutes later, when a free header by Josh Davison was directed goalwards, after a cross sent in by Charlie Kirk.
The League One side doubled their lead in the 76th minute through Jayden Stockley's spot kick, after Jamie Collins had fouled Elliot Lee.
Captain Stockley made sure of the Charlton progression by poking home with five minutes remaining, before Academy player Mason Burstow added a fourth in the 90th minute.
Havant boss Paul Doswell, who managed Sutton United to their famous cup run that was finally ended by Arsenal in the Fifth Round in 2016/17, was hugely let down by the attendance who made their way to SE7 on Saturday afternoon.
"I've got to say, really disappointed with the Charlton support here today," he said.
"We were hoping for 10,000. I don't know what the crowd was but it didn't look very many. For Charlton not to turn up and support us as well, it's not the crowd we were expecting or hoping for. Really disappointed with them. At £10 and £5 you'd have thought they'd have supported their team.
"Clubs like us rely on finances and rely on teams like Charlton putting together a half-decent crowd. I was stunned at the lack of Charlton supporters here today. It thought it was terrible.
"I watched them at Sunderland, against Doncaster, I thought they were excellent against Rotherham. Johnnie Jackson has brilliant bounce here. That's why I thought the crowd would be here today, to support him and the team. I think he's done a fantastic job in the four games he's had. It wouldn't surprise me if they make the play-offs. It may feel a long way away but it's a long season. I think they've got enough in that building to have a real go at making the play-offs or being very close anyway."
Doswell added: "Incredibly proud of the performance. 73 minutes, 0-0 and relatively comfortable and then we lose Sam Magri to a bad injury which is so disappointing. Then we lost our shape for the first goal. First time we'd really allowed a cross into the box. We got punished for that. Very disappointed with the second goal, we felt the guy had had a free shot at goal and missed and then the ref brings it back for a penalty which we didn't feel was a penalty anyway.
"You can't have double jeopardy, the fact he's had a free shot at goal and it's gone wide – you shouldn't then bring it back for a penalty. We had a brilliant 73 minutes and then 17 minutes of despair.
"Did the referee also have to play six minutes of injury time? I thought he was putting the knife in a little bit there. I think it flatters Charlton. They deserve to win but it flatters them."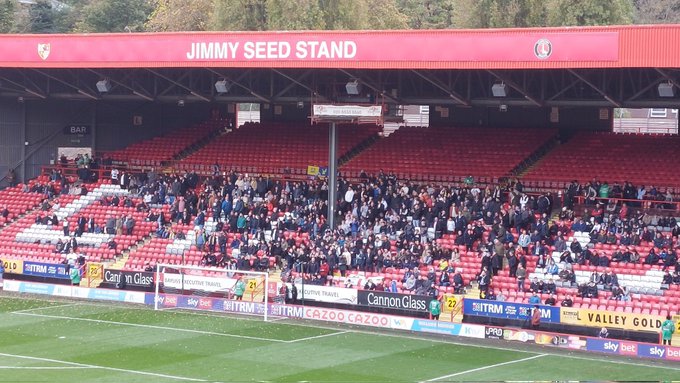 Fans reacted as the Havant & Waterlooville boss slams stay away Charlton fans after the 'terrible' FA Cup attendance…
@spennjy66: He clapped & gave us the thumbs up as he walked off then saying that 🤔, first round gates are never great even if it's against another league club
@onestripe47: He lucky Adkins wasn't still manager. Cos if he was there would probably of been a smaller crowd there today lol
@marcDcafc: Looks like a prized helmet and sounds like one too
@AddickAppy: Quite right. The turn out was poor. Embarrassing to be honest. The core support has dropped dramatically.
@Machenzio: It's the 1st round mate, not the 3rd round! He'd be more entitled to complain had it been the 3rd round. I don't expect there were that many big gates today in the whole of the 1st round. I'd like to know what the biggest gates were, I bet ours was one of the biggest. #cafc
@WhitehouseLee: No one wanted to pay and see Havant and waterlooville play
@_SamuelDay: What did he expect it's Havant & Waterloovile at home? 😂
@PcPresenter: He was wanting 10,000 in attendance?? Most of the time, we hope for that in league matches against our level opposition. He had no chance of that.
@BigDL: He's a prize prune anyway.
@PerryMcNamee: God he sounds like a right wanker 😂
@SamBurgess3: Really sad Paul, really sad
@cafc_daniel: First round against a non league team not gonna be a big crowd is it
@millieedmund17: Save the money to go on awaydays, with all due respect we wasn't playing a huge team…
@crimp_it: Exactly Millie and we were playing mostly a team of those that are on the bench and squad players.
@cassidyai2: Every time I read this it pisses me off even more..
@flud97: We don't pay to watch Training sessions
@tomcafc: The tenner I saved today's gone towards train fares to Burton, Morecambe and Shrewsbury.
@jertzeedon: Sub 3,000 home fans is puss poor though. Especially as a lot of fans criticise teams for not taking it seriously
@mikecafc: Start preparing for your away trip to tonbridge on Tuesday dosser 👋
@simonemmett_gb: He makes Steve Evans seem friendly. He really is one of the nastiest people in football.
@1882Tom: If he was banking on a bigger cut of the gate, he might have to tell his players to do more publicity stunts for the S*n to fill his pocket… Shameless
@peterfinch46: For as long as I can remember, the league has always been prioritised by the then managers, as result supporters got bored with watching an u23 team losing in the cup… Jacko clearly loves the FA Cup so maybe he can reverse that trend.
@tomroper87: If I was Paul Doswell, I wouldn't be lecturing #cafc fans on club finances, ownership and what it means to be a supporter. We have seen enough thanks. All the best to you, but shut up and fuck off.
@AndyLopata: I couldn't believe they didn't bring 20,000 away fans. How disrespectful to the FA Cup and to #cafc
@cafcBrownsJFT97: Delusional. Had it been the 3rd round then fair enough.
@tegsyjack: Doswell is deluded if he thinks we're gonna have 10k at home to watch what is effectively our B side playing a team 3 divisions below in the cup!! For that comment is just a dig base on sour grapes because they lost! #coyh #cafc
@ChilliSane: Go to bed Paul. Couldn't give a fuck about your clubs finances to be honest. Good achievement reaching the first round but we don't owe you anything
@Marriott110: What a shit opinion this is Paul