Gary Neville films Jamie Carragher's heated argument in a car park before getting a telling off from security as they returned to their hotel.
The Sky Sports duo continued their Monday Night Football debate over Trent Alexander-Arnold and England's Euro 2020 squad into the car park before getting a telling off from security.
The ex-Manchester United and Liverpool players were as always in fine form when it comes to causing a debate with viewers watching on after Everton's Premier League draw with Crystal Palace and West Ham beat Wolves in discussing the upcoming tournament.
While Nev argued why Trent Alexander-Arnold might not be picked, he also named Mason Greenwood in his 23-man squad which raised eyebrows.
He also mentioned that an injury to Harry Maguire might be more damaging than one to captain Harry Kane, which got a laugh out of his fellow pundit.
Having continued their fierce debate into the car park long after the show had finished, Neville began the Instagram live video by saying: "Well… I can't believe what I've just been through.
"I've been exposed to the… Scouse mafia in full flow. I've delivered three excellent bits of punditry tonight that have basically been rubbished by gob***** here."
Before adding of Carragher's England squad selection: "He's picked three right-backs, nine defenders, Jordan Henderson and Declan Rice in midfield and wants to dominate possession!
"Seriously, can you please explain how you're going to do that?
Thoughts?!!

— Jamie Carragher (@Carra23) April 5, 2021
"You think we can dominate possession with five defenders, and Rice and Henderson?"
Carragher said in response: "Can England win a tournament playing that way, you've done it so often. Didn't Gareth Southgate use three at the back and get to the semi-final?
"Playing three at the back was all about playing with the ball and coming out with the ball.
"How many times did Harry Maguire come out with the ball and start and attack?"
Before adding: "This guy has got a serious problem with Trent, you've always had a problem with people from Liverpool haven't you?"
 

 

 

View this post on Instagram

 

 
With Neville responding: "Yeah, it's getting bigger by the day" the debate continued as they got into the taxi taking them back to the hotel, before being briefly paused by a beeping alarm as they got to a closing gate meant for traffic.
Neville was approached by a security guard to whom he ended up apologising to.
Time to see who the duo have picked for the Euros now that you see Gary Neville films Jamie Carragher's heated argument…
The Sky Sports pundits have made their selections for this summer's tournament with Carragher and Neville agreeing on 20 of the 23 players; however they were split on whether Trent Alexander-Arnold will be part of Gareth Southgate's 23-man squad.
Gary Neville's England Euro 2020 squad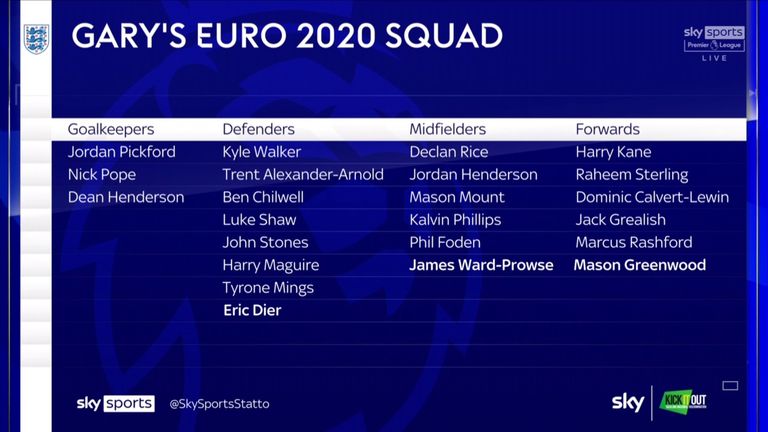 Neville said: "If you think about John Stones and Harry Maguire playing, Declan Rice and Jordan Henderson playing, or Rice and Kalvin Phillips, and Harry Kane starting up front, that's a strong, sturdy spine with the back four. If Kane was to get injured, and say a Maguire or that type, you're going to need a completely different type of player because you need that fluidity. If they go to a back three, that means a Phil Foden or a Jack Grealish. I think with Grealish there was an impression he might not fit in with the squad, but he did enough in those games in November, and I'd definitely take him.
"Phillips plays the position really well, alongside Rice, in a midfield two. What Gareth Southgate has been fantastic at, other than doing a great job, is that he's played players who are in form, and in position.
"Trent Alexander-Arnold for Liverpool, you would pick him. But his form for England isn't quite as good. He picks players who have done well for England, and there are very few who have done better for England than they have for their clubs. I think someone like Phillips replicates his club form for England. There are others who do it; Jesse Lingard plays well for England, Danny Welbeck used to play better for England than for his club. Some players adapt really well, and he's adapted well, he plays the position well and does what Gareth Southgate wants.
"I think Greenwood's a brilliant finisher, if Harry Kane got injured. Dominic Calvert-Lewin, if we're playing a top team, half an hour to go, we're 1-0 up, to run the line, run them ragged, harass them, potentially get a goal, but his finishing is a little bit erratic.
"If England need a goal, I would bring Greenwood on. He's naturally a better finisher than Marcus Rashford and Raheem Sterling, even though he doesn't have the goals of Sterling, and he's got that quality in tight spaces in and around the box. I don't think there's a natural replacement for Kane, but I think Greenwood's the only one who can really finish.
"I don't think Greenwood will get in the squad – even if he scores seven in his last 10 games. I think Gareth's really resolute. I think he will use Sterling as that fourth striker.
"But when you've only got Rashford, who plays on the left, Calvert-Lewin and Kane as your natural strikers, my concern is if Kane gets injured, you've got two counter-attacking strikers, and against a team that sits deep, who's going to manipulate the ball?
"You've got Grealish up there, Foden in different positions, but I'd try to get that fourth striker in who's a little bit different. That's just me. Gareth's not picked Mason since last August or September, since that incident [breaking Covid-19 protocols in Iceland], and I don't think he'll get in now.
"The reason I'd put Ward-Prowse in is because he's outstanding in that area. He's natural in that area, Gareth's had him in the Under-21s, he trusts him, knows he'll get into that right channel and he's a brilliant crosser of the ball."
Jamie Carragher's England Euro 2020 squad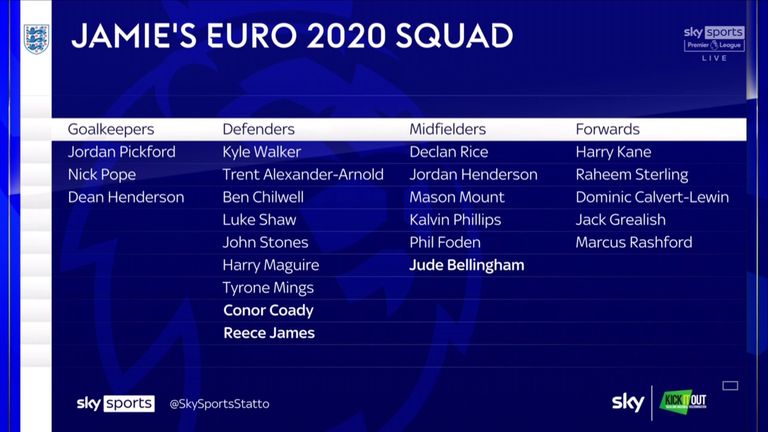 Carragher said: "There was a little bit of talk in the last few days because Grealish was injured that Gareth Southgate might not pick him, and I think someone at the FA has tried to quell that and fed something out. Things can gain momentum, a furore that Grealish isn't going. But he's going. He has to go – the game away in Belgium he was the stand-out player, and he's a special player.
"Bellingham's playing for Borussia Dortmund in the Champions League, and I think he's going to be a star of the future for England. He's one of those in the squad where you'd look at them as not being involved as much, but you're putting them in the squad for the future. Not to say he's not good enough, he's playing in the Champions League and will be involved against Manchester City.
"Yes, Ward-Prowse is a very good Premier League player, but this lad is playing at a higher level. You'd still have Henderson, Rice, Phillips in there at the moment and he's a fourth one if there's an emergency. But just having him around, I think he's a special talent and would be one to take."
Who should start against Croatia? Carragher and Neville's starting XI