You read the headline correct, a former Spurs player accidentally leaks a sex tape of himself on social media and has since apologised.
Clinton N'Jie was with Tottenham between 2015 and 2017, ended up broadcasting his X-rated content live on Snapchat from his account which was named 'clinton14' before having to hastily delete it when realising what he had just shown to the world.
What was even funnier was that the Premier League flop had just the perfect excuse for it, just to try and make the whole situation sound more better for himself.
 

 

 

View this post on Instagram

 

 

 
He had claimed he was trying to Google himself when it all went terribly wrong.
Not only that, but he added his error was down to having too much to drink before getting into a hotel bed with an unknown woman.
He told Orange.fr: "I'm sorry. I had too much to drink.
"I celebrated my new contract and wanted to read the news. I pressed the wrong button."
I mean, the reason some people say Snapchat is so hard to use is that the "read news" button is right next to the "post sex tape" button. It's a common mistake of course. You can tell he had too much to drink when even his explanation doesn't make sense.
N'Jie was celebrating his move from Marseille to Dynamo Moscow for £5.5million.
In the video, he was reportedly seen lying down while a woman performs a raunchy sex act on him.
Thousands of people could be seen watching the clip before it was removed from the popular photo and video-sharing app.
Happy 25th birthday to Dynamo Moscow striker Clinton N'Jie. Never forget he celebrated signing for the club by drunkenly livestreaming a sex video on Snapchat! https://t.co/TtrWLcQwpM pic.twitter.com/nZtkjL8tBu

— Danny Armstrong (@DannyWArmstrong) August 15, 2019
Incredibly, the former Spurs player not only accidentally leaks a sex tape of himself on social media, but it was a year before that when N'Jie found himself in hot water over his antics when he allegedly invited two female friends back to his hotel room while on international duty with Cameroon.
He then turned up a day later than expected ahead of a international friendly fixture against Burkino Faso.
The two women were reportedly kicked out of his room after neighbours complained of the noise coming from inside.
He also got in trouble in 2018, when N'Jie was stopped by police on the 22nd July, and found to be carrying a fake UK driving licence.
The incident was sparked after police spotted a Bentley driving over the legal speeding limit before pulling it over, to find the then-Marseille winger the driving seat.
The Cameroonian international showed documentation that confirmed he was the owner of the Bentley, before producing a driving licence which raised questions to police.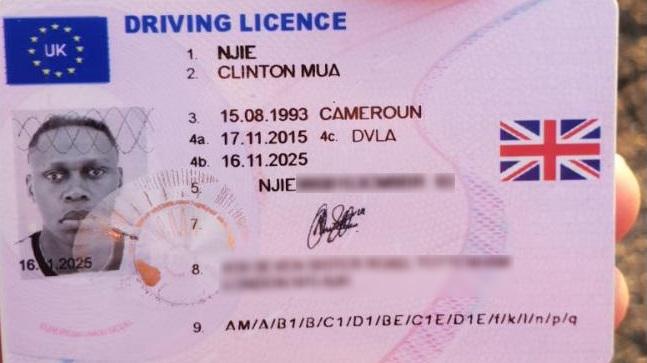 An image of the licence shown on French TV with two glaring errors, with N'Jie's birthplace spelt in the French manner "Cameroun."
Additionally an address cited for the player appeared as "Seven SISTER Road." Seven Sisters Road is a major highway in north London close to White Hart Lane.
Only after N'Jie departed did a counterfeit ID specialist confirm, presumably over the radio, that the permit was fake and the identification number did not match the British authorities' database. The police force attempted to catch up to N'Jie, but failed.
N'Jie should be familiar with some Spurs fans after spending two years with the club from 2015 to 2017 after rising to prominence at Lyon.
Though he failed to make an impression in North London, playing just eight Premier League games and didn't score a single goal for the club during a nightmare stint.
It was on the 15th of August 2015 that he arrived a agreed to a five-year contract with a reported transfer fee of €12 million (£8.3 million). N'Jie made his Spurs debut on the 17th of September in a Europa League group stage match against Qarabağ, coming on as a substitute for Andros Townsend.
On the 10th of December 2015, he tore his medial collateral ligament (MCL) after a challenge by Jérémy Toulalan during a Europa League group stage match against Monaco. He had to undergo knee surgery for the MCL tear and was expected to out of action for at least 1–2 months, and possibly longer.
Working with injured teammate Jan Vertonghen during his recovery, N'Jie eventually made his return on 8 May 2016 in a Premier League match against Southampton, in what would be his final appearance of the season.
His longest time on a pitch in one game for Spurs was a 79-minute affair when he replaced the injured Nacer Chadli against Liverpool.
In addition, N'Jie made 5 appearances, starting in 2 of them, in Tottenham's Europa League campaign, and failed to score a goal in all competitions.
N'Jie has gone on to resurrect his career with Marseille. Though he struggled for game time, and it's no wonder after this woeful effort in one game of theirs as can be seen below.
Clinton N'Jie's shot against Atlético Madrid in all its glory.

HOW? 😲😂 pic.twitter.com/JIXzNXn8xC

— Football on BT Sport (@btsportfootball) May 16, 2018
The player is now plying his trade in Russia after signing a four-year contract with Dynamo Moscow, scoring his first goal for Dynamo on the 27th of October 2019, a late winner in a 1–0 victory over PFC CSKA Moscow.
He still remains with his current club, though the pandemic in Russia has stop started their season, meaning he hasn't had as much game time again.
N'JIE'S CAREER:
Youth career
2010–2012 – Lyon
Senior career
2011–2014 – Lyon B – 60 games (15 goals)
2012–2015 – Lyon – 37 games (7 goals)
2015–2017 – Tottenham Hotspur – 8 games (0 goals)
2016–2017 → Marseille (loan) – 22 games (4 goals)
2017–2019 – Marseille – 39 games (10 goals)
2019– Dynamo Moscow – 45 games (5 goals)
National team
2014– Cameroon – 36 games (10 goals)