Former Premier League man Ryan Taylor makes his debut for 7th tier Buxton and it was a tough start when his side took on Scarborough.
Buxton confirmed the player's signing ahead of Tuesday's game, joining the Northern Premier League Premier Division outfit from league below Colne.
Taylor, 37, was in the starting line-up for Steve Cunningham's match day squad, however it wasn't to be for his side after they fell to a 2-1 defeat away from home.
Taylor's a Buck 🔥

We're delighted to confirm the signing of Ryan Taylor 🖊

Ryan joins Steve Cunningham's match day squad for tonight's fixture @safc ⚽️

All Buxton Aren't We!! 💥❤️#UptheBucks #TeamBuxton pic.twitter.com/A5xYdvlrba

— Buxton Football Club (@Buxton_FC) January 11, 2022
Buxton also handed a debut to centre-half Dan Cowan, who joined the club earlier this month from Chester, but couldn't prevent the Bucks' fourth successive defeat.
Scarborough's Bailey Gooda opened the scoring on the 7th minute, before Warren Clarke got the equaliser scoring outside the area with the ball sent into the top corner.
Then Cameron Wilson got his first goal in a Boro shirt.The ball was laid to him, then went past two defenders and hit his effort into the top left.
Director David Brindley said: "Things aren't running for us in the way they did earlier in the season. Every team suffers from injuries but we've had more than our fair share. Those who are fit have battled on and it was a stunning strike from Warren Clarke to equalise after 19 minutes. There's a great togetherness and we'll turn the corner, at home to Warrington on Saturday, we hope.
"All credit to Scarborough, who looked an altogether different side to the one that we trounced 5-1 a few weeks ago and were spurred on by their enthusiastic crowd."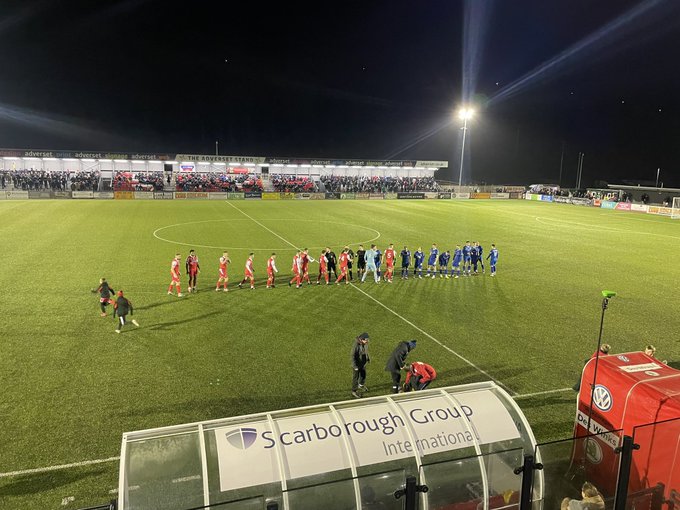 RYAN TAYLOR'S CAREER:
Ryan Taylor is a former English professional footballer who now plays for Northern Premier League Premier Division club Buxton.
A versatile player and former England under-21 international, he is able to play as a full back or across the midfield, and has excellent free-kick taking and dead ball skills.
Taylor started his career at Tranmere Rovers in 2002, and made 122 league and cup appearances in three full seasons with the club, being voted as Tranmere's Player of the Year and onto the PFA Team of the Year in 2004–05.
He was sold to then Premier League club Wigan Athletic in July 2005 for a fee of £750,000. Injuries restricted his appearances, though after scoring in four consecutive matches against Newcastle United he joined the club in a trade deal in January 2009.
After Newcastle dropped out of the top-flight, Taylor helped the club to win promotion as champions of the Championship in 2009–10. However he then faced a catalogue of injuries, firstly fracturing a metatarsal and then breaking a leg in the 2010–11 season, and then picking up a serious cruciate knee ligament injury in August 2012.
Taylor played a total of 106 matches for Newcastle, though featured just 18 times in his final three seasons.
He was released by Newcastle in May 2015, and spent the 2015–16 campaign at Hull City, where he made only occasional cameo appearances.
He signed with Port Vale in October 2016 and again in March 2017, before Indian Super League club ATK came calling and he made this witch to them in December 2017.
He returned to England and signed with Fleetwood Town in September 2018, but ended his 17 year career in the English Football League at the end of the season, having scored 42 goals in 350 competitive appearances.
He came out of retirement in October 2020 to play for non league side Colne and moved on to Buxton in January 2022.
Youth career
Tranmere Rovers
Senior career
2002–2005 – Tranmere Rovers – 98 games (14 goals)
2005–2009 – Wigan Athletic – 56 games (6 goals)
2009–2015 – Newcastle United – 92 games (6 goals)
2015–2016 – Hull City – 4 games (0 goals)
2016–2017 – Port Vale – 12 games (3 goals)
2017 – Port Vale – 10 games (1 goal)
2017–2018 – ATK – 11 games (1 goal)
2018–2019 – Fleetwood Town – 10 games (0 goals)
2020–2022 – Colne – 20 games (0 goals)
2022– Buxton – 1 game (0 goals)
National team
2005–2006 – England U21 – 5 games (0 goals)
His style of play – Taylor is a versatile player, able to operate as a full back or across the midfield. He is also a dead ball specialist, able to effectively take free kicks, long throws, and penalties. Newcastle fans nicknamed him "over-the-wall", in reference to his free-kick taking abilities.
Twitter users reacted as the former Premier League man makes his debut for 7th tier Buxton…
@BramwellDarren: Welcome to the club Ryan ,here's hoping you get more success with the Super Bucks than you had with the Magpies 😄 Good lucks tonight guys,I will be listening on 📻 allbuxtonarentwe 💪 ⚽️
@BolamJeff: Go on Ryan a class pro loved at the toon x
@NUFCEddie: Will always be a Geordie icon. Good luck at Buxton, Ryan #overthewall @TaylorR1984
@SJ_NUFC: Good luck on your new journey @TaylorR1984 ❤️
@dobo99: Some signing this!
@FunkToonEire: Over the wall, good luck man
@srstorey1: It's now every @NUFC fans duty to follow @Buxton_FC and support @TaylorR1984
@sluicesnorky: Playing at Morpeth on the 22nd
@CraigJ300hno: Roll on the @MorpethTownAFC vs @Buxton_FC game in a few weeks
@kierans97082962: Love this! RYAN TAYLOR OVER THE WALL
@Toonshabib: Good luck #overthewall
@Classlass: U signed a cracking player, being a Geordie this man is a legend up in our neck of the woods #overthewall @TaylorR1984
@Chrisjobling7: Cracking baller for the toon
@howay51: 😍 @TaylorR1984 . Buxton v South Shields Feb 5th @fatgeordiemessi
Good luck Ryan at Buxton. Thanks for your time at Colne especially that great day when turned into Kirkland.🔴⚪⚽️ pic.twitter.com/d0qpImMT6q

— Nicholas Peacock (@nickpcolne) January 11, 2022