Football fans takeover Glastonbury 2022 with flags and retro kits and this even Sam Fender got in the act on the Pyramid stage.
Sarah Carson, of inews, reviewed Sam Fender's appearance: "I can't think of a British singer-songwriter who has had as stratospheric a rise in the last few years as Sam Fender. Often described as the north east's answer to Bruce Springsteen, his irresistible, moody guitar melodies and astute lyrics about working class life in modern Britain and about the lives of his friends, as well as his earnest "northern boy" charm (hammed up here, admittedly) have such broad appeal (this monstrously huge Pyramid crowd was devoted and breathless).
"Live, he proved he more than has the star power to back up the hype, even if he laid it on a bit thick, swigging Newcastle Brown Ale and performing in front of a giant NUFC logo.
"But his aching, longing, deep voice is wonderful, those twinkling opening notes of "Seventeen Going Under" – the biggest single from his second album – completely electrifying.
"Singing along to these, you felt banded together with the people next to you, so deeply do they speak to his fans, all calling back every word right from their heart, that at times it felt unbelievable that they haven't been singing them for decades. I will absolutely watch Fender live again – and again, and again."
Sam Fender's set was absolutely incredible

I cannot begin to imagine how good it feels to have your songs sang back to you by thousands and thousands of people at #Glastonbury 🤯 pic.twitter.com/op7X1Ki53P

— The Rock Revival (@TheRockRevivaI) June 25, 2022
As you saw, many Newcastle fans and flags were on show, but they weren't the only ones with clubs from non league to Premier League represented.
Among the 200,000 music lovers turning up for the festival this weekend, a large amount of the turned up in a kit showing off their colours and even making some new friends in what is sure to be an experience never to forget.
In this article we'll show you all the photos sent through and popping off across various social media platforms.
As many will know, Sam Fender is a massive Newcastle supporter, though there are other big names performing on the famous Somerset stages who are avid football fans.
Fatboy Slim, aka Norman Cook, is a well-known Brighton fan, with his record label, Skint, having sponsored the club in the past.
However, the DJ and record producer does have to come clean about something that Seagulls fans may not be very well pleased with, though I'm sure can forgive him.
"Because I grew up in Reigate, I'm ashamed to say that for the early part of my life I supported our arch enemy, Crystal Palace," he revealed.
Thankfully, five years after moving to Brighton he was taken to a Brighton game by his mates and "instantly hooked".
Man City fan Noel Gallagher will be performing with his High Flying Birds band with some many recalling how he had a coming together with Ruben Dias' dad.
Noel was at the Etihad for City's stunning comeback win over Villa on the final day of the 2021/22 season a fair few weeks back. Unfortunately, he missed out on the actual moment the Premier League title was confirmed, instead had to deal with a cut and two black eyes having received a headbutt while the pair celebrated.
"I turn around, Ruben Dias' dad runs straight into me, headbutts me, I'm on the floor, covered in blood. I don't see the last two minutes, I've got to get taken down by St John's Ambulance to get stitched up."
Robert Plant, who also performed in front of thousands this weekend, is a massive Wolves fan, going to his first game as a five-year-old and insisted that ever since legendary captain Billy Wright waved to him, that was the moment he was hooked.
He was installed as the club's vice-president in 2009, but has said following Wolves put a strain on his marriage to Maureen Wilson who he eventually divorced in 1984.
"It played havoc with my marriage for a while," he said. "When we won the League Cup in 1974, it took me three days to get home from Wembley to Worcestershire.
"I haven't got a clue where I was. "I know the Mayor of Wolverhampton received the team in official form, and I remember being there for a minute or two."
Pete Doherty of the Libertines also made an appearance at Glastonbury 2022. His father, also named Pete, s a QPR fan and both the name and love of the club were passed down to the band's frontman.
Despite being born 300 miles from London and living all over Europe due to his Dad's career in the British Army, the Doherty junior show an almost encyclopaedic knowledge of the London club and even produced a fanzine devoted to the Hoops in the '90s.
He randomly serenaded Charlie Austin on Soccer AM and has been known to dedicate Libertines songs to QPR legend Stan Bowles.
Tom Ogden of the Blossoms supports Manchester City and despite hailing from Stockport and sponsoring the town club, the band's lead vocalist said it was always Man City for him.
"It started for me through my mum and my dad, both sides of my family are City fans," he said. "From as early as I can remember I was into football."
His first City game was a League Cup clash against Burnley at Maine Road, though it was the Etihad which helped put the Blossoms on their path to being famous on the music scene.
The band revealed that one of their most important gigs had been as an unknown band on MCFC's City Square stage, which showcases local music talent before matches.
They then went on to support The Stone Roses on the main stage inside the stadium in 2016.
We could add so many more names but we'll finish with Gaz Coombes from Supergrass, claiming to be a Man Utd fan.
The Supergrass frontman is a Red Devils fan despite being brought up 160 miles away.
"When I was a kid I had family in Birmingham, family up north in Manchester and I was brought up in Oxford, " he explained. "So it was a choice of Oxford United, Birmingham City or Manchester United. Man City didn't even come into it, I might add.
"It was a choice of those three and at that point it was just an easy choice for me. My oldest brother was a United fan and had all the posters on the wall and stuff, so I just gravitated towards it really and that was that."
When he first started supporting Man U, they were really struggling, so bad you'd wonder they had any support at all. They were, get this, "in the lower reaches of the First Division at that point".
Right then, we promised you football fans in a takeover of Glastonbury 2022 with flags and retro kits…
Darlington FC (2002/03) #GlastoFootyShirts pic.twitter.com/M552mLOo2K

— Glasto Footy Shirts (@GlastoFooty) June 26, 2022
Hull City. #GlastoFootyShirts. pic.twitter.com/hR9gcKvVQu

— Glasto Footy Shirts (@GlastoFooty) June 26, 2022
Here, There and Everywhere – that famous Beatles song was referring to this fantastic banner 😍

From Plough Lane to Glastonbury, including when Paul McCartney was on stage.#AFCW https://t.co/rfLq3yQR30

— AFC Wimbledon (@AFCWimbledon) June 26, 2022
…we are EVERYWHERE! @glastonbury @bbcglasto @LUFC @LeedsNewsOnly @FOREVERLEEDSMOT @allleedsaway #alaw #marchingontogether pic.twitter.com/jqwD3Q1FfV

— Mark P Makey (@markpmakey) June 25, 2022
Everton (1997/99). #GlastoFootyShirts. pic.twitter.com/fYdBUGUrX0

— Glasto Footy Shirts (@GlastoFooty) June 26, 2022
Coventry City (1996/97). #GlastoFootyShirts. pic.twitter.com/4enWAjuBMd

— Glasto Footy Shirts (@GlastoFooty) June 26, 2022
Brighton & Aston Villa combination #GlastoFootyShirts pic.twitter.com/Ly4IKNdKeC

— Glasto Footy Shirts (@GlastoFooty) June 26, 2022
Coventry City FC Combination #GlastoFootyShirts pic.twitter.com/UnWICE70o0

— Glasto Footy Shirts (@GlastoFooty) June 26, 2022
Bradford City FC Combination! #GlastoFootyShirts pic.twitter.com/FUyEkHw1xF

— Glasto Footy Shirts (@GlastoFooty) June 26, 2022
Loved @DianaRoss on the Pyramid Stage @glastonbury – fabulous set & lots of coverage of the @RNLI flag pic.twitter.com/Nv220xf7yI

— Kate Eardley (@kate_eardley) June 26, 2022
Sam Fender performing the Pyramid Stage and drinking a bottle of Newky Brown while Newcastle United simultaneously sign a world class defender. What a genuinely incredible time to be alive. #NUFC #glastonburyfestival2022 pic.twitter.com/BzmEwXUtXb

— Sam Howard (@drsamhoward) June 24, 2022
#Glastonbury2022 A weekend in paradise my friend! @JamieWebster94 👌🏻 pic.twitter.com/vrrdNhhw0n

— Jamie Carragher (@Carra23) June 25, 2022
England (1990). #GlastoFootyShirts. pic.twitter.com/HPn7lAfRvq

— Glasto Footy Shirts (@GlastoFooty) June 25, 2022
Nottingham Forest Away (1993/95). #GlastoFootyShirts. pic.twitter.com/WsJyQQezTx

— Glasto Footy Shirts (@GlastoFooty) June 25, 2022
Middlesbrough (2019/20). #GlastoFootyShirts. pic.twitter.com/K6XcD0VLPV

— Glasto Footy Shirts (@GlastoFooty) June 25, 2022
Multi Club & Country Combination! #GlastoFootyShirts pic.twitter.com/sOqzrvcqlC

— Glasto Footy Shirts (@GlastoFooty) June 25, 2022
Derby County (2014/15) #GlastoFootyShirts. pic.twitter.com/tDzTCv1be3

— Glasto Footy Shirts (@GlastoFooty) June 24, 2022
Sunderland (1988/91). #GlastoFootyShirts. pic.twitter.com/iE0vzFAyto

— Glasto Footy Shirts (@GlastoFooty) June 24, 2022
Bristol! #GlastoFootyShirts. pic.twitter.com/v6vm7DdrmG

— Glasto Footy Shirts (@GlastoFooty) June 24, 2022
England (1995). #GlastoFootyShirts. pic.twitter.com/cWmCyuxwS6

— Glasto Footy Shirts (@GlastoFooty) June 24, 2022
Hey Glasto give us a RT if you see the 19yo flag this weekend #Glastonbury @Everton #efc #utft #scousers pic.twitter.com/a6IXTcfnNF

— Lesley (@LesleyinCity) June 25, 2022
England (1992). #GlastoFootyTracksuits. pic.twitter.com/kx7yuuo0PO

— Glasto Footy Shirts (@GlastoFooty) June 24, 2022
Probs in the top ten of Glastonbury flags 2022. @StockportCounty @BlossomsBand @Chaz_Salt pic.twitter.com/5SWO1hHiWQ

— vic (@vickstervee) June 24, 2022
Arsenal (2022/23). #GlastoFootyShirts. pic.twitter.com/zNZh0MK89Y

— Glasto Footy Shirts (@GlastoFooty) June 24, 2022
Wolves flag watch number 3 😁#wolvesaywe #glasto #Glastonbury #glastonburyfestival #glastonburyfestival2022 #glast pic.twitter.com/Pm3eK3qcFB

— Bamber 🇺🇦 📺🎵🐕‍🦺⚽📚 (@codsallsi) June 24, 2022
Lovin' the ⁦@BathCity_FC⁩ flag at the pyramid ⁦@glastonbury⁩ – fly it for the mighty city! Who are you? pic.twitter.com/YdVimGyd6G

— Dave Mason (@davemasontv) June 24, 2022
So @robbiewilliams did the big @OfficialPVFC kit reveal at 'home' #ValePark but today it had it's very first away outing – at @glastonbury – very proud! #homeiswheretheheartis #pvfc2223 #proudchair pic.twitter.com/pOT9ZxlKWN

— Carol Shanahan (@pvfc_carol) June 24, 2022
Highlight of day 1 @glastonbury – meeting the lovely @mattforde #NFFC pic.twitter.com/ThDIibo35f

— Chris Wynn (@ChrisWynn1) June 23, 2022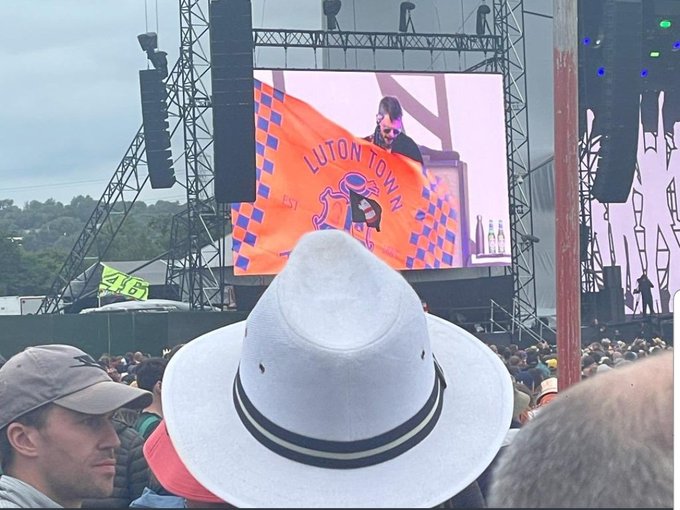 You Reds… #nffc #Glastonbury pic.twitter.com/OOJH5mI1e9

— Michael Dugher (@MichaelDugher) June 24, 2022
What are the chances of bumping into a random Palace fan at Glastonbury Festival?

We're massive.@CPFC #cpfc #footballshirtsatfestivals pic.twitter.com/D9NIsC3GfG

— Spencer 'Spenteke' Holmes 🦅 (@spencer8617) June 24, 2022
@Forza_Garibaldi #nffc @glastonbury pic.twitter.com/W8Zpyaohzh

— Mark Pinsent (@markpinsent) June 24, 2022
@PartickThistle @Cymru @FAWales
Partick Thistle and a couple of Cymru national flags. #Glastonbury pic.twitter.com/QM68IckaZU

— UCDFANS (@UCDFANS) June 25, 2022
Great to see us represented at @glastonbury this week!👏👏👊

Love it guys! 😍

🔴🔵#TheShots pic.twitter.com/4fqdaNtF36

— Aldershot Town FC (@OfficialShots) June 24, 2022
Up the city @LCFC @glastonbury pic.twitter.com/4T5I9cu47m

— Ell (@EllisG98) June 25, 2022
What's better than shipping?
Glastonbury.
What's better than Glastonbury?
A Brentford flag at Glastonbury#Glastonbury2022 #BrentfordFC @BrentfordFC pic.twitter.com/4Ri58Tba0w

— George Griffiths (@GeorgeContainer) June 25, 2022
#SaintsFC flag at Glastonbury. pic.twitter.com/fcuqL3lNrt

— Jamie (@j17saints) June 25, 2022
#Glastonbury2022 #PyramidStage #pyramid #glastonburyflags #NewcastleUnited #NewcastleUponTyne #NewcastleUponTyne pic.twitter.com/0qcAtagmrZ

— CarolGarcia (@xxCarolGarciaxx) June 25, 2022
Seen a few Brighton fans at @glastonbury @OfficialBHAFC pic.twitter.com/FqOoghd2s0

— Annie Lamb (P) 👩‍🚀 (@annielambred) June 24, 2022
Representing the red and blue ❤️💙@CPFC @glastonbury #footballshirtsatfestivals #cpfc #glastonburyfestival2022 pic.twitter.com/dBeyXFZEKP

— Spencer 'Spenteke' Holmes 🦅 (@spencer8617) June 25, 2022
200k people at Glastonbury and bump into another Boro fan. Old & new kit on show @StevenageFC @TheBroadhallWay pic.twitter.com/8xdxPydaYp

— Craig Barker (@CBarker94) June 23, 2022
Newcastle United (2003/04). #GlastoFootyShirts. pic.twitter.com/b9SnjfsKwd

— Glasto Footy Shirts (@GlastoFooty) June 24, 2022
Millwall (2003/04) #GlastoFootyShirts pic.twitter.com/iokyQk8s2H

— Glasto Footy Shirts (@GlastoFooty) June 25, 2022
@GlastoFooty pic.twitter.com/3GsCiP76Yn

— Ashley Willmott (@willerz8) June 25, 2022
Manchester United (2021/22). #GlastoFootyShirts. pic.twitter.com/D1LVz7nvnw

— Glasto Footy Shirts (@GlastoFooty) June 24, 2022
Arsenal (1995/96). #GlastoFootyShirts. pic.twitter.com/PnqZHGQLer

— Glasto Footy Shirts (@GlastoFooty) June 23, 2022
Shoutout to this lad front row for Sam Fender at Glastonbury.

BLUES ARE MASSIVE #BCFC pic.twitter.com/MiCWGuHhOS

— Tom (@BrummieTom) June 24, 2022