Farhad Moshiri breaks his silence on the dreadful 2021/22 season with the apology splitting Everton's fanbase on social media.
Everton have had seven permanent managers since Moshiri bought a controlling stake in 2016, and the season just gone was their worst under his ownership.
The Toffees needed a 3-2 victory over Crystal Palace in their penultimate match to avoid the drop, coming despite the club spending more than £500m on new players since Moshiri's arrival six years ago.
🔵 | An open letter to Evertonians from our majority shareholder, Farhad Moshiri…

— Everton (@Everton) June 8, 2022
HIS STATEMENT
Dear Evertonians,
Whilst there is no denying that it was an amazing night when we turned around a 2-0 half-time deficit to secure a sensational victory and guarantee a 69th successive season in the top tier of English football last season, it should not be allowed to disguise the fact that we have underperformed in what proved to be a very challenging campaign.
Mistakes have been made and for that I want to apologise to all of you. It has not been good enough and we need to do better. You have given us incredible support that helped us over the line when we most needed it, and we must repay that support and show that lessons have been learnt.
More than any other club in England, Everton is the Club of its people, its community and its fans, and always will be.
I am committed to securing the future success of the Club by delivering a fully-funded stadium that will underpin our status as a leading club. Our new stadium project at Bramley-Moore Dock has reached an exciting and landmark stage as it emerges from the ground, with the four main cores now in place.
Of course, the stadium alone will not help us achieve our objectives and we are committed to not making the same mistakes again including how we have not always spent significant amounts of money wisely.
During the 2021/22 season, the Board led a strategic review of our operations which included looking at working practices, our recruitment process and the whole structure of our footballing operation in order to clearly identify the causes of our under-delivery on the pitch. Many of the learnings have already been implemented.
The recruitment of Frank Lampard as our manager is one example. He was the outstanding candidate at the end of a robust and clearly defined process, demonstrating an ability to marry his technical skills with passion, intelligence, humility and in alignment with the values of our Club.
Other appointments such as Kevin Thelwell, our new Director of Football, Everton Women manager Brian Sørensen, Coach Educator Kevin Nicholson, the development of a technical board and the search for both a new Academy Director and an Under-23s Head Coach also reflect the implementation of findings from the strategic review.
Finally, we cannot forget the ongoing atrocity occurring every day in Ukraine. The response of the fans, the players and management and their support for Vitalii Mykolenko, his country and people who are still suffering because of this inhumane assault has been heartfelt and truly amazing. The Club has already made an important contribution to the Disaster Emergency Committee's Ukraine Humanitarian Appeal and I can confirm that we have offered a friendly match at Goodison Park to Dynamo Kyiv to raise additional funds to support the Ukrainians – details of this will be made available soon.
Thank you for everything you did to support your Club so brilliantly during such a challenging season. You did not deserve the frustration and fear that the season brought.
Your incredible support is never taken for granted and together we move forward.
Farhad Moshiri
Season review from Everton fan
Mike Richards, Unholy Trinity
Rating: 2/10. One mark for Frank Lampard's appointment and one for the fans.
Best performance: 3-2 win over Crystal Palace. It needs no explanation.
Player of the season: Anthony Gordon. Fatigue in recent weeks has certainly impacted him, but he's stepped up this season and shown other players up. He's got a bright future at the club.
Player whose time is up: How long have you got? There are a fair few out of contract, but I feel Andre Gomes, Yerry Mina and Michael Keane could all be moved on.
Opposition player you'd love at your team: We need a lot of work, but in terms of a reachable player, I'd be going for Conor Gallagher.
Happy with your manager? 100%. The best thing that has happened to the club this season.
One learning to take into next season: Get a proper off-field structure in place and shift out certain board members. This season has highlighted past mistakes and how operating as an amateur club doesn't work in the Premier League.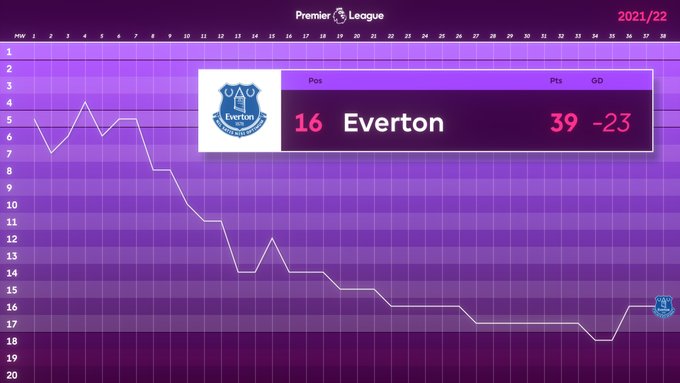 Fans reacted as Farhad Moshiri breaks his silence with an apology splitting Everton's fanbase…
@jayefc_: good message that, back it up now Farhad mate
@charliejarvis21: Not great but at least he's said something, makes a change
@ferninho: Interesting read. Noted there's no promise to stop his meddling. I hope that's one of the lessons learnt though.
@josh1hogan: Transparency.. humility.. continued ambition. Well done.
@wazzaevo: I'm by far not a person who is never happy but what was the point in that statement?
@ToonMouthTyne: Relegation awaits…..
@TomToffee9: I actually think that's a decent letter.
@EvertonJimbob: I don't think he could have said much more than that if anything at all.
@EvertonBlueArmy: Some communication, finally! 🎉 Now let's see some action alongside it.
@colinwthompson: Good to hear from him and nice to see he's recognised mistakes have been made.
@highwayhaunt: This says nothing. We don't care. You want our support, play passionate, structured football. Your words mean nothing to us.
@GMB1878: Words mean nothing without actions. Nice to see him communicate but we need to see changes and start making good decisions to move the club forward
@JustPaul85: Damned if you do, damned if you don't springs to mind reading some of these comments! We've wanted communication, we've wanted acknowledgement that mistakes have been made, we've just had both, so it's a start!
@daviescallum42: Strikes me as an attempt to display self-awareness in the issues we all know #EFC has, yet shows an alarming lack of self-awareness in that he offers no solutions or plans for how to fix those issues. 🤷🏼‍♂️
@JulieHob1878: We wanted communication. We now have communication. Responses.. 'he doesn't mean it', 'never wrote that', 'that's bullshit'. Can't win ever really. Take it for face value and try to remain positive. Surely, that's gotta be the way forward.
@Andy_H_EFC: I want to believe this, but the way the recruitment of the manager is described makes it sound like it was a professional, thorough process and not the chaotic debacle that ended up as a straight choice between Lampard and Vitor Perreira with the latter doing interviews on Sky.
@Everton_Dad: People need to understand that an owner can not come out and apologise for every mistake & threaten to clear the board etc because it would weaken our hand regarding transfers/sponsorship deals and much more. We have wanted comms and now got them, let's get behind him and us now.
@toffee_tower: He doesn't say anything for a few weeks and people complain about no communication. He finally says something and people are not happy with what he's said 🤣 He's acknowledged how shit the season has been, about not letting it happen again. Actions can only be proven in time.
@ThomRawlinson: This is just PR spin. No insight on if the fans will actually see the strategic review. Doesn't touch on why the people who got us into this mess still sit on the board. Communication is good but not just hiding behind the new stadium.
@JDayUTFT: I can't be the only fan happy he's communicated and as long as he sticks to what he has promised then let's get behind aan who's pumped millions in and is building us a new stadium
@cj87EFC: This reads like a Tory piece. Starts with a quick sorry and very quickly descends into the good things you've done and finishes with Ukraine. Where's the accountability and telling us WHY those things happened and what you're doing to avoid it happening again?
@The_Penny_Blue: This was spot on to what we as Evertonians needed to hear from Moshiri. Next is action and to start, a transfer window strategy from Thelwell including number of players looking to move on, which positions we are looking to bolster, and the general attributes we're looking for
@sadphillyphan: All for this, but I'm sure the whole fan base would agree actions speak louder than words. We finally look like we have stability under Frank and now Thilwell, Tarkowski is a good start. Lets get the rest of the new players in, deadwood out, and kick on next season! UTFT 💙
@jayjones33: Needs to let the football men do their job now and stop the interference in recruitment!
@MynamesJeff____: This is exactly what we wanted to hear, sounds like he's got his heart in the right place but was just misguided. It's nice to hear he admits he's made mistakes and is willing to learn from them