Ex-Chelsea, Leeds, M'boro, Cardiff player Jimmy Floyd Hasselbaink is reportedly keen on the Charlton manager's job with it still available.
The South London Press were apparently told a few of weeks back that the current Burton Albion boss was confident he was a strong contender for the role.
48 year old Hasselbaink previously endured a spell with Charlton towards the end of his playing career, arriving on a free transfer from Middlesbrough in 2006.
He got on the scoresheet four times in 29 matches before being released at the end of that campaign.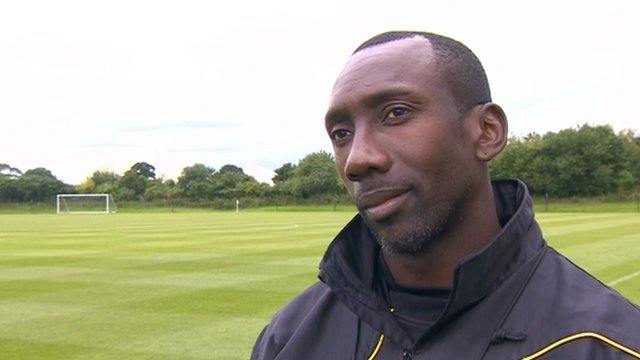 The former Dutch international has so far won one promotion as manager, going up from League Two with Burton in 2015. He has also been at helm for Royal Antwerp, QPR and Northampton Town.
Back to the links now and South London Press say that they asked Charlton owner Thomas Sandgaard last week about the speculation of Hasselbaink being in the mix to succeed Nigel Adkins.
He told their publication last week that more than 100 applications had been received, despite pretty much everyone demanding for the caretaker to be appointed.
"Obviously he has been on the list [of potential candidates] but we've not had any talks with Jimmy," said Sandgaard last Wednesday. "Despite the loss [to Charlton], he is obviously doing a good job. Good for him."
Caretaker Charlton manager Johnnie Jackson has taken 13 points from 15 since replacing Adkins, and now sit 12th in the League One table with 22 points after 18 games played. When Adkins departed, the club were 22nd.
HASSELBAINK'S MANAGERIAL CAREER:
Royal Antwerp – 29 May 2013 until 11 May 2014 – 35 games, 13 wins, 10 draws, 12 defeats, 37.1 win %
Burton Albion – 13 November 2014 until 4 December 2015 – 54 games, 33 wins, 11 draws, 10 defeats, 61.1 win %
Queens Park Rangers – 4 December 2015 until 5 November 2016 – 47 games, 13 wins, 19 draws, 15 defeats, 27.7 win %
Northampton Town – 4 September 2017 until 2 April 2018 – 42 games, 10 wins, 13 draws, 19 defeats, 23.8 win %
Burton Albion – 1 January 2021 until Present – 47 games, 21 wins, 10 draws, 16 defeats, 44.7 win %
Total – 224 games, 89 wins, 63 draws, 72 defeats, 39.7 win %
Plymouth boss Ryan Lowe hit the headlines at the weekend saying that "you can clearly see Charlton's players want Johnnie Jackson to get the manager's job."
His side conceded that the Addicks were the superior side after they ended Plymouth's 16-match unbeaten run in League One.
Ben Purrington and Conor Washington scored for the hosts as they extended their own undefeated sequence in the league to five matches.
Pilgrims boss Lowe said: "I'm disappointed. We were excellent – up until the top half of the pitch. We didn't have that slick movement up there. One or two flew across their six-yard box. You have to give credit where credit is due – to Charlton. You can see they are playing for the manager. They are playing for him to get the job, you can see that. They have been doing that for the last few weeks. Fair play to them. They were on the front foot today.
"The goals we've conceded were disappointing because we felt we could've dealt with them. The second one we're advanced and trying to get a goal. We pushed people forward and they have sort of countered on us. This is a reset button and it's how we react to it.
"It's been a fantastic ride so far. We just didn't have that cutting edge up the top end of the pitch and the turnovers were too quick. We knew what they'd try to do – try and counter us. A few bits of sloppy play by individuals but they are human beings and going to sometimes make mistakes.
"Today we weren't quite at our best and Charlton were. We were beaten by the better team.
"It was possibly one of the toughest games we've had this season. We had 63 per cent possession but not many shots on target, which we'd have liked a bit more."
Twitter users reacted with the ex-Chelsea, Leeds, M'boro, Cardiff player said to be keen on the Charlton manager's job…
@cafc_h: I'd rather shit in my hands and clap
@FoxyII2: Bit early in the week for this kind of banter Rich
@MarkHadley22: Let's just put an end to it and appoint Jacko. Surely we're talking to players/clubs for the January window. Those players will want to know who their manager will be, surely, the whole 'temp' manager thing will affect that? @SandgaardThomas
@CafcFacts: Wonder what Burton owner, Ben Robinson thinks about this
@PhilDun16442388: Thomas should watch some videos of JFH when he played for us & compare that to JJ when he wore the shirt here .The difference between someone looking for a dossy final pay day and a man totally committed to us would become evident. Not for me thanks.
@stone_pete7: There are no conversations to be had. Only one man suitable for the job and that is @johnnie_jackson. We are on the right path and he has Charlton in his blood. #cafc
@dickon71: Not a guy who would get the fans onside and his comments at Burton won't help.…quite apart from us not needing anyone but Jacko (unless he gets the Man U job!). No thanks Jimmy.
@AndyLopata: Keen to come and steal more of a living from us? No thanks #cafc
@rizthecat1: Has to be JJ, @SandgaardThomas any other appointment would be scraping the barrel
@Deano1802: If they give the job to anyone other than JJ then due to the exceptional job he is doing at the moment he will most likely be approached eave for another club. That would not go down well with the fans.
@rikofold: No thanks. One mini revival at Burton after two failed jobs should not take him anywhere near to #cafc. Have we learned nothing since Adkins? Jacko has the dna to succeed at this club – ref Curbs, Powell, Bow. If TS doesn't get that we're lost.
@Duncan270566: @SandgaardThomas was at The Valley on Saturday and would have witnessed for himself what JJ has done to transform the team and get the fans on side. He would be foolish not to appoint JJ after Saturday.
@mono_guerillo: I am keen on being an astronaut but that doesn't mean I'm remotely suitable for the role! Although probably more so than JFH is for the #CAFC job…
@cmd19891: He wouldn't be welcome @SandgaardThomas – he took his pay packet when he played without any effort
@Charlton_Not606: Jezus Christ NO!!!!!!!!
@phil_cullum: @SandgaardThomas has to make a decision soon, this speculation will do no good at all. Jackson has transformed the team, club in a way an owner will never do. Time to announce JJ.
@spennjy66: Omg noooooo 🤦🏻‍♂️
@sammons_conoR: No thanks, Jackson's at the wheel
@stevejones4497: Nah I'll stick with JJ and Eully thanks
@keiron0070: Sorry but anyone else comes in over @johnnie_jackson will lose the team , We have our man in jj & @jasoneuell all other chancers can do one in my book #cafc
@Gardy104: Would be a huge step backwards no thanks.
I did ask Thomas Sandgaard about JFH last week but didn't have space in paper last week to add into piece.

The #cafc owner says there has been no talks with the Dutchman.

But his name keeps cropping up, hence why I've decided to do the article!

— Richard Cawley (@RichCawleySLP) November 22, 2021
— Smudge (@KBslittlesis) November 22, 2021