Ex-Bristol City and Leyton Orient player turned non league legend Gordon Boateng dies, it's been confirmed by his former clubs on Monday.
A statement was issued via social media, it read: "All at Bishop's Stortford FC are deeply saddened to learn of the passing of our former manager Gordon Boateng.
"Our thoughts at this desperately sad time are with his family, friends and all those in the football community who knew him."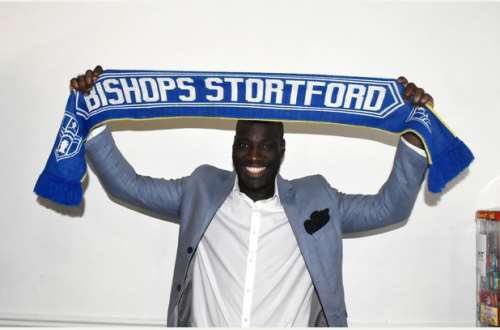 Gordon was always a man ahead of schedule despite having to cut short his playing days to concentrate on management in his early 20s.
The north Londoner had become English football's youngest chief executive after stepping up to board room level at then Blue Square Bet North side Histon.
Timing has been crucial in Boateng's career to date. Following spells as a player at a number of clubs including Bristol City, Leyton Orient and Norwegian side Kvinesdal IL, the promising striker decided to take a different path.
Taking up his inaugural first-team coaching position at then Ryman League Division Two team Clapton, Boateng assumed further managerial roles in non-league with Bishop's Stortford, Dagenham & Redbridge, Brimsdown Rovers, Harlow Town, Cheshunt, Leyton, Bedford Town .
On his Twitter account, he described himself to followers as founder of Hertford United, the owner of @AcademyBoateng which focuses on education, enjoyment and fun football for ALL boys and girls.
He was also an ambassador and mentor as well as a radio and TV pundit.
In June 2021, Boateng recently completed SCA (Sudden Cardiac Arrest) for his club Hertford and strongly recommended that all clubs involved in any level of football got someone in their club to complete this course, 'especially those affiliated to @HertfordshireFA, @EssexCountyFA, @LondonFA and @middxfa.'
He also spoke regularly on The Management Podcast, whilst also discussing and being an advocate for mental health.
In one tweet he wrote in May 2021, he wrote whilst retweeting a helpline: "Please don't suffer in silence, you are important, there are people out there willing to listen and not judge, your situation will be treated as confidential with @MindInMidHerts_ so don't be afraid, speak up, life is not easy but there is light at the end of the tunnel."
Boateng also helped put together and took part in a mental health football match which had a number of TV stars, play against some ex-pro footballers.

Tributes poured in on Monday as the ex-Bristol City and Leyton Orient player turned non league legend dies…
@BDELLOW: Very sad – was a top bloke. Always had time for the fans. RIP Gordon
@Ollie_Bayliss: Desperately sad news this 💔
@samtsmith_: First manager to believe in me, Amazing man. Thoughts and prayers go to his family and friends, RIP gaffer. 💔😪
@GlennNights: What the fuckkkkkkkkkk. RIP Gordon Boateng. Non league LEGEND. First guy to give me a proper chance in Essex Senior, gave me belief in a time I didn't think I had it. Awful news man.
@essexfootie: Shocking, and sad news regarding Gordon Boateng. Chatted with him many times over the years – whether it was at Harlow, Leyton or Enfield. Taken way too soon.
@DBricknell10: Just heard about Gordon Boateng, didn't know him very well but a well respected young man in the football communuty, may you Rest in Peace, condolences to his family.
@Patrickcgeorgex: Today is honestly a sad day for non league. We've truly lost a amazing person in non league. R.I.P to a legend Gordon Boateng I don't even know what to say. Honestly. Truly one of the nicest person you'll ever meet. 🙏🏾
@jackjpridmore: Such sad news about Gordon Boateng. Was a big character around here in the football world and was incredibly kind to me when I was starting out. One of those people that just connected with people. Shocking. RIP.
@_TimMiller: Can't believe the sad news about Gordon Boateng today. Was always available on the phone to talk to and always put everyone else first. Was always trying to help others in the game. Thoughts with all of Gordon's family. 😢
It's very rare that I lament being a single gal. BUT today is one of those days. I could really do with someone to lean on when such a positive light gets snuffed out of this darkening world. RIP Gordon Boateng.😪 pic.twitter.com/wccNrxTEtg

— Karin – Professional Eccendentisiast (@Kfastlove) October 18, 2021
Gone far too soon @GordonBoateng 💔💔 pic.twitter.com/simt3S6s9f

— Aden Theobald (@AdenTheobald) October 18, 2021
@GordonBoateng Awful to hear the news today pal. RIP big man you were definitely one of the good guys. Thoughts and prayers with all your family. X

— Andy Hall (@Andy1726) October 18, 2021
What heartbreaking news to hear about @GordonBoateng … a nicer man you couldn't have met, so kind, so caring and a true gentleman in every sense of the word. My heart goes out to his family and all the people that were lucky enough to call him a friend. RIP Gordon X pic.twitter.com/Ql8YCqfOvw

— Simon Hobbs (@TopBananaDesign) October 18, 2021
All at Cheshunt FC are saddened to hear of the passing of former player & manager Gordon Boateng. Our thoughts and prayers are with Gordon's family and friends at this sad time.

— Cheshunt FC (@cheshuntfcscore) October 18, 2021
RIP GB what a person always went the extra mile for his players 🙏🏾😞❤️ pic.twitter.com/wMbgAcrtCx

— Joel Nouble (@OfficialNoubz) October 18, 2021
Tough one to take today, gutted and shocked to hear the news of @GordonBoateng passing. As someone who took a chance on me many years ago I have much to thank you for, never thought our chat a few weeks ago would be our last. RIP Gaffa, the world has lost a good'un pic.twitter.com/JNplSz8rr9

— Bradley Harrison (@bradharrison87) October 18, 2021
Very sad to hear that @GordonBoateng has passed away. Very sad 😔

A brilliant motivator and always there for words of encouragement to anyone.

Sending my best wishes and Gods peace – love to his family.

May your soul rest in peace 🙏🏿💙

— Godfrey K Torto (@GodfreyKTorto) October 18, 2021
We have just received the sad news today that our old manager and friend Gordon Boateng has sadly passed away condolences go out to all his family and friends such sad news in the non-league today.

Enfield football club ❤️

— Enfield FC (@EnfieldFC) October 18, 2021
We have just heard the news. #RIP Gordon Boateng One of the most positive people we have ever played fundraising football with. If you only came away with one thing from an encounter with Gordon it was that you could Believe & Achieve. Our thoughts are with his family & friends.

— Celeb_FC (@Celeb_FC) October 18, 2021
GORDON BOATENG: The club are saddened to hear that our former player and youth team manager @GordonBoateng has passed away at a young age.
Our thoughts are with his family at this difficult time.

— Barking FC (@barkingfc) October 18, 2021
Absolutely speechless to hear the news about Gordon Boateng. The world has lost a good one.

Gordo… RIP my friend! Thank you for everything! 🕊💔

— Chris W (@footballwoots) October 18, 2021
Just heard the devastating news that Gordon Boateng sadly passed away this morning.
An absolute legend, genuine guy and going to be missed by so many ⚽️💙 pic.twitter.com/BhBdJtEgwo

— Dan Edwards (@danedwards9) October 18, 2021
just heard the news smh so used to hearing this news nowadays I don't even feel surprised anymore

RIP Gordon Boateng, great all round solid guy, use to coach me as a kid at a few football clubs.

God bless pic.twitter.com/mpx4wj2ScF

— . (@___ecw___) October 18, 2021