Dover Athletic chairman Jim Parmenter blames Notts County as Tuesday night's match gets called off yet again due to the weather.
The news was announced that rain and windy conditions are forecasted throughout the rest of the day, keeping in mind the two named storms are also on their way.
The Magpies had earlier said on Twitter that Dover's Crabble surface had been passed as "perfectly playable" by a qualified match official following a precautionary pitch inspection.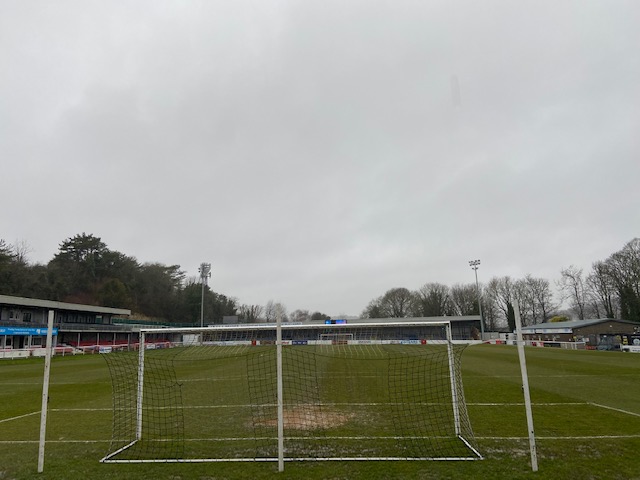 But just before 2.30pm, County said: "MATCH OFF: In lieu of this afternoon's forecast and based on reports from the earlier pitch inspection, the match referee has postponed this evening's match."
Whites confirmed the news, saying: "GAME OFF: The game against @Official_NCFC has been called off despite the pitch being passed playable at 12.30."
The National League fixture had initially been due to be played on Saturday, January 8, but was called off hours before kick-off following heavy rain, with County expressing their frustration after the late postponement.
Jim Parmenter said: "It's unbelievable, it's inconceivable to how somebody's sitting in an office in London, can call a game off which is just when the pitch has been inspected by a referee at 12:30pm and passes, easily playable, and then at 2:15pm, the game is called off from someone sitting in an office in London in conjunction apparently with Mark Ives (General Manager of The National League), you know, one minute, they're changing us and fining this for not completing fixtures, the next they are calling off fixtures unnecessarily and preventing us from competing fixtures,
"This can only be due to the pressure from Notts County on the authorities because we had the pitch inspected by the referee, it's perfectly playable, but they said it's because of the weather forecast. Well I've got weather forecast here, from 3pm onwards, it's sunny intervals and light showers, so tell me how someone in an office 500 miles north of us can make that call. We will be making a formal complaint about this.
"The manager has been on the pitch, the manager thought we were joking when we found out. We've never had a game called off over the forecast. Just sums up the state of where football is at in this level."
Twitter users had their say as the Dover chairman blames Notts County as their match gets called off yet again…
@jacobncm: i cannot stress enough that you need to be relegated to the kent league and then relegated again until it isn't possible any more
@ChuckyShed: I cannot stress enough that you need to understand that you're a non league team in a non league league where full time groundsmen and anti rain machines exist.
@Harleynorman69: Going down going down
@JOEWILLS13: DAFC = tinpot club again for not having very good drainage, for the next home game against Grimsby on the 26th, the weather basically has to be dry because I don't want 2 home games in a row postponed which would be a disgusting disgrace and a bit of a tragedy.
@Jason_Cloke: We don't control the weather
@JoshHD15: no apology to the fans again @DoverAthletic national league need to sort this its appalling
@agwilliams86: BREAKING: Club gets told off for not saying sorry when it's pissing down. What a melt 🙄
@TerraStatman: 78 competitive games since a weather postponement at home for @theterras. Is it really that hard to produce a decent pitch at this level?
@AshPalmersBrick: :I get a feeling Dover would postpone a subbuteo match 🤣🤣
@andrew_corthorn: Everyone's fault but you're own. Chairman blaming us 🤣🤣🤣🤣🤣 the weather cannot be helped, if the league have called it off it just shows how tin pot it is.
@HarryHawkswort1: Just concede the three points
@Ryan_McCourt2: Can't wait to see you lot go bust
@SteSsilver900: Your a disgrace no apology to the fans reverse fixture play proper run football club
@LaurenyWebster: And your chairman thinks Notts County have something to do with the decision?! Delusional and embarrassing
@connerdafc18: Sell up jim
@LUKEMIDDUP: Why on Earth Would Notts want the game called off? This messes up our schedule as much as it does Dover's
@blooboy83: Why would Dover want it called off, its going to cost us money we can ill afford. Someone, somewhere is taking the piss out of both clubs.