"Do you think I'm a d***head" – Phil Foden was 'involved in an angry bust-up with his girlfriend' on a much needed family holiday.
The Man City star was forced to leave a beach club while on out in Corfu with his partner Rebecca Cooke.
Foden, 22, was engaged in a heated row with his partner after he came back from swimming in the sea to find her furious.
Video footage showed Rebecca shouting at Foden as they are led by two bouncers up steps out of the beach club with other holiday-goers watching the drama play out.
Staff helped carry their baby buggy up a flight of stairs with Foden looking bemused and embarrassed as he walked through a bar full of people.
🚨 Manchester City star Phil Foden recorded by onlooker arguing with his girlfriend Rebecca Cooke pic.twitter.com/XT24V2DIAr

— Live News (@LiveNewsForAll_) June 26, 2022
"He went swimming and she looked at his phone. She got extremely angry," a witness said. "They were really arguing on the beach and security guards got involved."
Another added: "It was a lot of swearing, she was getting in his face. It's a posh place as well."
Cooke pointed her finger both at Foden and in the direction of where they had been sitting, before Cooke then angrily moves her head incredibly close to her boyfriend's before repeating: "Do you think I'm a d***head?"
While security guided the pair to the exit, Foden's partner was then heard shouting: "Yeah I wonder why, mate," before demanding: "Tell her 'n' all," when the Man City star chose to keep quiet. The couple are childhood sweethearts and have two children together, a son, born in 2019, and a daughter, born last year..
Foden's parents Phil senior and mother Claire were on the holiday trip after arriving at Glyfada Beach, Corfu, on Wednesday in a luxury van with their own security.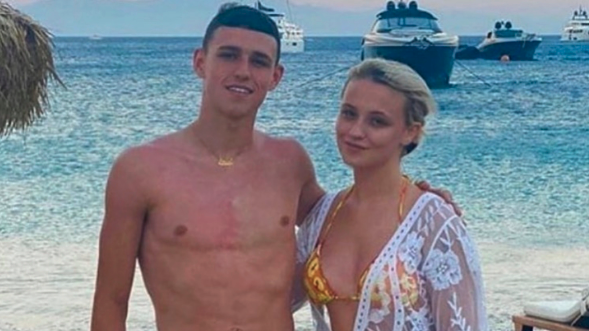 Just hours before the incident, the footballer was posing for photos with fans along the beach, then later Foden's mum and dad also leaving the scene of the dispute.
One source said on what took place: "It was a fight between a footballer and his girlfriend. She was shouting and screaming. They were only here for the day. It all started down there on the beach. It was really aggressive and intense.
"Then they came up to the bar and she was yelling at him. This kind of thing doesn't happen here usually." Another added: "She was in his face and Foden didn't respond. They went by themselves.
"When we arrived he was heading into the toilet so I asked for a picture and he told me, 'No', which I thought was a bit rude. We were sat on the terrace and they were down on the beach. The next thing you know they're coming up the stairs having a massive argument. It all just erupted.
"It was only about five minutes and then they left abruptly. It was a lot of swearing, she was getting in his face. It's a posh place as well."
According to another source, Foden's mother could be heard muttering how she was "fed up with the drama".
In 2020, Foden was sent home by England boss Gareth Southgate after he was caught bringing a couple of Icelandic women back to their hotel room with Mason Greenwood while on international duty.
Then four months ago, Phil Foden was in the headlines again as he got into fight after his mum had a punch-up with a scouser. See more on that HERE.
Twitter users reacted with Phil Foden 'involved in a bust-up with his girlfriend' on holiday…
@FPL_RossJ: He's already got previous when he was away with England. Don't blame her
@cfcjack10: This guy is so odd
@Kai_Traceys: He's odd? Guy was in the sea and she started looking at his messages.
@BrianNe60717971: Great on the pitch, looks a little nobhead off the pitch
Pinky Chhada: She asked for a selfie with his UCL medal, thats where he took it personally..
Dave Guichard Llb: Some one should tell her she needs to marry him first if she wants half his cash in a divorce settlement!
James A Todd: Find a decent lady, treat her with respect and chances are you wouldn't have these kinds of dust ups especially in public while on holidays. 😜⚽️❤️
SimWan SimNi: She said "You want me to be honest? Let's talk. I like Jack's hair better. Your hair is horrrrible"
Tim Wilson: Mason Greenwood version 2 right here. Never trust a man with a haircut like Phil has…
Martin Burns: You can take the lad out of Stockport, but you can't take Stockport out of the lad…..
Gordon Ferguson: Nothing surprises me at all with him!!!
Sam Cranmer: Bet he told her he'd get his mummy on her
Clare Davies: another city twit
Matty Rose: Don't worry darling. Marry him and then divorce him for millions. He does not come across the brightest of individuals.