The death of 46 year old experienced English Football League player Jamie Vincent has sadly been confirmed on Tuesday afternoon.
The defender, who reportedly had a cardiac arrest, endured an 18-year career during which he played more than 500 games for AFC Bournemouth, Huddersfield Town, Portsmouth, Derby County, Millwall, Walsall and Aldershot Town.
He helped Swindon Town win promotion to League One in 2007, but before that, was named in the Football League Second Division PFA Team of the Year in 1998-99 as well as being Huddersfield Player of the Year in 2000.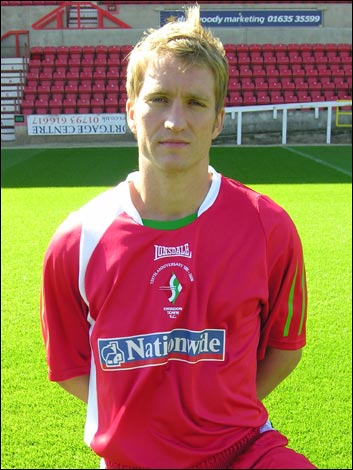 In a brief statement released via Swindon Town's Facebook and Twitter pages, the club said: "Swindon Town Football Club are incredibly saddened to learn of the passing of former defender, Jamie Vincent.
"Our thoughts go out to all of Jamie's family and friends at this incredibly sad time. RIP."
Vincent started his career at Crystal Palace before moving to Bournemouth in 1996 where he played 133 times and was a team-mate of Newcastle manager Eddie Howe and his assistant Jason Tindall.
He was named in the PFA Division Two Team of the Season for 1998-99 as the Cherries finished outside of the play-off places on goal difference.
A £500,000 move to second-tier Huddersfield followed in 1999 before a reported £800,000 transfer to Portsmouth two years later.
Vincent played in all three tiers of the English Football League ending his professional career with Aldershot in 2011.
HIS CAREER:
1993–1996 – Crystal Palace – 25 games (0 goals)
1994–1995 → AFC Bournemouth (loan) – 8 games (0 goals)
1996–1999 – AFC Bournemouth – 107 games (5 goals)
1999–2001 – Huddersfield Town – 59 games (2 goals)
2001–2004 – Portsmouth – 48 games (1 goal)
2003–2004 → Walsall (loan) – 12 games (0 goals)
2004–2005 – Derby County – 22 games (2 goals)
2005–2006 – Millwall – 15 games (0 goals)
2006 – Yeovil Town
2006 → Millwall (loan) – 4 games (0 goals)
2006–2009 – Swindon Town – 84 games (0 goals)
2009–2010 – Walsall – 38 games (0 goals)
2010–2011 – Aldershot Town – 24 games (1 goal)
2011–2012 – Didcot Town
Total – 447 games (11 goals)
jamie vincent: the best dad i could've ever asked for and the best grandad. i'm still waiting for him to walk through the door and give me a hug or make me laugh by doing something daft. i wish i could put into words how much i love you. still shit at football tho😉 rip dad 🤍 pic.twitter.com/OUAsGThxRQ

— elle (@lnrclr) January 18, 2022
Rest in Peace Jamie Vincent ❤️#afcb #hatfc #cpfc #pompey #stfc pic.twitter.com/GlIjQF2YuG

— Back Of The Net 🍒 (@afcbpodcast) January 18, 2022
Tributes have been made with the death of 46 year old experienced Football League player Jamie Vincent confirmed…
@therevba: My god this is shocking. I'll always remember his volley at Barnsley. I'm struggling to express my shock, sadness and love for those he's left behind
@LeonSte05511092: Was class for us at @htafc RIP
@davelewis22: Incredibly sad news. I saw Jamie play in the youth team and reserves at Palace, watched him improve week after week until he deservedly made his first team debut. I also recall that he used to play for AFC Ewell, same junior club that I played for. Thoughts with his family. 
@ABowers1990: A very reliable player for us! That's terrible
@PaulD_70: Oh no! Absolutely no age, remember watching him play. RIP, condolences to his family.
@DeletedLasts: Gone to soon my thoughts are with his family and friends
Awful news. Thoughts are with friends, family and all who knew him. Jamie is the only Swindon player I have a match worn shirt from. I will treasure it even more now RIP JV #stfc pic.twitter.com/CY7ygZp1QV

— Chris (@howler50) January 18, 2022
@TracyChatfield: RIP. Taken too soon. Thoughts with his family and friends
@paulw36: Doesn't feel that long ago he was still playing, thoughts with his family RIP
@swindonred: That's very sad news. My sincerest condolences to his family
@douthcd: Terrible news he was a great player when he played at Huddersfield town
@Footiespr5687: Rest In peace Jamie once a saddler always a saddler love to friends and family
@worzel999: Such sad news, so young. A very steady footballer who never let us down. RIP Jamie.
@PompeySteve918: R.I.P Jamie once a blue always a blue #Pompey
@kcb49: #afcb Jamie Vincent has sadly passed away and I just wanted to join with those who've offered their condolences to his family at this very sad time. A talented footballer whose transfer away almost certainly cost us a promotion in the late 90's. He was that good a player. RIP JV.
@Pompeygav: No way, such sad news RIP Jamie 😢
@BradHicks20: RIP Jamie Vincent, one name i always seem to remember no matter what happens, he was versatile, only ever watched him a few times, but a good player #FarTooYoung
We are saddened to hear of the sudden passing of Jamie Vincent at the age of 46

Jamie signed for the Shots in July 2010, making 28 appearances in total over the 10/11 season. During his career, he amassed over 400 Football League outings

Our thoughts with his friends and family pic.twitter.com/DI9udqLwdX

— Aldershot Attic (@shotsremembered) January 18, 2022
Absolutely devastated to hear the passing of former team mate and fans favourite Jamie Vincent. One of the finest left backs in the clubs history. Great player but more importantly a truly great person. Always saw the positive in everyone, funny and caring. We all loved him 💔❤️ pic.twitter.com/z6r1TmpJsY

— Fletch (@SteveFletcher33) January 18, 2022
🗓 After going a goal down at @BarnsleyFC in 2001, this happened 👇

A Jamie Vincent side-footed volley from outside the box 😲
A @petercrouch header 🤯
A brace from Lee Bradbury ⚽️⚽️

Oh, and not forgetting the usual wizardry from Prosinecki 💫#ThrowbackThursday #Pompey pic.twitter.com/3KLJx00bW4

— Portsmouth FC (@Pompey) December 13, 2018
Nice to read so many tributes being paid to my mate Jamie Vincent. He was a great friend of mine and I am truly saddened to hear of his passing. My thoughts are with his family and with loved ones. 46 is no age at all. #devastated #memories #missmymate 😢💙❤️ pic.twitter.com/CTfQR2acuu

— Ady Williams (@willow1871) January 18, 2022